Electric pressure washers are getting more powerful and more popular than ever. The Greenworks 3000 PSI Electric Pressure Washer is one of the most powerful options you can get without switching to a gas engine.
There are two main ratings you need to know about any pressure washer: PSI and GPM. Greenworks can go up to 3000 PSI and up to 2.0 GPM with this model, depending on the nozzle you use. Considering that a decent electric model is around 2000 PSI/2.0 GPM, this is obviously a big improvement. One of the ways Greenworks achieves such high performance is by using brushless motors.
Brushless motors require electronic control, which opens up some possibilities. For the Greenworks 3000 PSI Electric Pressure Washer, one of those is a smart sensor that adjusts power and flow based on what nozzle you put on the wand.
However, not all ratings are created equal. Some brands play the game of where or how they measure, resulting in PSI Max and GPM Max not being an accurate representation of working ratings. Greenworks ratings are PWMA Certified, so you can be confident that the rating on the box is what you actually experience cleaning.
What you end up with is an electric pressure washer that really packs the punch of an entry-level gas model. Of course, none of the hassle, noise or emissions of a gas engine to deal with.
Greenworks 3000 PSI Electric Pressure Washer Design Notes
upright storage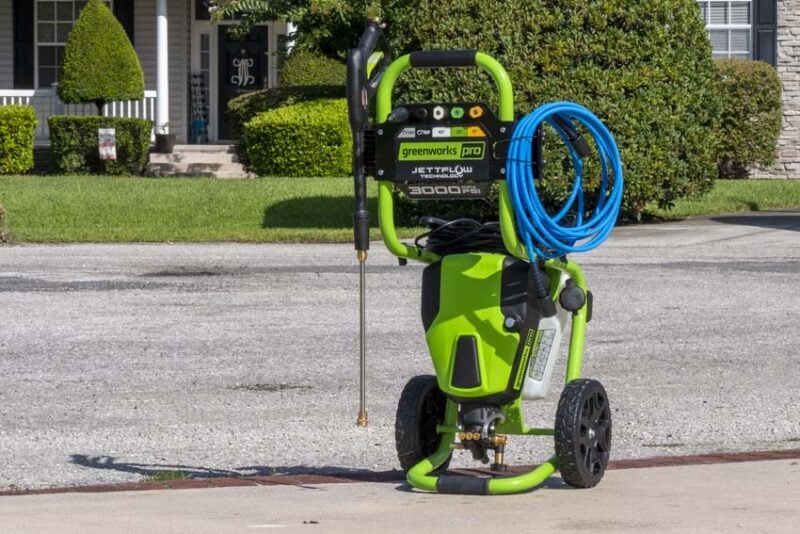 Storing a pressure washer doesn't need to take up a lot of space, especially if you don't have gas engine fluids to worry about. Greenworks made it easy to design – just lean forward until it's standing upright on the front rail. You don't even have to fold the handle.
Generous Detergent Jar
Almost all electric pressure washers have detergent tanks, but Greenworks' 1-gallon tank is larger than most. If you buy Simple Green by the gallon like we do, you simply fill the tank and recycle the bottle, no storage required.
other highlights
button start
10 inch never flat tire
35ft power cord with embedded GFCI
25 feet of kink-resistant hose
Axial Lobe Pumps with Thermal Safety Valve
Includes 15°, 25°, 40°, soap, and turbo nozzles with onboard storage
Greenworks 3000 PSI Electric Pressure Washer Prices
As one of the highest performing electric pressure washers on the market, it's no surprise that the Greenworks 5110502VT is also at the high end of the price range. Retail price is $399.00 and comes with a 3-year warranty on the tools and a 10-year warranty on the brushless motor.
the bottom line
If you want the performance of an air pressure washer without leaving the convenience of an electric unit, the Greenworks 3000 PSI Electric Pressure Washer is a great way to do it. It combines PWMA-certified performance with a convenient, well-thought-out design, making it an easy recommendation for homeowners.
Specification
Motor: Brushless
Maximum Water Pressure: 3000 PSI (1.1 GPM)
Maximum Water Flow: 2.0 GPM (100 PSI)
Hose: 25 feet
Rope: 35 feet with GFCI
Wheels: 10 inches