Electric pressure washers have gained immense popularity for their increasing power and efficiency. The Greenworks 3000 PSI Electric Pressure Washer stands out as one of the most powerful options available, rivaling gas-powered models in performance without the drawbacks.
Greenworks 3000 PSI Electric Pressure Washer Design Notes
Upright Storage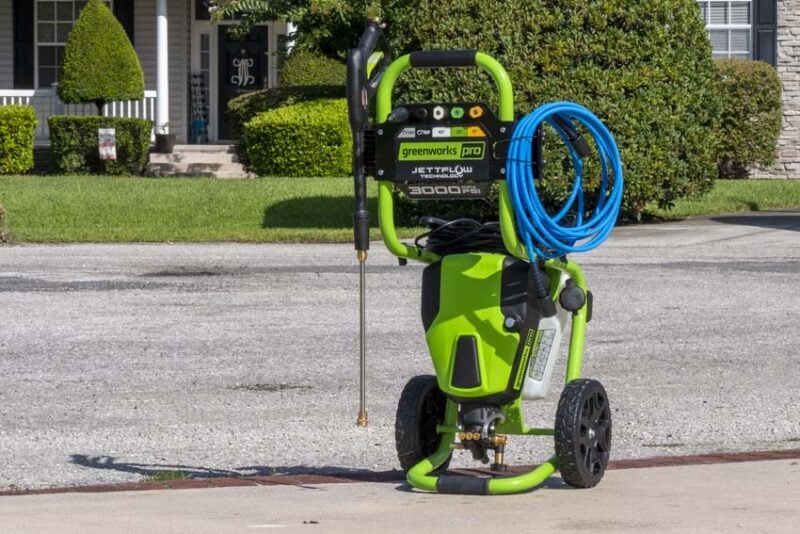 Storing a pressure washer doesn't have to be a space-consuming task, especially when dealing with electric models. Greenworks has designed their pressure washer with utmost convenience in mind – simply lean it forward until it stands upright on the front rail. No folding of the handle is necessary.
Generous Detergent Jar

While most electric pressure washers feature detergent tanks, Greenworks goes above and beyond with a 1-gallon tank that is larger than most. If you purchase detergent in bulk, such as Simple Green, you can easily fill the tank and recycle the bottle without the need for additional storage.
Other Highlights
Button start for effortless operation
10-inch never-flat tires for easy maneuverability
35ft power cord with embedded GFCI for safety
25 feet of kink-resistant hose for extended reach
Axial Lobe Pumps with Thermal Safety Valve for enhanced durability
Includes 15°, 25°, 40°, soap, and turbo nozzles with onboard storage
Greenworks 3000 PSI Electric Pressure Washer Prices
As a top performer in the electric pressure washer market, the Greenworks 5110502VT is priced at the higher end of the spectrum. Retailing at $399.00, it comes with a 3-year warranty on the tools and an impressive 10-year warranty on the brushless motor.
The Bottom Line
If you're seeking the power of a gas pressure washer without the inconveniences associated with gasoline engines, the Greenworks 3000 PSI Electric Pressure Washer is an excellent choice. Its PWMA-certified performance, coupled with a well-designed and user-friendly interface, makes it the ideal recommendation for homeowners.
Specifications
Motor: Brushless
Maximum Water Pressure: 3000 PSI (1.1 GPM)
Maximum Water Flow: 2.0 GPM (100 PSI)
Hose: 25 feet
Rope: 35 feet with GFCI
Wheels: 10 inches