Introduction
The Ferris IS 2100Z lawn mower has taken the market by storm with its outstanding features. After weeks of rigorous testing in the ultimate gas lawn mower vs. battery-powered lawn mower battle, we can confidently say that this mower is truly exceptional. With its unique suspension system and innovative anti-oil technology, the Ferris 2100Z is a game-changer in the lawn care industry.
Advantages
Unparalleled suspension system ensures a comfortable ride and consistent results.
The oil protection system decreases oil change intervals to an impressive 500 hours.
Solid build quality guarantees long-lasting performance.
Talking Points: The Suspension System
The Ferris 2100Z incorporates the company's patented suspension technology found in the Ferris 400S models and above. Notably, the ISX 800 models and higher, including the IS 2100Z, IS 2600Z, and IS 3200Z, boast advanced adjustable rear shocks and independent front shocks. This cutting-edge suspension results in a floating deck that maintains a stable height, even when navigating over bumps and uneven terrain. Plus, this mower can reach top speeds of up to 10 mph while cutting, ensuring efficient and swift lawn care.
Oil Guard: Simplifying Maintenance
One of the standout features of the Ferris 2100Z is the Oil Guard technology available on the Vanguard 810cc model. With this system, you can extend oil change intervals to a remarkable 500 hours. This is a substantial improvement compared to other engines that typically require oil changes every 100 hours. Ferris claims that this technology not only reduces oil maintenance costs by up to 60% but also ensures faster, easier, and mess-free oil changes. Additionally, Oil Guard engines run cooler and provide better filtration, resulting in an extended engine lifespan.
Deck Adjustment Made Easy
The Ferris 2100Z features a foot-operated deck lift, providing a simple and convenient solution for adjusting the deck height. Professionals often prefer manual deck lifts for deck sizes of 61 inches or smaller due to their simplicity. With an adjustable pedal, you can effortlessly set the cutting height from 1.5 to 4.75 inches in 1/4 inch increments. The mower also includes a travel mode setting that locks the deck in an elevated position of up to 5 inches.
Other Impressive Features
In addition to its standout suspension system, Oil Guard technology, and easy deck adjustment, the Ferris 2100Z offers several other noteworthy features:
Serviceable Commercial Hydro-Gear ZT-4400 Transaxles
Removable base plate for quick access to the deck top
Pillow block bearings on control brackets
Flip-Up Seat with serviceable parts
2 ROPS for added safety
Convenient cup holder
Mowing Around with Ease
Now, let's talk about the real deal — cutting the grass. With a powerful 28 horsepower engine and an impressive 810cc displacement, the Ferris 2100Z delivers exceptional performance. Its top speeds of up to 10 mph forward and 6 mph in reverse ensure efficient and timely mowing. The mower's suspension system guarantees a smoother ride compared to other models on the market.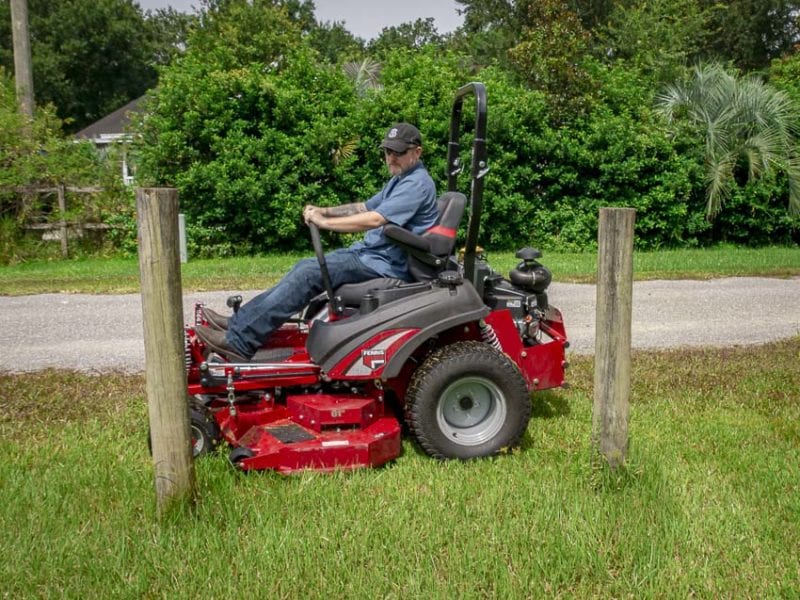 Taming the Toughest Terrain
Uneven lawns and troublesome bumps are no match for the Ferris 2100Z. In our tests, we found that even in the aftermath of heavy rainfall, this mower effortlessly conquered challenging terrain. The suspension system and iCD cutting system work in perfect harmony to deliver outstanding cutting results, even in less than ideal conditions.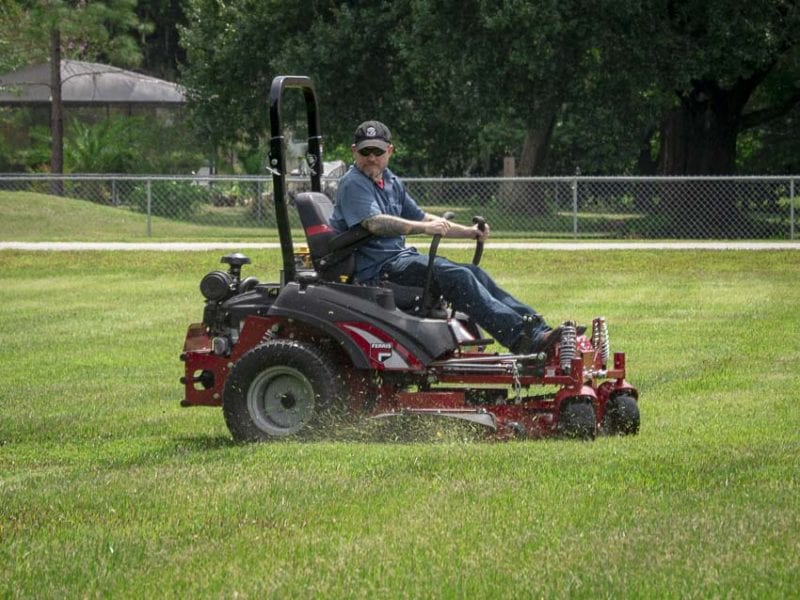 Fueling Efficiency
Equipped with dual 5.5-gallon fuel tanks, allowing for a total capacity of 11 gallons, the Ferris 2100Z ensures longer periods of uninterrupted mowing. The on-board switch conveniently enables you to switch between tanks, maximizing fuel efficiency.
Ferris IS 2100Z Mower Recommendations
The Ferris 2100Z Zero Turn Mower is an easy recommendation for anyone seeking a top-quality mower. It excels in comfort, build quality, and the unique suspension system sets it apart from the competition. With extended maintenance intervals and exceptional ride comfort, this zero-turn mower proves to be an excellent investment. So bid farewell to bumpy lawns and welcome a smooth mowing experience with the Ferris 2100Z.
Pricing, Warranty, and Specifications
The Ferris 2100Z zero-turn mower is available at a retail price of $10,799. Considering the maintenance benefits of Oil Guard, the exceptional build quality, and the luxurious ride experience, this price offers excellent value.
The mower is backed by a 4-year or 500-hour limited warranty, with unlimited hours covered during the first 2 years. Ferris also provides a 5-year warranty specifically for the coil overshock and suspension-related components. Warranty coverage for other components may vary. For detailed information, please refer to the operator's manual available on the Ferris website.
Ferris 2100Z ZT Mower Specifications:
Model: 5901578
Engine brand: Vanguard EFI with Oil Guard
Engine Rated Power: 28.0
Displacement: 810cc
PTO: Electric
Cylinders: 2
Starter: Electric
Fuel Capacity: 11 gallons (total)
Cutting Width: 61 inches
Cutting Height: 1.5 – 5 inches
Spindle: Cast iron lubricated
Deck Construction: iCD cutting system
Suspension: Adjustable rear coilover shock and front independent coilover shock
Transmission: Dual Commercial Hydro-Gear ZT-4400 propshafts with 8.3″ cooling fans
Drive Tires: 23 x 12 inches
Caster Tires: 13 x 6-5/6 inches
Ground Speed: 0-10 mph (forward); 0-5 mph (reverse)
Overall Length: 82.5 inches
Overall Width: 78 inches (deflector down); 61.5 inches (deflector up)
Dry Weight: 1295 lbs.
Suspension Seat
Certified ROPS: Standard, 180° foldable
Parking Brake: Internal Transaxle
Warranty: 4-year limited warranty or 500 hours, whichever comes first
Price: $10,799