EGO 615 CFM blower for mid-range power needs
EGO has a range of handheld blowers covering 530 CFM to 650 CFM. Of course, CFM is only part of the equation, but we still wonder where the EGO 56V 615 CFM blower fits into the conversation. A lot of people have asked how this blower compares to the 650, so we'll spend some time looking at that specifically.
advantage
Solid power level (17.5 N with 5.0Ah battery)
The best balance of performance and price in the EGO blower range
cruise control dial
efficient inline design
shortcoming
Battery-equipped runtime may be too short for some users
EGO 56V 615 CFM Leaf Blower Performance
Blowing power
EGO boasts 615 CFM and 170 MPH for this blower. Like all blowers, you won't get two max numbers at the same time. Get the best CFM with just the tube and get better airspeed with the included conical nozzle.
At high speed and turbo, it's clear that the EGO 56V 615 CFM blower is not as powerful as the 650. Still, that's hardly surprising by any means. However, don't mistake it for weakness. In Turbo, you can really feel the blower pushing back, enough to make us want to stick to high speeds unless we really need a boost.
We hooked up our trusty dynamometer to see exactly how these two blowers differ.
With the companion 2.5Ah battery, it's steady at 11.3 Newtons. In Turbo, it touched 17.0 N before finding a steady 16.5 N.
When upgraded to the 5.0Ah battery, it's 11.3 N on high and a higher 17.5 N on Turbo.
Lastly, we checked out the 7.5Ah battery, which is good for those with larger lawns and needing longer run times. Want to guess the power of high? 11.3 N. Turbo adds a bit, to 18.6 N.
The high power gets you into the wattage of a handheld domestic gas blower (typically 11 – 12 N for entry-level models), no matter which battery you have. The Turbo lets you get the most out of your gas performance, surpassing even many big brand handheld models.
run
The kit comes with a 2.5Ah battery, but we tested the run times with the 5.0Ah battery pack for a better direct comparison with the 650. At high speed, the EGO 56V 615 CFM blower ran for 30 minutes and 31 seconds. That's 3 minutes more than 650.
In Turbo, the difference is not as big. 615 ran for 17 minutes and 16 seconds, 42 seconds extra.
If you're using the 2.5Ah battery from the kit, just halve those numbers to get a good estimate (about 15 minutes on High, about 8 minutes 30 seconds on Turbo).
noise level
Due to the lower performance, the noise level of the EGO is also reduced. Going out into the open field and testing from my ears to the blower, we recorded 81 dB(A) at high speed and 85 dB(A) at Turbo. This is a few decibels lower than the 650 model. It may not sound like much, but a 3 decibel reduction is actually 1/2 the sound pressure level.
EGO 56V 615 CFM Leaf Blower Design Notes
From a design standpoint, the 615 and 650 CFM blowers are nearly identical. From the outside, they actually are.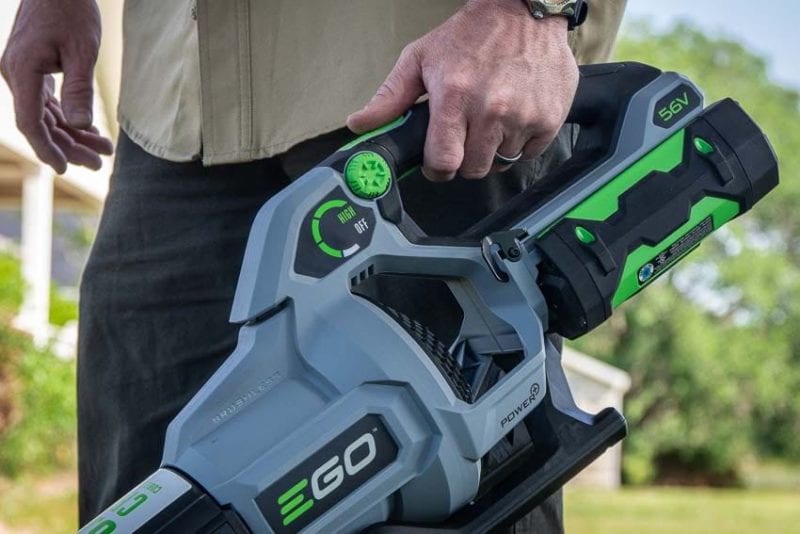 Standard controls include a 2-finger trigger and a variable-speed cruise control dial. We prefer the Trigger when we're blowing off hard surfaces quickly after mowing. Cruise control is especially useful when you want to slow down for better control or run longer.
Above the grip, you'll find the Turbo button, which you can activate when using the triggers or cruise control.
Additional features
Brushless Motor
weather resistant construction
Includes cone nozzle
EGO equips this blower with a 2.5Ah battery and charger for $219. If you're already using the EGO platform, it's $139 bare-bones. These are substantial savings over the 650's $199/$299 price structure, and worth the power trade-off if you don't need the top EGO offer. Remember, the 650 has a 5.0Ah battery instead of a 2.5Ah.
EGO 615 CFM vs. 650 CFM Quick Comparison
| | | |
| --- | --- | --- |
| | 615 cubic feet per minute (LB6150 ) | 650 cubic feet per minute (LB6500 ) |
| Rated air volume | 615 cubic meters | 650 cubic feet |
| Rated wind speed | 170 mph | 180 mph |
| Test Newton force (5.0Ah) | 17.5 Newtons | 20.8 Newtons |
| Run Time (High w/5.0Ah) | 30:31 | 27:14 |
| Runtime (Turbo w/5.0Ah) | 17:16 | 16:34 |
| Noise Level (High/Turbo) | 81/85 dB(A) | 84/88 dB(A) |
| Weight (without battery) | 4.74 lbs | 4.77 lbs |
| price | Bare $139 / Kit $219 | $199 bare metal / $299 kit |
615 CFM kit includes 2.5Ah battery, 650 CFM kit includes 5.0Ah battery
the bottom line
We've taken a very close look at two of EGO's top handheld blowers, but there's a wider perspective to consider as well. Whether you buy your blower as a bare-bones unit or a kit, it's hard to find a competitor that can give you better performance for the same price or less. That puts the 615 CFM blower in a pretty good place among EGO's 56V platform and other options.
Overall, the performance gains from the 615 are enough to warrant your budget bump from the 530 CFM model, and strong enough that you probably won't miss the extra power from the 650. If you're looking for the best balance of performance and cost, the EGO 56V 615 CFM blower is the choice.
EGO LB6150 615 CFM Leaf Blower Specifications
Model: Yigao LB6150
Maximum Air Volume at Nozzle: 615 CFM
Maximum Wind Speed: 150 MPH (without nozzles); 170 mph (with nozzles)
Maximum Blowing Force: 18.5 N
Approximate runtime (with 2.5Ah battery): 100 minutes. (low); 15 minutes (high); 10 minutes (boost)
Bare Tool Weight: 4.74 lbs.
Warranty: 5 years
Kit Price: $219
View EGO's full range of blowers here.