EGO 615 CFM blower for mid-range power needs
EGO offers a selection of handheld blowers ranging from 530 CFM to 650 CFM. While CFM is an essential factor, we're particularly interested in where the EGO 56V 615 CFM blower fits into the mix. Many people have been curious about how it compares to the 650 blower, so let's delve into that.
Advantages
Impressive power level (17.5 N with 5.0Ah battery)
The optimal balance of performance and price within the EGO blower range
Convenient cruise control dial
Efficient inline design
Shortcoming
Battery runtime may be insufficient for some users
EGO 56V 615 CFM Leaf Blower Performance
Blowing power
EGO claims that this blower provides 615 CFM and 170 MPH. It's important to note that you won't achieve both maximum numbers simultaneously. The best CFM is achieved with just the tube, while using the included conical nozzle will give you better airspeed.
At high speed and turbo, it's evident that the EGO 56V 615 CFM blower doesn't match the power of the 650. However, this comes as no surprise. Nonetheless, don't mistake it for weakness. In Turbo mode, you can genuinely feel the blower's force, making it preferable to stick with high speeds unless an extra boost is necessary.
To accurately compare these two blowers, we connected our trusty dynamometer and assessed the differences:
With the 2.5Ah battery, the blower maintained a steady 11.3 Newtons. In Turbo mode, it peaked at 17.0 N before stabilizing at 16.5 N.
Upgrading to the 5.0Ah battery resulted in 11.3 N on high and a higher 17.5 N on Turbo.
Lastly, with the 7.5Ah battery, suitable for larger lawns and longer runtime, the blower achieved 11.3 N on high and an increased 18.6 N on Turbo.
The high-power setting rivals that of a handheld domestic gas blower (typically 11 – 12 N for entry-level models), regardless of the battery used. Turbo mode allows you to maximize gas performance, surpassing even renowned handheld models.
Runtime
Although the blower comes with a 2.5Ah battery, we tested the runtime using the 5.0Ah battery pack to provide a more direct comparison with the 650. At high speed, the EGO 56V 615 CFM blower ran for 30 minutes and 31 seconds, which is 3 minutes longer than the 650.
In Turbo mode, the difference isn't as significant. The 615 ran for 17 minutes and 16 seconds, an extra 42 seconds compared to the 650.
If you're using the 2.5Ah battery from the kit, halve these numbers for a good estimate: around 15 minutes on high and approximately 8 minutes and 30 seconds on Turbo.
Noise level
Due to its slightly lower performance, the EGO blower also produces less noise. We conducted tests in an open field, measuring from my ears to the blower, and recorded 81 dB(A) at high speed and 85 dB(A) at Turbo. This is a few decibels lower than the 650 model. While it may not seem like much, a 3 decibel reduction actually equates to halving the sound pressure level.
EGO 56V 615 CFM Leaf Blower Design Notes
From a design perspective, the 615 and 650 CFM blowers are almost identical, even from the outside.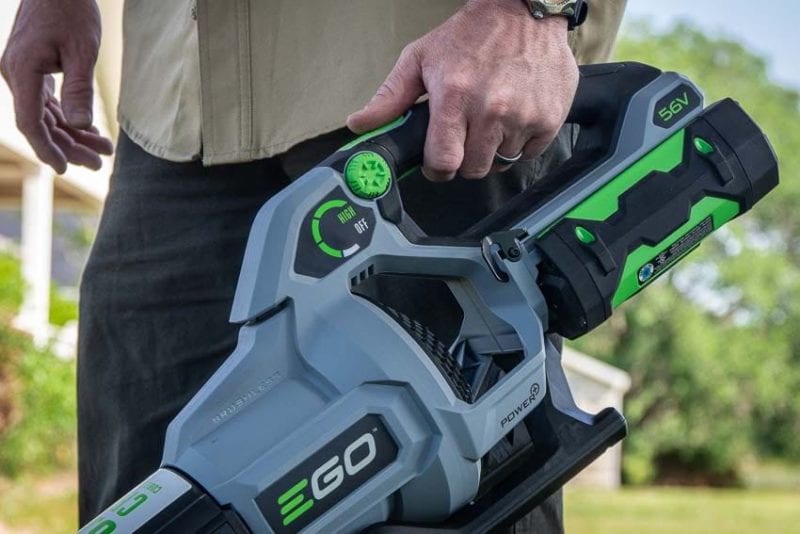 Standard controls include a two-finger trigger and a variable-speed cruise control dial. The trigger is preferable when quickly clearing hard surfaces after mowing, while cruise control proves to be useful when you want to decrease speed for better control or extend the runtime.
Above the grip, you'll find the Turbo button, which you can activate when using the triggers or cruise control.
Additional features
Brushless Motor
Weather-resistant construction
Includes cone nozzle
EGO offers this blower with a 2.5Ah battery and charger for $219. If you're already using the EGO platform, it's available as a bare tool for $139. These prices are significantly lower than the 650, which costs $199 for the bare tool version and $299 for the kit. Furthermore, it's worth noting that the 650 comes with a 5.0Ah battery while the 615 includes a 2.5Ah battery.
EGO 615 CFM vs. 650 CFM Quick Comparison
| | 615 cubic feet per minute (LB6150) | 650 cubic feet per minute (LB6500) |
| --- | --- | --- |
| Rated air volume | 615 cubic meters | 650 cubic feet |
| Rated wind speed | 170 mph | 180 mph |
| Test Newton force (5.0Ah) | 17.5 Newtons | 20.8 Newtons |
| Run Time (High w/5.0Ah) | 30:31 | 27:14 |
| Runtime (Turbo w/5.0Ah) | 17:16 | 16:34 |
| Noise Level (High/Turbo) | 81/85 dB(A) | 84/88 dB(A) |
| Weight (without battery) | 4.74 lbs | 4.77 lbs |
| Price | Bare $139 / Kit $219 | $199 bare metal / $299 kit |
Note: The 615 CFM kit includes a 2.5Ah battery, while the 650 CFM kit includes a 5.0Ah battery.
The Bottom Line
While we've closely examined two of EGO's top handheld blowers, it's essential to consider the bigger picture. Whether you opt for the bare tool or the kit version, it's challenging to find a competitor that offers better performance at the same or lower price. This puts the 615 CFM blower in an excellent position within EGO's 56V platform and among other options.
Overall, the performance gains from the 615 are substantial enough to justify a slight increase in your budget from the 530 CFM model. The power it delivers is robust, making the additional power from the 650 somewhat unnecessary. If you're seeking the ideal balance between performance and cost, the EGO 56V 615 CFM blower is the perfect choice.
EGO LB6150 615 CFM Leaf Blower Specifications
Model: EGO LB6150
Maximum Air Volume at Nozzle: 615 CFM
Maximum Wind Speed: 150 MPH (without nozzles); 170 mph (with nozzles)
Maximum Blowing Force: 18.5 N
Approximate runtime (with 2.5Ah battery): 100 minutes (low); 15 minutes (high); 10 minutes (boost)
Bare Tool Weight: 4.74 lbs.
Warranty: 5 years
Kit Price: $219
View EGO's full range of blowers here.