Discover the Cordless Dremel Minimite 750-02 Rotary Tool
If you've had the pleasure of using a Dremel tool before, you know why it's highly regarded. But if you've only experienced the corded versions, then get ready for a delightful surprise. Originally designed for hobbyists and individuals working on small woodworking projects or creative crafts, the Dremel has now become more versatile with the addition of router attachments, oscillating tools, sanders, and even handheld circular saws. And with the introduction of rechargeable options like the Dremel Minimite 750-02 4.8V Cordless Rotary Tool, it has gained popularity in the mass market.
The Dremel Minimite 750-02: A Precision Tool for Light Jobs
The Dremel Minimite 750-02 is a compact tool that excels at drilling, sanding, shaping, detailing, and other light tasks. It may not be suitable for polishing your car or the exterior of your house, but its real appeal lies in its portability. With a quick 3-hour charge, the removable 4.8V NiCd battery powers up this amazing tool, allowing you to work on the go. The MiniMite offers two speeds (6500 and 13000 RPM) and is compatible with any Dremel accessory with a shank length of up to 1/8 inch. For uninterrupted use, you can simply swap out the battery pack with a spare one. And at just 9 ounces, it's lightweight and ergonomic, making it a pleasure to handle.
Effortless Handling and Convenient Features
Using the Dremel Minimite 750-02 is a breeze. The tool features a conveniently placed blue button that you can easily activate with your finger during use. The speed control switch is situated in the middle, with the middle position being the "off" setting. It's designed for user comfort and simplicity. The retail package includes the following:
4.8V Dremel MiniMite 750 Cordless Rotary Tool
3-hour battery charger
401 mandrel
432 1/2″ 120 grit sanding belt
Dremel LED Flashlight
414 small felt wheel
84922 Silicon carbide grinding stone
Wrench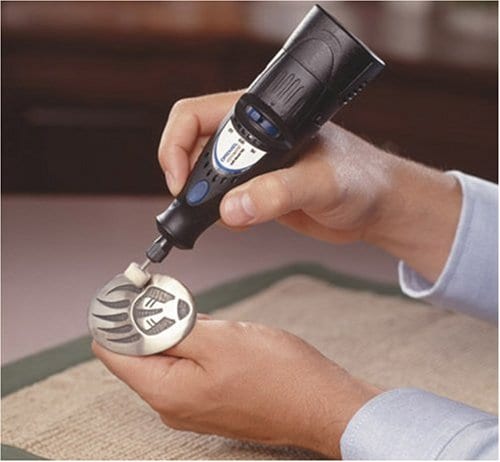 Versatile and Affordable
The Dremel Minimite 750-02 is a powerful kit that serves as an ideal starting point for small precision projects around the house. Changing bits is a breeze with the included wrench, making it incredibly user-friendly. With its affordable price point, priced under $30, it's a no-brainer addition to anyone's toolkit. Craft enthusiasts, in particular, will appreciate its versatility, as it can even be used for metal and jewelry polishing. It's hard not to love a Dremel tool, and the cordless Minimite 750-02 is no exception.
Remember, for all your light-duty rotary tool needs, the Dremel Minimite 750-02 delivers performance, convenience, and value. Upgrade your toolkit today!