Preparing the soil and cultivating your own vegetables is one of the most satisfying aspects of owning a larger property. While some soils may pose less of a challenge, many can be quite difficult, especially when you're just starting out. The DR Power Rear Tine Rotary Tiller Pro XLDRT has a simple question for you: Are you prepared for serious farming?
Advantages
Impressive farming performance
Dual rotation for forward and reverse tooth movement
Durable tires
Mud-guarding side panels and rear debris guards
Multiple transport modes: forward, neutral, and reverse
Heavyweight construction to prevent bouncing
Adjustable handle height
Shortcomings
Difficulty in obtaining oil
No electric start option
DR Power Rear Tine Rotary Tiller Performance
Engine
The Pro XLDRT is powered by a 209cc overhead valve engine from DR Power, capable of producing 9.5 foot-pounds of torque. Good news for our friends in California is that this engine is CARB certified.
We did find one downside when it comes to refueling. The engine requires 20 ounces of 30W-HD oil. The more accessible of the two channels tends to get clogged easily. It's best to use a long, narrow funnel for pouring oil directly from the container.
Farming
In Georgia, we have a backyard vegetable garden that we planted on time but neglected due to our busy family schedule. We put the DR Power Rotary Tiller to the test by clearing the rows between vegetable plantings.
This tiller is equipped with a set of 11-inch teeth that can till up to 18 inches wide and 11 inches deep. It is much more efficient and effective than using a weeder attachment or smaller tillers.
What sets this model apart from others is its dual rotation capability. You can operate the tines in forward rotation for working in loose soil or a mature garden. Switch to reverse rotation when dealing with tough soil or tilling a field for the first time. This can be easily done using the gear lever located to the left of the handlebar's center.
To test the reverse functionality, we decided to expand the garden boundaries. The Pro XLDRT demonstrated impressive digging power in this challenging mix of Georgia clay and topsoil.
As robust as the tiller is, it does have its limitations. The tines can handle occasional small rocks, but it is best to avoid rocky soils or areas with large rock masses.
DR Power Rear Tine Rotary Tiller Design Notes
Drive System
The drive system of the Pro XLDRT is also powered by its engine. Using the speed selector on the right, you can easily match the drive speed to the tines' work.
The same selector that controls the tooth rotation also handles the machine's forward and reverse drive. It's important to note that no matter the tines' rotation, the drive is always in the forward direction. With the tines disengaged, there is a separate transport mode for forward, neutral, and reverse.
Keep in mind that there is a difference in performance between forward and reverse tine rotation. Forward rotation aids in propelling the machine forward and allows it to move faster compared to reverse rotation. If you require additional resistance to slow down, you can engage a tow post.
Equipped with a 13″ x 5″ pneumatic wheel with a robust tread, the Pro XLDRT provides excellent traction and moves smoothly through the soil.
Shield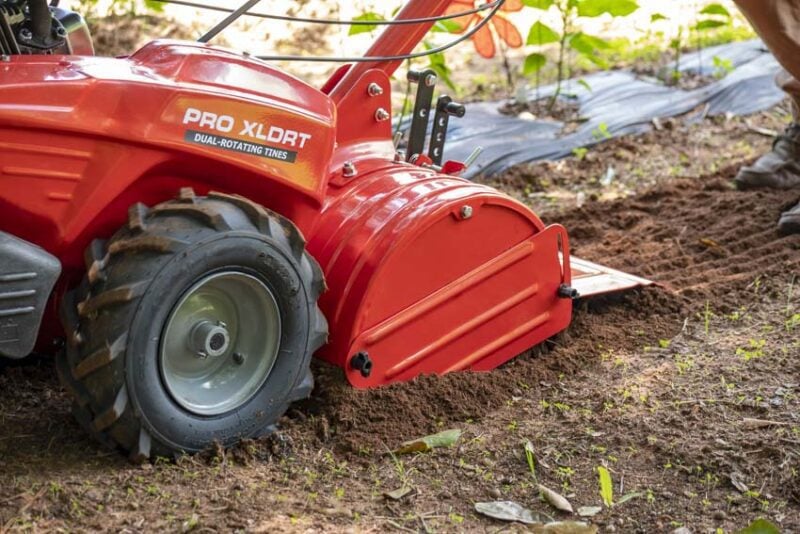 The DR Power is designed to keep you clean during operation. It features side panels and a spring-loaded rear debris guard to prevent mud splatter.
Supplementary Notes
Kick Start (Pull Start) for easy ignition
96 oz fuel capacity for extended operation
Adjustable handle height for ergonomic use
Front brush guard for added protection
Weighs 205 lbs
The list price for the DR Power Pro XLDRT is $999.99, and it comes with a 2-year residential warranty or a 90-day commercial warranty. However, keep an eye out as DR's website currently offers it at $799.99. Online orders come with free shipping.
The Bottom Line
The Pro XLDRT Rear Tine Rotary Tiller is the most powerful walk-behind tiller in the DR Power lineup, and its dual rotation feature makes a significant difference. If you're serious about working on larger acreage for planting, skip the underpowered budget options and attachment systems. Opt for the Pro XLDRT instead.
DR Power Rear Tine Rotary Tiller Specifications
Model: DR Power Pro XLDRT
Engine: 209cc OHV
Torque: 9.5 ft-lbs
Tillage Width: 18″
Tillage Depth: Up to 11 inches
Tine Size: 11″
Wheels: 13 x 5 inches
Price: $999.99
Warranty: 2 years residential, 90 days commercial
Discover more outdoor power equipment on DR's website.