DR Power Commercial Field and Brush Mowers for Challenging Mowing Conditions
Tackling large tracts of land with a tractor and batwing is efficient, but what about smaller plots or hard-to-reach areas? In this article, we explore how the DR Power Commercial Field and Brush Mower handle tough cutting tasks with their narrower widths. We spoke with Eli Mosley at the ranch to get the scoop.
Advantages
Honda GXV390 engine
Built to commercial-grade standards
Independent hydrostatic drive system
Simple Drive Control
Handguards for safety
Rotating deck for better maneuverability
Convenient oil drain hose
Made in the USA with global materials
Shortcoming
Higher-end speeds could be faster for reaching work areas
DR Power Commercial Field and Lawn Mower Basics
The XD26 model from DR Power features the reliable Honda GXV390 engine. This commercial-grade powerplant produces 10.2 horsepower and is equipped with an oil pump to ensure proper lubrication during mowing.
Underneath the mower's 12-gauge steel deck, you'll find a sturdy 26-inch blade that can handle cutting grass up to 4 feet tall, as well as 8-foot-tall grass and 2-inch-thick saplings.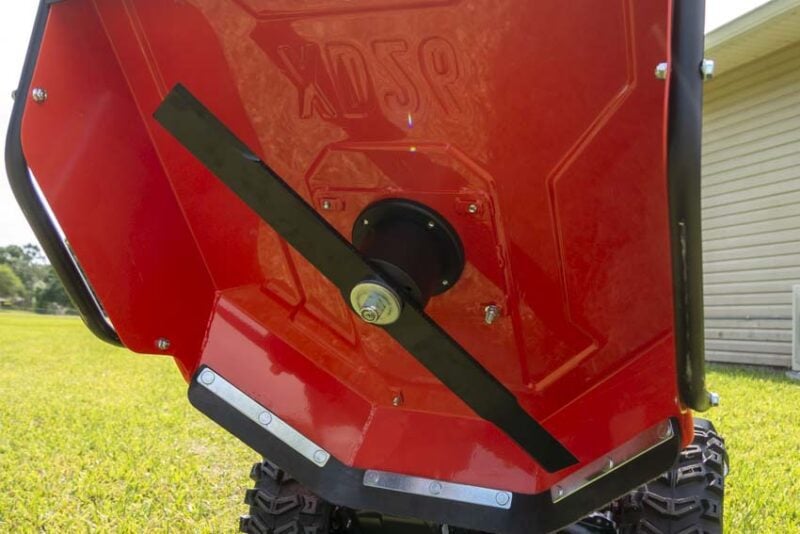 Cutting with DR Power Commercial Field and Lawn Mowers
Our goals were twofold. First, we wanted to tackle some regular maintenance on the fields at Bator. This involved cutting through thick growth of smut and bahia, with some areas reaching about 3 feet in height. The second part was more challenging, as we had to deal with 6 to 8-foot-tall growth across most of the site.
Thanks to the combination of the Honda engine and high-quality blades, the DR Power mower effortlessly handled even the toughest obstacles with impressive efficiency.
While the cutting performance of the mower is outstanding, there are a few other notable features. One minor drawback is that the drive to the work area could be a bit faster. However, the Honda engine is highly fuel-efficient. With a gas tank capacity of just over half a gallon, we were able to cut for about an hour on a single tank. Considering the engine's size and power, we were very pleased with its performance.
Under optimal conditions, you can expect to cover approximately 3/4 of an acre within that hour. However, the mower may experience slower speeds on rough or mountainous terrain.
DR Power Commercial Field and Lawn Mower Design Features
Drive Control
The drive controls on the DR Power XD26 are simple and intuitive to use. Just squeeze the levers for forward motion, or push the thumb levers to engage the reverse function. The controls are pressure-sensitive, so the more you squeeze, the faster the mower moves.
It's worth noting that if you're cutting a large area, you may experience some hand fatigue. We noticed some strain on our hands after the first hour of continuous cutting, and after four hours, they definitely needed a break.
Handguards
One standout feature on the DR Power XD26 is the handguards. If you've ever used a brush mower, you know how easy it is to end up with scratched hands. The handguards provided on this model help protect your hands against injuries while cutting through thicker bushes and trees.
Drain Pipe
Changing the oil in the mower is made easier with the included long drain hose, which conveniently clips to the side of the engine. Trying to control the oil without this feature would be quite a challenge.
Additional Features
Four integrated tie-down points for easier towing
1 3/8″ cast iron spindle to withstand the mower's intended use
Designed and manufactured in the USA using global materials
DR Power Commercial Field and Lawn Mower Prices
The list price for the DR Power XD26 is $4799, but it is currently on sale for $4299. If you prefer an electric start option, that model is available for an additional $300. The engine comes with a 3-year warranty, while the rest of the machine is covered for 2 years. This warranty applies to both residential and commercial use.
If you're looking for even more power and cutting width, the XD30 model with Kawasaki's 18.5-horsepower engine and a 30-inch cutting width is available for $4999.
The Bottom Line
The DR Power XD26 Commercial Field and Brush Mower is an excellent solution for various field types. Whether you have a narrow entryway, a strip that large bush hogs can't access, or a smaller property with a limited budget, this mower delivers outstanding performance. It's a versatile alternative to a tractor and batwing setup.
Specifications
Model: DR Power XD26
Engine: Honda GXV390
Fuel: Gasoline
Speed: 3500 rpm
Cutting width: 26 inches
Mowing height: 4 inches
Dry Weight: 313 lbs