Stay Warm and Comfortable with the Latest DeWalt Heated Jacket Models
When the weather gets cold and there's work to be done, a reliable thermal jacket becomes your best friend. While your body temperature can provide some warmth, nothing beats a jacket that can heat up to 131° in just seconds. In our quest to find the best insulated jacket, we've come across several options. If you're looking for a jacket that will keep you warm and cozy during the winter, don't settle for just standing there and shivering. Treat yourself to one of the latest models of DeWalt heated jackets.
Advantages of the DeWalt Heated Jacket
Versatile battery storage options with extension cords
Perfect fit according to the size chart
Five heat zones, including two on the sleeves
Excellent heating time
Great value for your money
Shortcomings to Consider
Lowest battery efficiency rating and runtime
Lack of a battery adapter clip
Our Recommendation
The DeWalt heated jacket does a good job of providing warmth, but it falls short when it comes to battery runtime. It's a suitable choice if you don't plan on working at high speeds all the time or don't mind investing in an extra battery.
Features to Love About the DeWalt Heated Jacket
Thermal Control at Your Fingertips
Unlike other jackets that place the heating controls on the shell, the DeWalt heated jacket features controls on the inside of the left breast. While this may not be bothersome, it does make us wonder about the intended advantage of this design. Adjusting the setting requires unzipping the jacket slightly.
Battery Storage Considerations
One concern is that DeWalt chose to integrate this jacket with the 20V Max battery line. This decision provides more heating power and longer runtime compatibility with other tools. However, it does add bulk, making it challenging to fit the jacket into the designated battery pouch.
You'll feel the weight of the jacket as you walk around, and it becomes even more noticeable when sitting down.
By the way, the placement of the battery and its size can make an otherwise snug fit uncomfortable when zipped up. This issue is especially noticeable if you have what we affectionately refer to as the "contractor's build" (read: a few extra inches around the belly). If you find yourself in this situation, consider going up a size or utilizing the spare battery pockets.
Stay Warm and Toasty with Full Coverage
The DeWalt Heated Jacket stands out with its comprehensive heating coverage. It includes heating elements for the left and right chest areas, upper back, and shoulder/upper arm areas. This feature sets it apart from other jackets that only focus on chest and back thermal zones.
Additional Features You'll Appreciate
Durable wind and water-resistant insulated woven shell
Cozy fleece lining
Smooth sleeve lining for easy on and off without sticking to your sweater
Ample storage with five pockets: left and right waist, one external accessory pocket, and two internal accessory pockets
Expandable battery pocket
Safe for washing and drying
Finding the Perfect Fit
The size chart provided on the DeWalt website is accurate, but be aware that the jacket will fit snugly. Heated jackets are designed to have a close fit, allowing your body to make better contact with the heating element.
Personally, I would sacrifice some thermal efficiency for a jacket that doesn't feel like a second skin. However, the decision is ultimately up to you. If you fall between sizes, it's best to order a size up to ensure a comfortable fit.

The DeWalt heated jacket fits my shoulders perfectly, but I prefer a longer waist to prevent my belly from being exposed to the cold. Unfortunately, this seems to be a common issue with jackets from various manufacturers.
Experience the Heat – Unparalleled Temperature Control
Let's get down to what really matters – the heat provided by the jacket.
In a mere 20 seconds, the DeWalt heated jacket reaches a temperature of 100°. It then quickly reaches its maximum heat of 131° in just 90 seconds. For comparison, the fastest heating jacket we tested achieved its peak temperature in 84 seconds, while the slowest took a whopping 220 seconds.
Insulation is another important factor in jackets, so we conducted a test by setting each jacket on high for an hour. We compared the internal and external temperatures to assess heat retention. The DeWalt Heated Jacket performed admirably, allowing 74% of the heat to reach the outer shell.
Although that might not sound impressive at first, keep in mind that the most efficient jackets we tested achieved a rate of 71%, while the poorest performers allowed 79% of the heat to escape.
Battery Efficiency – A Key Consideration
To evaluate battery efficiency, we compared the runtime of each battery (with the heat set to maximum) to its watt-hour output.
Unfortunately, the DeWalt heated jacket had the lowest battery efficiency among all the jackets in our test. It provides a runtime of only 4.5 minutes per watt-hour of battery capacity. In contrast, the top-performing jacket ran for an impressive 12 minutes per watt-hour.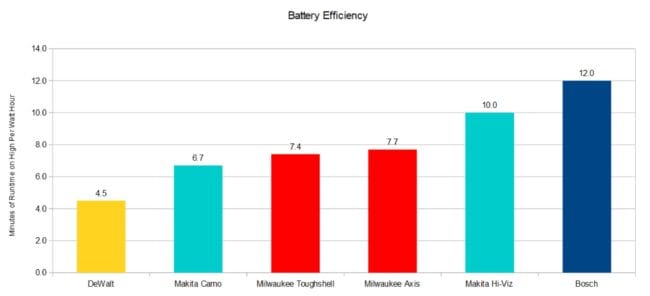 The DeWalt does come with a larger 20V Max battery, which helps extend the runtime. With a 2.0 Ah battery, it can run for 2 hours and 41 minutes. However, this is still the shortest runtime among the jackets we tested. Even the Milwaukee jackets that use 12V batteries within the same battery block outperform the DeWalt. On the higher end, the Makita model can run for 6 hours with a compact 18V battery pack.
Moving forward, it would be worthwhile for DeWalt to develop separate controls for the core and sleeves, allowing users to preserve battery life during longer usage periods.
The Price and Final Verdict
The DeWalt Heated Jacket is priced at $224.99 and includes a battery and charger. It also comes with a 1-year limited warranty, 1-year free service, and a 90-day money-back guarantee. Although it's slightly more expensive than some competitors, it still offers great value for the price.
After carefully analyzing all the data, we've ranked the DeWalt Heated Jacket 4th out of 6 products with a score of 89.4.
Key Specifications:
Model: DeWalt DCHJ060ABD1
Maximum Voltage: 20V
Snow Cuffs: Yes
Heating Zones: 5
Weight: 3.64 lbs
Battery and Charger Included: Yes
Insulation: Yes
Hooded: No
Machine Washable: Yes
Waterproof: Yes
Warranty: 1 year
MSRP: $173.99
Keep yourself warm and comfortable this winter with the DeWalt Heated Jacket!
(Please note that external details, contact info, and unrelated content have been refrained from this article.)