The DeWalt DCF850: Redefining Compact Impact Drivers
When you take a first look at the DeWalt Atomic 20V Max Impact Driver, it becomes instantly apparent that this tool is unlike anything you've seen before. But what performance sacrifices must be made for such a compact design? To find out, we put the DCF850 to the test against the 20V Max XR DCF887.
Pros of the DeWalt DCF850
The most compact 18/20V impact driver we've ever tested.
Equipped with a 3-LED light ring around the chuck for enhanced visibility.
Cons of the DeWalt DCF850
No significant drawbacks to note.
At first glance, the DCF850 shares some familiar specifications. With 1825 in-lbs of torque, 3250 RPM, and 3800 IPM that can be controlled through 3 speeds and a variable speed trigger, the design team expertly integrated a brushless motor that rivals its larger counterpart, the DCF887/888.
To ensure fairness, we conducted side-by-side tests to evaluate the performance of both impact drivers using 8″ RSS screws from GRK Fasteners. These screws were driven into stacked OSB plywood, providing a consistent working medium. Additionally, both impact drivers were powered by freshly charged 5.0Ah batteries.
According to our tests, the Atomic model proved to be approximately 0.5 seconds slower on average. However, the question remains: Does half a second truly make a difference?
Ultimately, that's for you to decide. But if you value a lightweight and compact design, the trade-off is well worth it.
DeWalt Atomic 20V Max Impact Driver Design Notes
Taking Compactness to the Next Level
The DCF850 proudly claims the title of the most compact impact driver, measuring just 3.97 inches in length. It's so small that the battery extends beyond the clip. DeWalt cleverly resolves this issue by tilting the head slightly upward, allowing the battery to naturally spring back.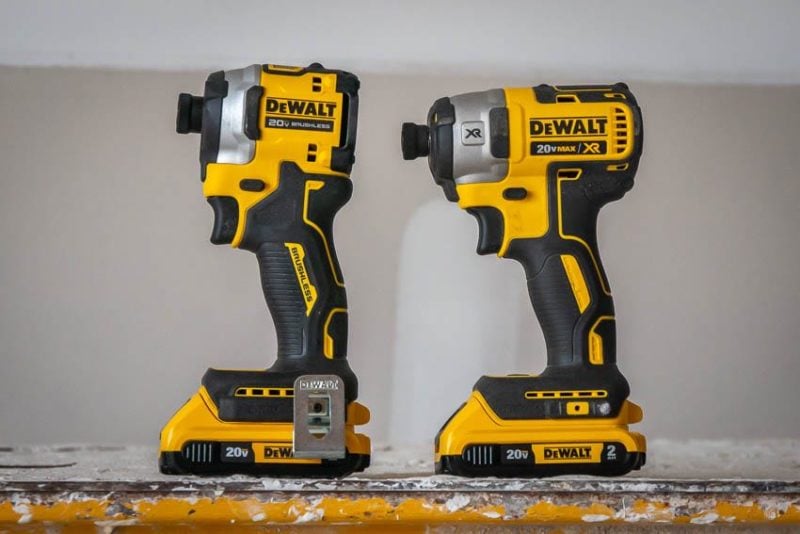 In terms of weight, this impact driver weighs 2.1 lbs. When paired with a 5.0Ah battery, the total weight comes to 3.5 lbs. For those seeking the utmost compactness, combining it with a PowerStack battery reduces the weight to just 2.9 lbs.
Other Noteworthy Features
Illumination is provided by a 3-LED light surrounding the chuck.
Equipped with a double-sided belt hook for convenient storage.
DeWalt DCF850 vs. DCF887: A Close Comparison
When it comes to design and specifications, here's how the DeWalt Atomic DCF850 and XR 887 models stack up:
| | DeWalt DCF850 | DeWalt DCF887 |
| --- | --- | --- |
| Engine | Brushless | Brushless |
| Drive | 1/4 inch | 1/4 inch |
| Maximum Torque | 1825 lb-in | 1825 lb-in |
| Impact per Minute | 0-3800IPM | 0-3800IPM |
| Speed (Revolutions/Min) | 0-1000/2800/3250 | 0-1000/2800/3250 |
| Length | 3.97 inches | 5.3 inches |
| Bare Weight | 2.1 lbs | 2.1 lbs |
| Kit Price | $199 (includes 5.0Ah battery) | $199 (includes 5.0Ah battery) |
DeWalt Atomic 20V Max Impact Driver Price
DeWalt offers the Atomic 20V Max 1/4 inch Brushless Cordless 3-Speed Impact Driver in various options. If you already have DeWalt batteries, you can purchase the bare tool for $149. The kit option, priced at $199, includes a 5.0Ah battery, charger, and a carrying case.
This tool is backed by DeWalt's reliable 3-year warranty, a 1-year free service agreement, and a 90-day money-back guarantee.
The Bottom Line: A Compact Powerhouse
While the DCF850 may possess slightly slower performance when tackling demanding driving tasks compared to the DCF887, don't let that deter you. This impact driver offers unparalleled compactness without compromising speed and power. It's the all-in-one impact driver your toolkit has been waiting for.
DeWalt Atomic 20V Max Impact Driver Specifications
Model: DeWalt DCF850B/DCF850P1
Motor: Brushless
Driver: 1/4 inch
Maximum Torque: 1825 in-lbs
Impact per Minute: 3800 IPM
No-load Speed: 3250 RPM
Length: 3.97 inches
Height: 8 inches
Weight: 2.1 lbs
Warranty: 3 years
Price: $149 (bare); $199 (1 x 5.0Ah kit)