The DeWalt DCF850 redefines what it means to be a compact impact driver
At first glance, it's obvious that the DeWalt Atomic 20V Max Impact Driver is very different. So how much performance do you have to give up to get such a compact design? We dug in and tested the DCF850 against the 20V Max XR DCF887 to find out!
advantage
Most compact 18/20V impact driver we've ever tested
3-LED light ring around chuck
shortcoming
At first, the DCF850 has some familiar specs. With 1825 in-lbs of torque, 3250 RPM and 3800 IPM, controlled via 3 speeds and a variable speed trigger, the design team dialed in a brushless motor to match the larger DCF887/888.
Since the design is much smaller, we wanted to compare the two side-by-side to see how they perform when the rubber hits the road.
The tests we conducted used 8" RSS screws from GRK Fasteners. We put them into stacked OSB plywood to give us a consistent working medium. To make sure it's as fair as possible, both impact drivers run off freshly charged 5.0Ah batteries.
| | | |
| --- | --- | --- |
| | Atomic 20V Max DCF850 | 20V Max XR DCF887 |
| test 1 | 10.28 seconds | 9.11 seconds |
| test 2 | 10.22 seconds | 9.06 seconds |
| test 3 | 9.28 seconds | 9.65 seconds |
| test 4 | 10.14 seconds | 10.83 seconds |
| test 5 | 10.69 seconds | 9.53 seconds |
| Average time | 10.12 seconds | 9.64 seconds |
On average, Atomic was about 1/2 second slower in this test. Does half a second matter?
Of course, that's up to you, but we don't mind if you get a lighter weight and more compact design.
DeWalt Atomic 20V Max Impact Driver Design Notes
next level compact
The DCF850 earns the title of most compact impact driver at just 3.97 inches long. It's so small that the battery sticks out of the clip. DeWalt solves this by tilting the head up slightly, so the battery springs back slightly.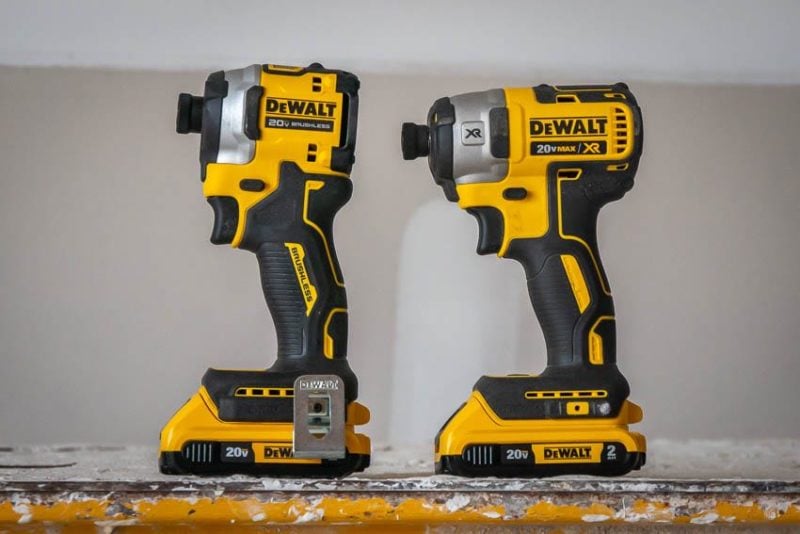 In terms of weight, it's 2.1 lbs. With the 5.0Ah battery we used, the total weight is 3.5 lbs. If you want to be as compact as possible, pair it with a PowerStack battery and it weighs just 2.9 lbs.
other features
3-LED light around chuck

double sided belt hook
Dewalt DCF850 and DCF887
In terms of design and specs, here's how the DeWalt Atomic DCF850 and XR 887 models compare:
| | DeWalt DCF850 | DeWalt DCF887 |
| --- | --- | --- |
| engine | brushless | brushless |
| drive | 1/4 inch | 1/4 inch |
| Maximum torque | 1825 lb-in | 1825 lb-in |
| impact per minute | 0-3800IPM | 0-3800IPM |
| Speed (revolutions per minute) | 0-1000/2800/3250 | 0-1000/2800/3250 |
| length | 3.97 inches | 5.3 inches |
| bare weight | 2.1 lbs | 2.1 lbs |
| kit price | $199 (includes 5.0Ah battery) | $199 (includes 5.0Ah battery) |
DeWalt Atomic 20V Max Impact Driver Price
DeWalt offers the Atomic 20V Max 1/4 in. Brushless Cordless 3-Speed Impact Driver in a variety of options. If you're good with DeWalt batteries, you can pick them up bare for $149. The kit option is $199 and includes a 5.0Ah battery, charger and carrying case.
DeWalt backs this tool with a 3-year warranty, a 1-year free service agreement, and a 90-day money-back guarantee.
the bottom line
While the specs are the same as the DCF887, the DeWalt Atomic 20V Max Impact Driver has slightly slower performance on tougher driving tasks. Don't let that dissuade you, though. The DCF850 is a very compact impact driver that still packs enough speed and power to be the only impact driver you'll ever need in your toolkit.
DeWalt Atomic 20V Max Impact Driver Specifications
Model: DeWalt DCF850B/DCF850P1
Motor: Brushless
Driver: 1/4 inch
Maximum Torque: 1825 in-lbs
Impact per minute: 3800 IPM
No-load speed: 3,250 RPM
Length: 3.97 inches
Height: 8 inches
Weight: 2.1 lbs
Warranty: 3 years
Price: $149 (bare); $199 (1 x 5.0Ah kit)