Danner Steel Yard Work Boots are durable and look great
Danner Steel Yard work boots look great, but we all know looks aren't everything. We put these premium work boots on the feet of a few of our professionals to see how they feel out of the box and after a while on the job.
advantage
value for money
excellent construction
excellent stability
nice
shortcoming
Requires more break-in time than many work boots
Editor's note: Check out our best work boots review article to see our favorites for all applications.
fit
I usually wear a size 9-1/2 and since boots sometimes run a little too big, I start with a size 9. Turns out I didn't need to do that, the 9-1/2 size was just right for me.
On your foot, it's very secure in the heel area and snug but not tight around the middle. The toe box opens up like you'd expect from a work boot, though it's not as generous as we've seen from Keen Utility.
If you happen to wear wider than usual, you'll need to order these wide ones. It's a very true to size fit without much forgiveness in width.
comfortable
The Danner Stronghold boots that we reviewed a while ago are ready to go right out of the box. The Danner Steel Yard Work Boot definitely needs some breaking-in time.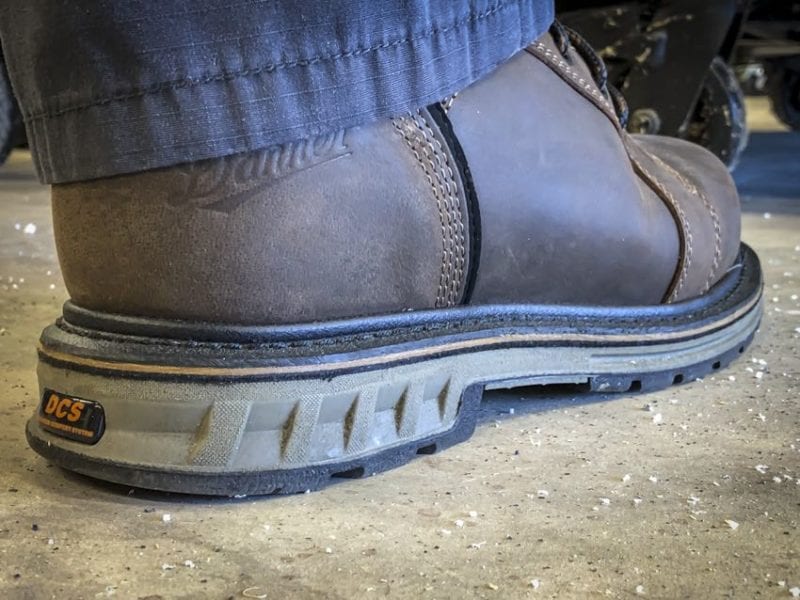 Danner uses its DCS – the Danner Comfort System – in construction. The midsole has some advantages, but not as much as softer EVA foam. The upside is that it lasts longer than EVA and absorbs vibrations really well.
Between the midsole and the insole, it feels like there's some sort of plate there. It does an excellent job of improving the overall stability of the boot on uneven surfaces. The tradeoff is that it takes some of the midsole's cushioning away from your foot.
The insole plays an important role in improving comfort. This replaceable inner layer has about 1/2 inch of cushioning at the heel and gets significantly thinner as it moves forward. Airflow channels at the bottom help prevent moisture buildup.
Out of the box, assuming you need a few weeks to break them in well, these work well on a surface with some bouncy. If you work primarily on concrete, asphalt, or steel, you may want to replace your insoles for more cushioning, especially if you're a big guy.
style
The Danner Steel Yard Work Boot is one of the best looking boots we've reviewed in a long time. Predominantly brown, with a taupe midsole and black near the top, they're hiker-inspired and go with just about anything.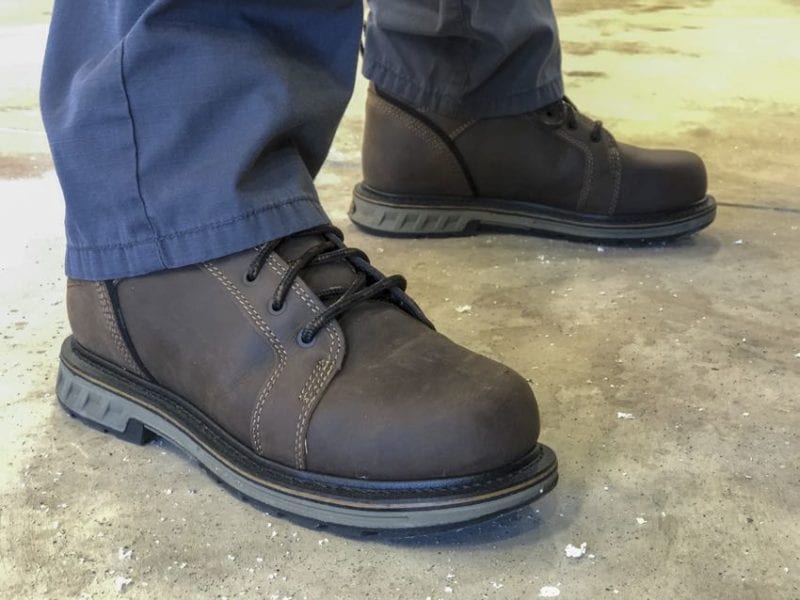 There are currently 6 men's styles available, and Danner doesn't make a women's style.
Danner Steel Yard Options
8″ steel head 400G (insulated)
8″ steel head
6″ steel head with Met Guard (not waterproof)
6" Steel Head 400G (Insulated)
6″ steel head
6″ steel head thermal (not waterproof)
Available in only one color, all styles except Met Guard and Hot have a waterproof membrane.
put up
Starting at the bottom, a full-grain leather upper connects to an oil- and slip-resistant outsole with sturdy Goodyear welt. It's the strongest connection available, and we prefer it for long-term wear, even though the break-in period is usually longer. Some quality boots in the same price range use a less robust direct-attach method.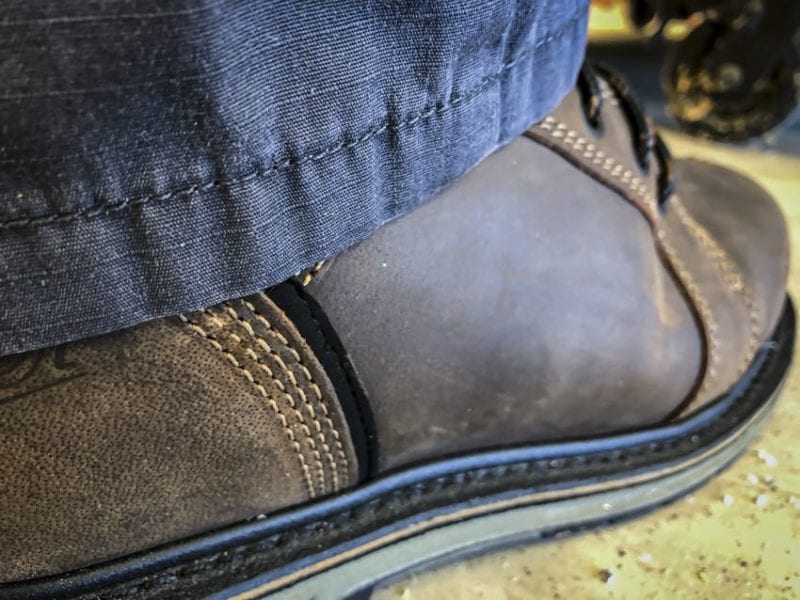 Double stitched on most of the upper and 4 layers on the heel. A little single stitch on the tongue and tab.
I've had boots before that failed at the lace hook first because the material wasn't strong. Some hooks are so soft that you can push them in with your thumb. That's not the case with Danner. The hooks they chose are strong and should work with the boots.
Overall, the construction of these boots is excellent. If you're the type of person who drives your truck 300,000 miles before buying a new one, then this is the build for you.
Security Level
If you're looking to meet specific safety standards, here are the ratings for the 6-inch steel-toed boots we tested:
ASTM F2413-18
i/75
C/75
Hepatitis B
Price
Prices for Danner Steel Yard Works Boots range from $150 to $180, depending on which style you choose. The style we tested (6-inch steel toe) is listed for $160, and we've seen them online for slightly less.
In the premium work boot category, this is a very solid value considering Danner's choice of materials and construction.
the bottom line
The Danner Steel Yard Boot works best on softer surfaces. They take some break-in time, but for the quality of their build, it's well worth it. These boots should continue to work long after cement and direct attach boots have failed.
Buy them if you are looking for high quality boots for use on different terrains and good value for money in the premium class. Pass if you mostly work on concrete or other hard surfaces and have trouble finding comfortable boots.
Learn more about these boots on Danner's website.