Danner Steel Yard Work Boots: Durability and Style Combined
Danner Steel Yard work boots not only look impressive, but they also offer exceptional durability. We had our team of professionals test these premium work boots to gauge their comfort straight out of the box and during long hours on the job.
Pros and Cons
Advantages
Great value for money
Excellent craftsmanship
Impressive stability
Stylish design
Shortcoming
Requires more time to break-in compared to other work boots
Editor's note: For a comprehensive review of the best work boots for all applications, check out our dedicated article.
Fit: A Secure and Snug Feel
When it comes to fit, I typically wear size 9-1/2, but with boots, I often opt for a size 9. However, with Danner Steel Yard Work Boots, I found that the 9-1/2 size was the perfect fit for me.
On the feet, these boots provide a secure fit in the heel area and a snug, yet not overly tight, fit in the middle. The toe box allows for ample room, though not as generous as Keen Utility boots.
For those with wider feet, it is recommended to order the wide size as the standard fit is true to size with little forgiveness in width.
Comfort: A Break-In Period Required
While the Danner Stronghold boots we reviewed before were ready to go straight out of the box, the Danner Steel Yard Work Boot requires some breaking-in time.
Danner incorporates its Danner Comfort System (DCS) in the construction of these boots. The midsole offers certain advantages, although not as much as the softer EVA foam. However, it provides enhanced longevity and excellent vibration absorption.
Between the midsole and the insole, there is a plate-like structure that greatly improves overall stability on uneven surfaces. However, this reduces some of the midsole's cushioning for the foot.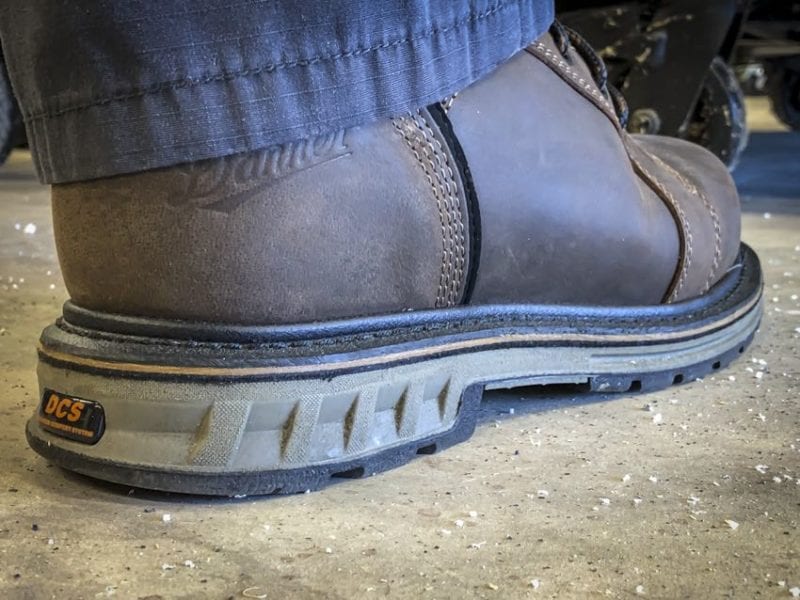 The insole plays a crucial role in enhancing comfort. This replaceable inner layer offers approximately 1/2 inch of cushioning at the heel, gradually thinning out towards the front. Airflow channels at the bottom help prevent moisture buildup.
Out of the box, these boots perform well on surfaces with some bounce. However, if you primarily work on concrete, asphalt, or steel, you may want to consider replacing the insoles for additional cushioning, particularly if you're on the heavier side.
Style: Aesthetically Pleasing and Versatile
The Danner Steel Yard Work Boot is unquestionably one of the most attractive boots we've reviewed in a long time. With a predominantly brown color, a taupe midsole, and black accents at the top, these boots have a hiker-inspired design that complements almost any outfit.
There are currently six men's styles available, unfortunately, Danner does not offer a women's style.
Danner Steel Yard Options
8″ steel head 400G (insulated)
8″ steel head
6″ steel head with Met Guard (not waterproof)
6″ Steel Head 400G (Insulated)
6″ steel head
6″ steel head thermal (not waterproof)
All styles, except for Met Guard and Hot, are available in a single color option and feature a waterproof membrane.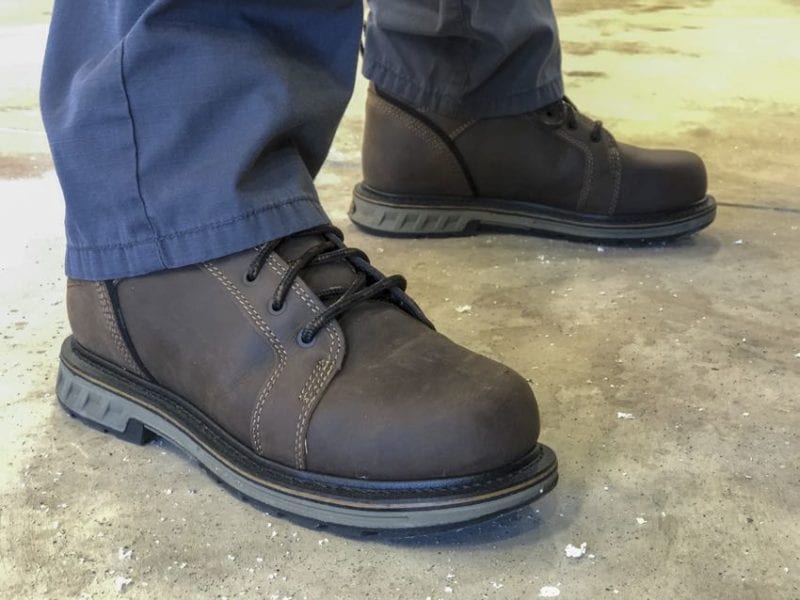 Build: Exceptional Construction for Longevity
Starting from the bottom, these boots feature a full-grain leather upper that connects to an oil- and slip-resistant outsole through a sturdy Goodyear welt. This method of connection offers the strongest bond and is preferred for long-term wear, despite requiring a longer break-in period. Other boots in a similar price range often use a less robust direct-attach method.
Double stitching is employed in most parts of the upper and 4 layers on the heel, with some single stitching on the tongue and tab.
Unlike boots with weak lace hooks, Danner has chosen strong hooks that firmly hold the laces in place. The durability of these hooks ensures long-lasting performance.
Overall, the construction of these boots is superb. If you're the kind of person who drives their truck 300,000 miles before getting a new one, then these boots are the perfect fit for you.
Safety Ratings
For those seeking specific safety standards, here are the ratings for the 6-inch steel-toed boots we tested:
ASTM F2413-18
i/75
C/75
Hepatitis B
Pricing: Excellent Value in the Premium Segment
The price range for Danner Steel Yard Work Boots is between $150 and $180, depending on the chosen style. The style we tested (6-inch steel toe) is listed at $160, and it can be found online for a slightly lower price.
Considering the choice of materials and the exceptional construction, these boots offer great value in the premium work boot category.
The Bottom Line: Sturdy Boots for Various Terrains
The Danner Steel Yard Work Boot shines on softer surfaces. While they require a break-in period, the quality of their build makes it worthwhile. These boots are designed to outlast cement and direct attach boots, offering reliable performance for a long time.
If you're in search of high-quality boots suitable for different terrains and provide good value for money in the premium segment, these boots are a solid choice. However, if you primarily work on concrete or other hard surfaces and struggle to find comfortable boots, these may not be the best fit for you.
To learn more about these boots, visit Danner's website.