Mastering the skill of welding requires a significant amount of time and effort. Welders must develop technical expertise in the craft itself, while also understanding the intricacies of material types, sizes, power supplies, budgets, and more. Ultimately, welding metal is a practical, fulfilling, and potentially lucrative pursuit. However, beginners often wonder which welding method is the best: MIG, TIG, or Stick welding?
The answer is not straightforward. To help you make an informed decision, we will explore the essential aspects of MIG, TIG, and Stick welding. Furthermore, we will discuss the advantages and disadvantages of each method.
Welding: It's All About the Gas
All welding processes involve the use of electrodes, filler rods, and shielding gas to create a temporary environment conducive to strong welds. However, the processes differ in terms of electrode consumption, filler materials, gas sources, and gas delivery within the welding zone. In essence, there are multiple ways to create high-current arcing metal and fuse it together.
Stick welding is a fundamental and relatively inexpensive process. It is also easy to master, making it an ideal starting point for novice or amateur welders. In this process, the welder only needs to select the appropriate electrode and amperage. Shielding gas is necessary for every welding process, and in the case of Stick welding or SMAW processes, consumable electrode rods fulfill this requirement. These rods are coated with flux, and when ignited by the arc, they produce a shielding gas. The electrodes then melt and solidify into beads.
Stick welding offers a wide range of possibilities, especially with practice. It is also suitable for working with contaminated or dirty materials (given the use of the correct electrode), and can be used with both AC and DC power supplies. However, it can be messy, creating fumes, spatter, and dross that require time and effort to clean up.
Stick welding is not recommended for very thin or very thick materials, or for welding aluminum. The limitations of this method are best illustrated by consulting the IOC website.
MIG welding is a bit more complex. The welder needs to choose not only the electrode and amperage, but also the voltage, wire speed, and shielding gas. Compared to Stick welding, MIG welding is more expensive due to the need for a gas tank to supply the shielding gas, usually a 75/25 argon/carbon dioxide mixture. Additionally, the consumable electrode is fed from a spool located inside most welders.
Managing wire, wire feed speed, gas, amperage, and voltage may seem overwhelming, but with practice and experience, you can produce professional-looking welds using the MIG welding process.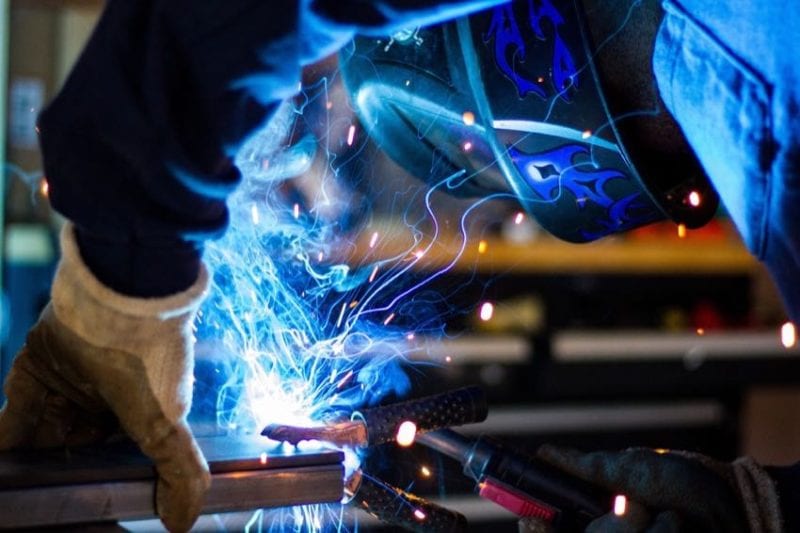 Those new to welding can quickly master DC-powered MIG welding. This process produces minimal fumes, slag, and spatter compared to Stick welding, resulting in less cleanup. MIG welding's faster travel speed allows for quicker work, and it is well-suited for thinner materials. However, unlike Stick welding, MIG welding requires cleaner materials. It is essential to prioritize cleanliness, as it directly affects the quality of the weld.
Using MIG welding outdoors can be challenging, as the wind can blow away the shielding gas, damaging the weld. To address this, welders often use a flux-cored wire electrode on the MIG spool, similar to a flux electrode in Stick welding. This eliminates the need for a gas tank, as the flux protects the welding process.
TIG or Tungsten Inert Gas Welding (GTAW)
TIG welding is the most versatile but also the most expensive welding process. It involves the highest level of skill and offers a wide range of application possibilities, including welding various metal thicknesses and types, notably aluminum. TIG welding excels in automotive work and art, where aesthetics are crucial, as it produces clean, visually pleasing welds.
TIG welding can be performed using AC or DC power and does not consume electrodes. The welder holds the electrode in one hand, the filler rod in the other, and adjusts the amperage using a foot pedal. This method requires precise coordination and dexterity.
When TIG welding, it is possible to reduce the current to very low levels to prevent porosity in the material. However, this process is slower, and the material must be meticulously clean. TIG welding is especially effective when working with aluminum, a task that is either impossible or significantly more challenging with other welding processes.
Comparing MIG, TIG, and Stick Welding: A Chart
To summarize the essential details and characteristics of MIG, TIG, and Stick welding, please refer to the following chart:
| | MIG | MIG Flux | Argon Arc Welding | Stick |
| --- | --- | --- | --- | --- |
| Suitable | Steel, Anti-rust (75% Argon), Aluminum (100% Argon) | Steel, Stainless Steel | Steel, Stainless Steel, Aluminum (100% Argon) | Steel, Stainless Steel |
| Thickness | 24th inch | 1/8 inch | Number 22 | 1/8 inch |
| Speed | Fast | Fast | Slow | Moderate |
| Quality | Okay | Average | Excellent | Average |
| Tank/Gas | Yes | No | Yes | No |
| Equip. Cost | $$ | $ | $$$ | $ |
| Material Cost | $$ | $ | $$$ | $$$ |
| Difficulty | Simple | Simple | High | Moderate |
Conclusion
Our comparison of MIG, TIG, and Stick welding is not intended to sway your decision. Rather, it aims to provide a comprehensive understanding of the differences in cost, materials, and required skill levels. Additionally, it emphasizes the importance of shielding gases, especially in relation to outdoor wind conditions.
We have a personal preference for TIG welding. When mastered, it becomes a true art form. However, MIG welding has become remarkably accessible, even for amateurs. If you aspire to become a welder, it is beneficial to learn all three core processes and become proficient in each. The best welders can seamlessly transition from one method to another depending on the job at hand. Regardless of whether you choose MIG, TIG, or Stick welding, with dedication and practice, your welds will turn out clean and professional.
Now, it's time to grab your gear and get to work. Happy welding!