Easy Setup and Impressive Strength
The Bora Speedhorse, known as the PM-4500, is a sawhorse that combines convenience and durability. As a pro in the industry, you might have some initial questions about this product. After all, there are numerous cheap plastic alternatives and DIY options available. However, the PM-4500 stands out as a potential contender in this market.
Advantages
Here are some advantages of the Bora Speedhorse:
Quick and effortless setup and takedown
Each Speedhorse boasts an impressive 1500 lb capacity
Pre-drilled holes on the top provide room for sacrificial boards
Keeps supporting wood off the ground, preventing damage
Shortcomings
Like any product, the Bora Speedhorse does have a few shortcomings that are worth noting:
It may be slightly more expensive compared to other sawhorses
There is a slight wiggle in its stability
Capacity and Design
The Bora Speedhorse has an exceptional weight capacity of 1500 lbs, or a pair of 3000 lbs. While most projects may not require such heavy loads, it is often necessary to have a sturdy surface for tools and equipment that can add up to hundreds of pounds. This sawhorse provides the needed support and stability.
To prevent slippage, sandpaper sheets are attached to the left and right sides of each sawhorse. These sheets help the material remain securely in place, ensuring smooth and efficient work. However, keep in mind that the sandpaper may wear out over time and require replacement.
Looking at the top of the Bora Speedhorse, you'll notice pre-drilled holes. These holes enable you to attach sacrificial surfaces using 2x4s, allowing for a flush and stable working area. Unlike placing plywood directly on two sawhorses, this smart design prevents rapid sagging and takes full advantage of the sawhorse's load capacity.
The Bora Speedhorse's wide base, measuring 45 inches, sets it apart from cheap plastic alternatives. It even surpasses DeWalt's design by a few inches. This wider base facilitates the construction of a plywood table, providing stability and support right up to the edges.
One minor observation is that the legs may have some side-to-side movement during setup. Although not significant, this slight wiggle may contribute to additional wear and tear over time.
On the positive side, the flip-up feature allows you to raise your materials off the ground, making it more convenient to work and access your tools.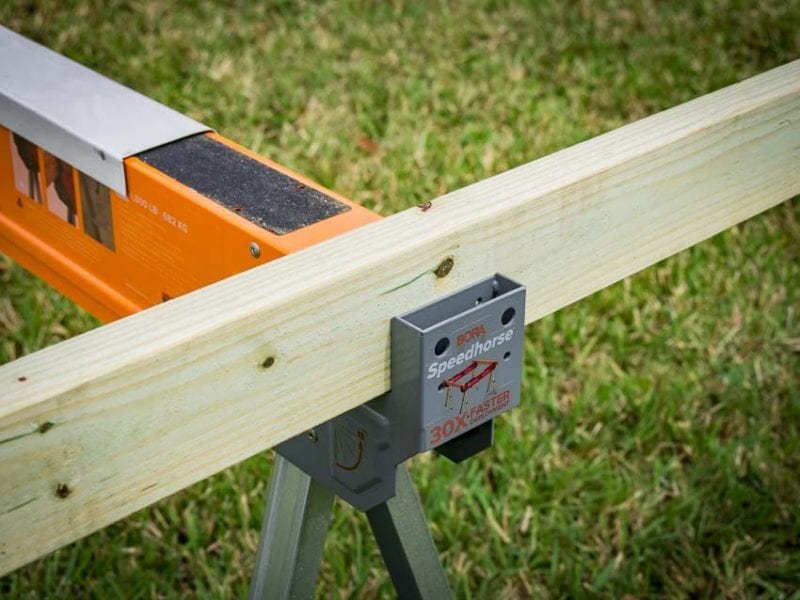 Deployment Made Easy
The Bora Speedhorse lives up to its name with its quick and effortless installation and removal process. Once you've reached your desired work area, setting up the sawhorse is as simple as lifting it and pressing the release under the handle. The first set of legs will flip down and lock into place. By pressing the release button on the other leg, you'll be ready to start working.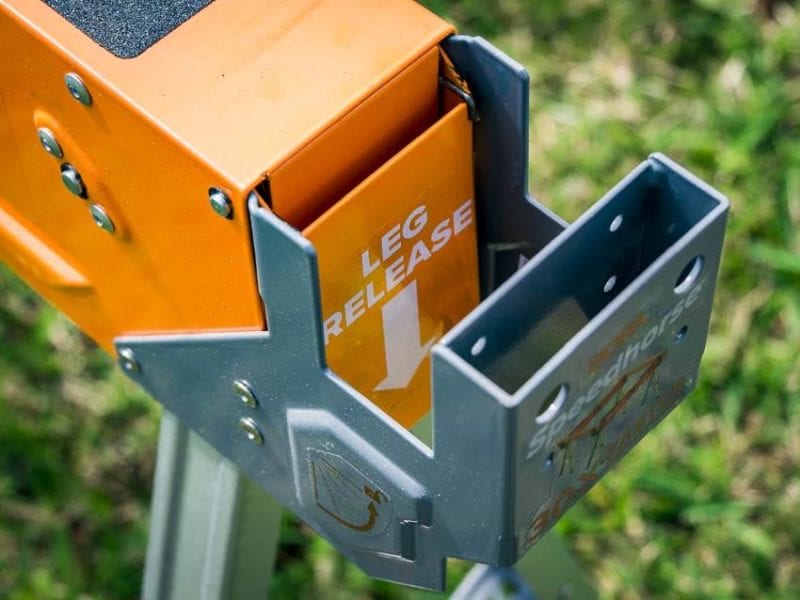 When you're ready to pack up, unlock the legs by pulling the lever located on either outer edge. Once the legs are lifted, they will lock securely in place. The order in which you fold or unfold the legs doesn't matter.
The Bora Speedhorse has carrying slots on the sides that serve as handles. However, unlike DeWalt's metal folding sawhorses, these slots do not stack and lock. Nevertheless, when holding one Speedhorse in each hand, the balance is manageable. These sawhorses weigh 17.9 lbs each, which is noticeable but not overly cumbersome.
Pricing and Options
Metal sawhorses generally come at a higher cost compared to their plastic and wooden counterparts. Each Bora Speedhorse, the PM-4500 model, is priced at $79.99. Alternatively, you can purchase a two-pack for $159.98.
For an additional $10, you can opt for the all-terrain version, the PM-4550. This model is adjustable in length, making it suitable for working on uneven ground.
The Bottom Line
The Bora Speedhorse is a testament to the careful design and thoughtful engineering that went into its creation. Its convenient folding leg system sets it apart from other sawhorses on the market. Furthermore, it surpasses the build quality of cheaper plastic alternatives. When considering a reliable and sturdy sawhorse, the Bora Speedhorse should be at the top of your list.
Bora Speedhorse Specifications
Model: Polaris Tools PM-4500
Weight: 17.9 lbs
Top Length: 45″
Working Height: 31.5 inches
Top Width: 3.25″
Capacity: 1500 lbs each
Price: $79.99 each, $159.98 for a 2-pack
Warranty: 1 year