Bora Centipede Redefines Portable Workbench Convenience
What's the first thing that comes to your mind when you need a portable workbench? A couple of sawhorses and a sheet of plywood are common choices. Still, there are some concerns about holding capacity and stability. The Bora Centipede Workbench offers a different way of looking at things and has the potential to make your setup easier.
Essentially, the Centipede works on the same principle as those very popular folding camp chairs with more touch points.
The frame is made of steel and incorporates a structural design considering high load capacity. Because it's designed with more points of contact than a simple 4-leg system, it also allows you to place those heavy bench tools anywhere on the surface as the weight is spread over them.
How much can a centipede hold? I'm so glad you asked!
4 x 2: 2500 lbs
4 x 4: 3500 lbs
4 x 6: 4500 lbs
4 x 8: 6000 lbs
There are no typos there. Depending on the size you buy, you can carry up to 3 tons! That's pretty impressive considering they only weigh 12 to 30 pounds.
Polaris Centipede Workbench Accessories
P-top
A polymer P-cap sits on top of each bracket. These prevent scratches or marks from damaging your workpiece. They also raised the top to keep the blade of a circular saw or other tool from hitting critical horizontal supports.
Quick Fixture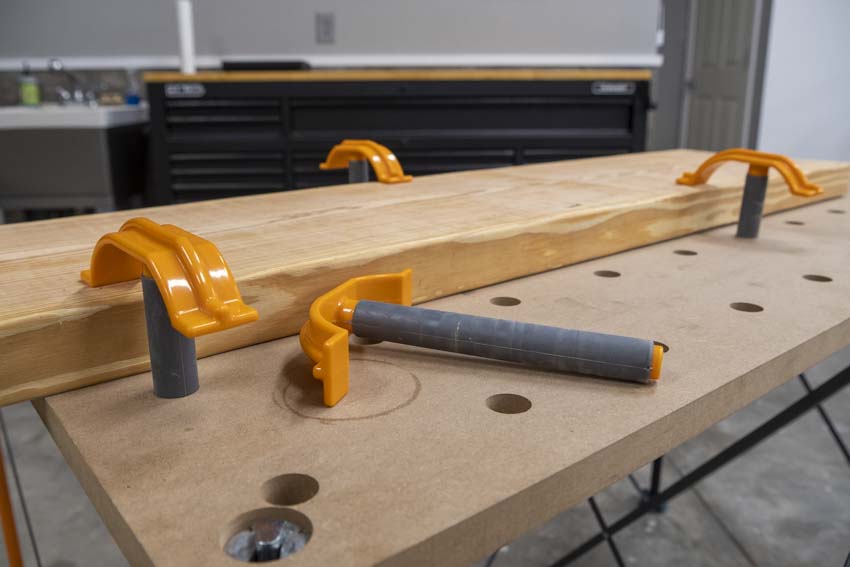 Quick clamps slide into holes in the cover to hold material in place. The lid swivels to accommodate clamping from whatever point is most convenient.
The clips are simply rubber covered plastic pieces that slide into the holes of the P-Tops without actually clamping. My first thought was that I'd prefer my JackClamps to hold the top in place. However, our top never moved during the cutting process.
X cup
The final accessory that comes with the Bora Centipede Workbench is the X-Cups. These offer recessed 2 x 4 support to create instant sawhorses anywhere on the equipment.
Since the P-Tops can rotate, I find that the X-Cups like to move back and forth on me. You can lose your 2×4 support without a load. It's much more stable once you put some weight on it though.
Bora Centipede Bench Top
There is also an optional 2' x 4' folding table that you can use in place of the plywood. They are made of MDF and come in several options with 20mm or 3/4" stop holes already drilled. Each top features a set of 6 twist lock handles to secure it to the Centipede and add rigidity.
They have a hinge in the middle into which the handle is cut for easy carrying of the top. You can also combine multiple tops to cover larger centipedes.
We like this option over plywood, take note if you're working outside and rain is forecast.
Using the Bora Centipede Workbench
When we first unfolded the frame, we were a little concerned about how much movement there was.
We put the Centipede on the concrete floor of our shop with a pair of X-Cups at the ends to use it as a sawhorse and temporarily put a few boards on top that need to be cut to size. When I got my hands on the board I was about to cut, I was impressed by how stable it was.
For the bench conversion we set up the MDF top that came with our set.
Knowing that it worked as advertised on smooth concrete surfaces, we took a field trip. Not all jobsites have smooth surfaces, and we wondered how they would fare in less-than-ideal conditions. The challenge is to see if we can work around the system to create a secure, stable platform.
This is an easier task for the smaller 2 x 4 Centipede workbench. It didn't take much effort at all to find a good job for it. Larger sizes may require more effort, though. Still, having so many points of contact with the ground is important to keep the system from sinking unevenly into Florida's notorious sugar sands. This design feature helps maintain stability despite slight elevation imperfections in the ground.
Bora Centipede Workbench Prices and Comparison
size
weight capacity
workbench price
(30 inches tall)
Also includes
4×2
2500 lbs
$99
tote bag
2 quick clips
4 X cups
4×4
3500 lbs
$145
tote bag
4 quick clips
4 X cups
4×6
4500 lbs
$185
tote bag
4 quick clips
4 X cups
4×8
6000 lbs
$219
tote bag
4 quick clips
4 X cups
Note that the 4×2 size is also available for a 36-inch bench height for $115.
There are also several bundles available.
4 x 2 Centipede with table top (3/4" dog hole) and table top tote: $224.98
4 x 4 Centipede with 25" WTX side and 25" side extension: $149.90
the bottom line
We have been using Bora Centipede Workbench since the initial concept in 2015. It was a great product for its time, and the latest version has better weight capacity. What we like about it is that it is very compact for storage weight and very simple to install. The price is acceptable for DIYers who need to share garage space with many other things, and it's convenient enough to make life easier for professionals.
Discover more products on Bora's website!