Wrenches are designed for tightening and loosening nuts, bolts, screws, and other threaded items. In general, wrenches are great for tight areas that require a lot of torque. There are many different types of wrenches, each with a specific purpose. Make sure you buy a kit that includes both metric and standard (SAE) gauge wrenches, because there's no telling which fastener you'll come across.
We've reviewed hundreds of wrenches since 2008. The best of these tools make it easy to tighten and loosen nuts, bolts, and other threaded items with minimal fuss. Typically, you have to use these tools in tight areas that require a lot of torque. Having said that – having the source of the best wrench reviews will hopefully help you find the best product – no matter your industry or focus. Of course, many different types of wrenches exist. We've listed our key recommendations below.
Overall best wrench set
Gearwrench 28-Piece Fully Polished SAE/Metric Combination Wrench Set
We love this Gearwrench 28 piece. 6 point combination SAE/metric wrench set for various reasons. First, we found it to be great value for money. You can pick up a complete 28-piece set for less than $100. Also, when starting out, it makes sense to choose a collection that covers a wide range of SAE and metric sizes.
These wrenches give you a nice 15° offset for better access to tight spaces. This means you don't approach the nut or bolt completely "flat", but rather have a little leverage to apply some torque on the fastener. It also gives you a nice 6-point set, which we actually prefer because it grips the box end of the wrench better and reduces the chance of rounding the nut or bolt head. Finally, bright, fully polished chrome is easy to clean. We love that our wrenches look like new even after years of use!
other options
Sunex Tools 25-Piece Metric Universal Wrench Set – $134.99
DeWalt DWMT72166 10-Piece Metric Wrench Set — $39
Best Ratchet Wrench Set
GearWrench 120XP Spline Ratchet Wrench Set (SAE and/or Metric)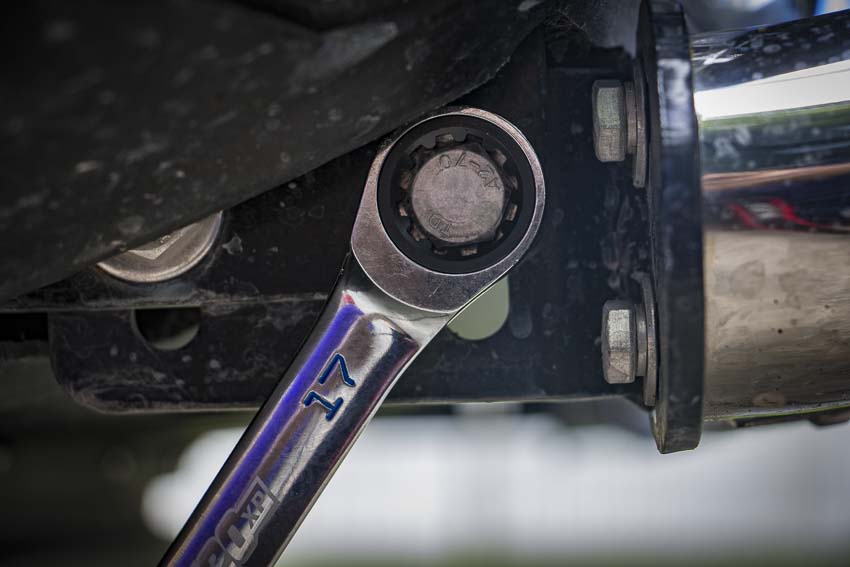 When Gearwrench came out with these 120XP ratchet wrenches, we sent them in for review right away. The best ratchet wrench set has to work flawlessly. It must also provide a small enough adjustment arc so you can get into tight spaces. The GearWrench 120XP Spline Ratchet Wrench does exactly that. They come in sets of various sizes as well as individual wrenches in case you lose one. We especially recommend the 16-piece set as they are great value.
Not only are these ratchet wrenches comfortable to hold, but blue (metric) and red (SAE) markings help you easily identify them. You can be cheaper, but would you like to? You only buy SAE and metric kits like this once – make it a good one.
More Ratchet Wrench Options
Husky Ratchet Wrench Set of 20 – $80
Crescent X6 (manual) ratchet wrench – $33
best monkey wrench
Klein Tools Reverse Jaw Adjustable Wrench
The Klein Reverse Jaw Adjustable Wrench, pictured alongside some slim jaw models, offers reliable performance and great ergonomics. Dip handles, easy adjustment, secure positioning and accurate proportions are just right. As a bonus, the Klein 2-in-1 Reversible Jaw Adjustable Pipe Wrench gives you a little extra functionality—the jaws are knurled on one side when used this way.
Quality hand tools from Klein do come at a price. Prices range from $28 to $45. Compare this to something like a Milwaukee monkey wrench which is comparable in performance but doesn't have a sloping handle. Those sell for between $15 and $20. While not made in the USA like many Klein hand tools, we still love their versatility.
Another great monkey wrench option
Milwaukee monkey wrench – $15 to $20
best torque wrench
Milwaukee M12 Fuel Ratchet Digital Torque Wrench
Well, we said it was the best torque wrench, not the cheapest . The problem is, most people need a torque wrench to tighten the fasteners and then do 20 foot-pounds or whatever the torque spec dictates. Available in two drive sizes, the Milwaukee M12 FUEL Ratchet Digital Torque Wrench covers the basics while combining two tools in one. It truly revolutionizes what is possible with torque wrenches and increases your productivity by giving you a cordless ratchet in the process.
You can get wrenches for 3/8" or 1/2" drives. The 1/2-inch model has a maximum capacity of 150 foot-pounds, so if you're working on a larger vehicle, you may want to supplement it with a higher-capacity tool. However, this tool covers most torque tasks and can be done with just one tool. However, we do acknowledge most of this tool. If you want a smaller, more manual solution, see the next suggestion below.
Best Torque Wrench – Brochure
Sunex 1/2 in. 10 to 150 lbs. torque wrench
I think the simplicity of this Sunex 1/2" torque wrench makes it our favorite manual solution. You can get fancier solutions, but the scale on this tool gives you both metric and SAE readouts, and it works. No fuss, Sunex backs you with a 90-day tool calibration warranty. The fact that you can get a tool like this for less than $43 , covering torque measurements from 10-150 foot-pounds, is pretty awesome. You'll get the same capacity from Kobalt Tools or Craftsman, pay more!
Best Digital Torque Wrench Options
Gearwrench Flex Head Electronic Torque Wrench 85079 – $199
best pipe wrench
Milwaukee Aluminum Tube Wrench
We love everything about the Milwaukee Aluminum Barrel Wrench, testing the 18-inch model. We love the super light weight and dual coil springs. The handle length looks perfect and feels comfortable to hold. Once it snaps in, the power of the overlying jaws does the job easily without slipping. We can easily recommend it to other professionals. But beware, you have to be aware that this wrench develops a lot of torque. During our review we actually had a degenerate pipe collapse under the force of a Milwaukee wrench. Depending on the size you need, you can get these for anywhere from $30 to $300.
Other Best Pipe Wrench Options
Milwaukee Cheater Adapter Pipe Wrench – $199
Aluminum crescent wrench — $30 to $95
Tips for Buying the Best Wrench
When purchasing a set of wrenches or even a single tool, many factors play a role in purchasing a good tool. We'll cover a few of these below, then move on to discussing the various types of wrenches you might need in your toolkit.
There are many different types of wrenches – each with its own specific purpose. When shopping for the best wrench, look at how it's made. The best hand wrenches use a forged carbon alloy steel process. They are usually marked "Cr-V". This represents an alloy material of chromium for corrosion resistance and vanadium for strength. Additionally, many wrenches are chrome-nickel plated for better corrosion resistance. You can also find products with aluminum handles for reduced weight. A good wrench will be clearly and permanently marked with the measurement.
On the handle side – you want something comfortable but sturdy. We prefer polished steel for most tools. It's easy to clean up and gives you a nice, comfortable grip. The dipped handles also help the tools not slip out of your hands easily—they're also easy to clean up.
make first purchase
Initially, the best way to buy these tools is as a set. For open-end, socket, combination and ratchet wrenches, make sure you purchase a set that includes both metric and standard (SAE) sizes. Not sure what kind of fasteners you'll come across. Metric measurement increments are usually in millimeters, and standard (SAE) increments are usually in 1/16th of an inch.
get good health
When using wrenches, make sure they fit snugly against the fastener. If you're not sure about the exact size of your fastener, try several tools until you find the one that works best. You want a snug fit to avoid rounding the edges of the fastener. This happens when the tool is loose or too large. Most of these hand tools fall into a few main categories.
Where are the snap-ons?
You may ask: Where is the Snap-on? Short answer: not here. Snap-on makes some great hand tools. However, these tools are increasingly expensive compared to other tools that offer (as far as we know) the same level of quality and performance. We've found that smarter mechanics shop online, where they can get better deals — even better without long-term financing for tools. If you work where a Snap-on truck passes by every day, it might make sense to go that route. For most, however, the alternatives (and savings) are too numerous to ignore.
Types of wrenches
open end wrench
Open-end wrenches are the most basic type. There are U-shaped openings at both ends, and the opposite sides of the opening grip the fastener. Most handles these days have open-end wrenches of different sizes on both ends. They can also have both open and box ends on the same handle. We refer to the latter as a combination wrench.
socket wrench
A box or socket wrench is another very common tool. They completely surround or "wrap" the fastener with the end of the tool. Socket wrenches usually have 6 or 12 corners or points.
We found the 6-point box wrench to be the most stable. They are best for high torque applications and apply an equal amount of force to all edges of the fastener. The 12-point tool allows you to double the number of places the box end can be installed on the fastener. This becomes especially useful in very tight spaces where there is limited room to wiggle the arc. The problem with using a 12 point box end for high torque applications is that you have more opportunities to turn. They are easier to strip off the head of the fastener.
Recently, ratcheting socket wrenches have become popular. They operate much like a ratchet and socket combo. With these tools, you don't have to reposition the box end at the end of the turn. It really speeds things up. Look for a model with a higher tooth count and a smaller arc of swing. They will give you better results in tight or hard-to-reach areas.
pipe or flare wrench
A pipe wrench or horn wrench serves a special purpose. They look very much like a 6 point socket wrench, with one part missing. This opening allows the tool to slide over the bolt or tube, allowing it to be easily placed on the fastener.
Usually, the nuts used to hold the copper tubing are somewhat flimsy or made of soft materials like brass or plastic. Using a normal open end wrench may cause the corners of the nut to be rounded since it won't contact all sides of the softer material.
A horn wrench or pipe wrench is very effective when working on the compression fittings on the brake line system of an automobile or on the copper pipes of a dishwasher, water filter, or ice maker.
adjustable wrench
An adjustable wrench functions like an open-end wrench. With a mechanism that adjusts the parallel distance between the jaws, they fit nuts or bolts of various sizes. This tool is great when you don't have the right size wrench and don't need a lot of torque. The only downside is that the jaw tends to "drift". They often move slightly with each use, causing you to slip off and possibly wear off the edge of the nut or bolt. When using an adjustable wrench, you must constantly check that the adjustments are making the tool snug against the fastener.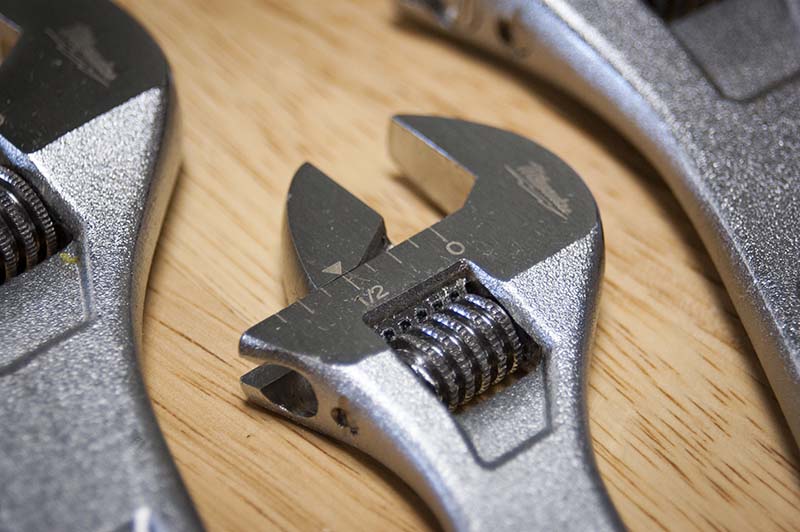 We often see these tools called crescent wrenches. The trade name actually dates back to the Cooper Tool Company, which is now owned by Apex Tool Group. You can choose them in a variety of sizes to better accommodate the different sizes of fasteners you encounter.
Pipe wrenches
Another common but specialized monkey wrench is the pipe wrench. These heavy tools have a fixed upper jaw and a movable lower jaw. The jaws are serrated so they can bite into galvanized or steel pipe. Jaws are usually fixed in place so they can be replaced when worn. Smooth jaws are also available so they will not damage surfaces turned for some applications.
Typically, these sturdy plumbing tools have steel handles. For those looking to save weight, the lightweight aluminum handle models cost much more.
Ratchets and sockets
Ratchet and socket wrenches are great alternatives to regular wrenches. The advantage is that the ratchet can fit multiple sockets. These snugly fit nuts and bolts of all sizes.
The socket is cylindrical. One end has a square hole that matches a common ratchet size. The other end of the socket is sized for the fastener. They are available in 6-point or 12-point configurations. You can also find sockets in Multipoint, Allen, Torx and other configurations. The dimensions of the socket are usually permanently stamped on the side of the socket for quick identification.
A ratchet works on the same principle as a wrench. They have a long handle that allows you to apply a lot of torque to the fastener. The main difference is how securely the socket fits the fastener from above.
This helps to turn the fastener faster. You don't have to disassemble and reset the head position like using a wrench every time you turn. The most common drive sizes for ratchets are 1/4", 3/8" and 1/2". 3/4" and 1" sizes are available for some industrial applications. As long as the socket drive size matches the ratchet drive, the ratchet will work For use with metric and standard (SAE) sockets.
in conclusion
When starting your wrench collection, look for a premium set for the best starting value. The good thing is that sets come in a wide range of sizes and include a variety of varieties. There should be a set on the market to suit any budget. Some manufacturers, such as Craftsman and Snap-On, offer lifetime warranties that will replace damaged tools as long as they are used the way they were designed.
Ever looked at a "review" site, but you can't tell if they actually tested the tools, or if they were just "recommending" Amazon bestsellers? That's not us. We won't recommend anything unless we actually use it ourselves, and we don't really care who the major retailers are. It's all about providing you with sound recommendations and our honest opinions on each product.
We've been in business since 2008, covering tools for the construction and lawn care industries, writing reviews and covering industry news. Our professional reviewers work in the industry and have the skills and experience to see if a tool will perform well in the field.
Every year, we introduce and review more than 250 individual products. Our teams will use hundreds of other tools at media events and trade shows throughout the year.
Pro Tool Reviews consults with innovators in tool technology and design to gain a broader understanding of where and how these products work.
We work with over two dozen professional contractors across the U.S. who review products for us on real job sites. We consult them extensively on test methods, categories and practical applications.
Our site will provide our readers with over 500 new pieces of content for free this year. This includes objective evaluations of individual tools and products.
The end result is information you can trust because we collectively draw on editorial, scientific, and real-world professional experience every time we pick up and test a tool.