Are you tired of the "click and guess" method when it comes to finding studs behind walls? Don't you wish there was a more accurate and efficient way to locate them? Look no further! In this comprehensive guide, we will walk you through the world of stud finders and help you find the best one for your needs.
What is a stud finder?
A stud finder is a handy tool that helps you detect the locations of studs on walls. Whether you're hanging pictures, mounting shelves, or working on any home improvement project, a stud finder can save you time and frustration.
There are two main types of stud finders: magnetic and electronic.
Magnetic stud finders use magnets to locate the screws that hold the drywall in place. While they are cost-effective, they can only detect the screws and not the actual stud. This can make it a bit of a guessing game to find the exact center of the stud.
Electronic stud finders, on the other hand, actively detect differences in wall density to locate studs. They use batteries as their power source and can detect both wood and metal studs. Some models even have AC power detection. While they are pricier than magnetic stud finders, their accuracy and additional features make them worth the investment.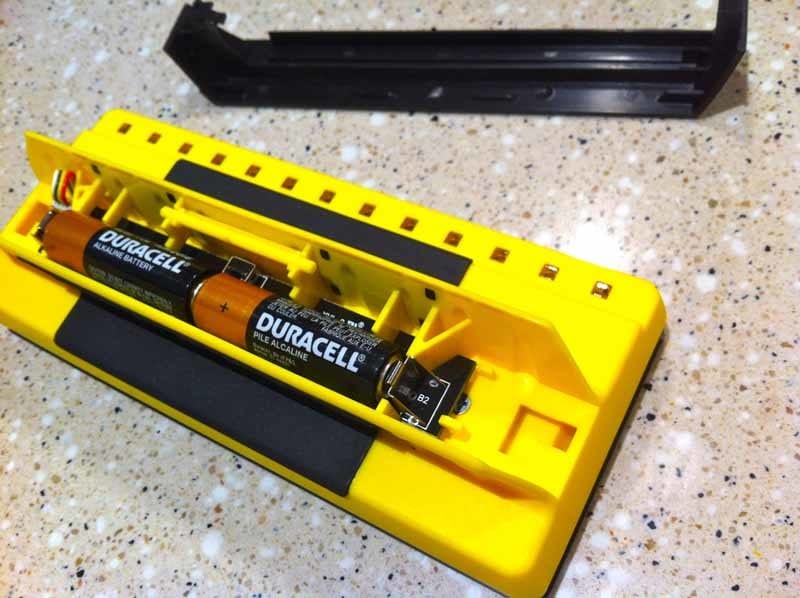 Tips for Using a Stud Finder
Here are some tips to help you make the most out of your stud finder:
Make sure you know if your model requires calibration and how to do it.
When using the stud finder, place it flat against the wall for accurate readings.
Keep your hands away from the wall to avoid any distractions.
If you're not using a full stud finder, mark your location from multiple directions for better accuracy. You can use paint tape to avoid marking directly on the wall.
Combine your stud finder with a crosshair laser for marking the entire length of a stud or for consistent heights on multiple studs.
Stud finders are not just for walls! They can also be used on ceilings to find joists.
Keep an extra set of batteries handy for your electronic stud finder.
If you're working with plaster walls, consider using a dedicated metal detector instead for better results.
Best Professional Stud Finders
Franklin ProSensor 710 and T13
The Franklin ProSensor 710 or T13 is a fantastic option for professionals. With its wider coverage and ability to probe down to 1.6 inches deep, it provides accurate and reliable stud detection. This full-width stud finder allows you to see the entire width of the stud, making it easier to mark the center or the entire width. It even has a ruler on the edge for precise measurements.
If you're looking for additional features, you can opt for the ProSensor 710+. It offers the same functionality as the ProSensor 710 but comes with a built-in bubble level. However, if you prefer a more compact option, the Franklin FST602 (T6) is also a great choice at a lower price.
ProSensor 710: $49.99
ProSensor 710+: $54.99
ProSensor 602: $24.99
Pros:
Excellent depth perception
Accurate full-width indicator
Easy one-handed operation
No calibration required
Made in America
Cons:
Larger than many other models
Slightly more expensive than basic stud finders
Best Electronic Wall Post Detectors
Ryobi Full Stud Finder
The Ryobi Full Stud Finder is a reliable and affordable option for detecting studs. It comes with marking buttons and directional arrows to help you locate and mark the exact center of the stud. Its one-handed operation and accurate stud detection make it a popular choice among users.
Pros:
Detects both metal and wood nails
Can detect live alternating current
Simple one-click operation
Constant auto-calibration
Detects stud center
Cons:
Some users find the ergonomics less comfortable
Best Magnetic Stud Finder
CH Hanson Magnetic Stud Finder
The CH Hanson Magnetic Stud Finder brings back the simplicity of using a magnet to detect nails or screws in a stud. With its strong magnets, it guides you to fasteners with ease. It also features a rotating bubble level, which is a useful addition for easier stud tracing.
To ensure accuracy, it's recommended to use a stud finder level to make marking the entire length of the stud easier. However, keep in mind that this type of stud finder cannot electronically sense the sides and centers of wood studs.
Pros:
Simple and proven operation
Strong magnet for reliable detection
Inspects ferrous metal stud and wood stud fasteners
Integrated rotating bubble level
Affordable
Cons:
Unable to detect sides and centers of wood studs
Best Stud Finder with Laser Level
Craftsman 20ft Self Leveling Line Generator Line Laser Level
The Craftsman 20ft Self Leveling Line Generator Line Laser Level combines a leveling self-leveling laser level with a stud finder, making it a great choice for home use. With this tool, you can confidently hang multiple photos or longer items with ease. It's not only useful for homeowners but also for professionals looking for quick layout tasks.
The Craftsman can detect both wood and metal studs, and it would be even better with additional features like vertical angles and the ability to lock angles. However, if you're after a professional installation, DeWalt offers a combo unit with a green crosshair laser and stud finder for $219.
Pros:
Combines stud finder and laser level in one
Self-levels up to 5º
Inspects wood and metal studs
Detects live alternating current
Cons:
Doesn't have a vertical laser
Laser doesn't have an angle lock
Hanging pins may break
More expensive than other stud finders
The Best Stud Finders for Plaster Walls
Zircon MetalScanner m40
Finding studs in plaster walls can be challenging. Magnetic stud finders often don't penetrate far enough, and electronic models can be inconclusive. However, a metal detector like the Zircon MetalScanner m40 can provide more accurate results in various materials, including gypsum. By detecting metals like nails or screws, it helps you locate studs effectively. Just make sure to measure from a reliable stud once you find it.
Pros:
Detects metals deeper than magnetic models
More accurate than standard stud finders on plaster
Pinpoint scanning helps identify nails and screws easily
Cons:
Not ideal for walls with wire mesh
Other metal objects can interfere with stud search
Requires multiple scans for the most accurate results
Best Home Stud Finders
Franklin ProSensor T6
If you're looking for a reliable stud finder for home use, the Franklin ProSensor T6 is worth considering. Its compact size allows for easy storage in a drawer or toolbox. The full stud detection capabilities make it suitable for both DIYers and professionals.
While it's slightly more expensive than basic DIY stud finders, its simple operation and accuracy will make your projects go more smoothly.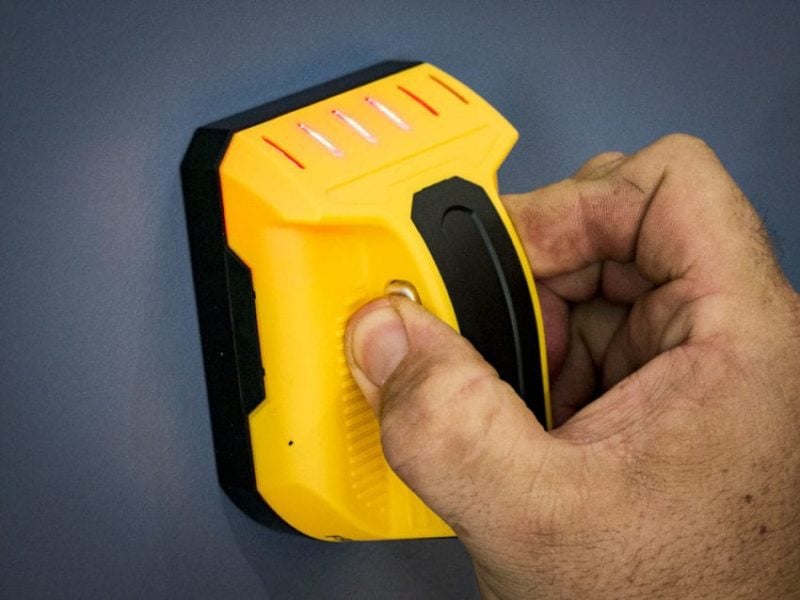 Pros:
Integral stud inspection
Easy to use
Professional-grade accuracy
No calibration required
Small size for easy storage
Cons:
More expensive than basic DIY stud finders
Great Value Stud Finder
Hart Tools Professional 9-LED
If you're considering moving away from magnetic stud finders and switching to an electronic style, the Hart Tools Professional 9-LED stud finder is an excellent choice in terms of performance and price. It offers accuracy, ease of use, and affordability, making it a great value option for most homeowners.
Pros:
Affordable full stud finder
Easy to use
No calibration required
Cons:
Slightly oversensitive to 120V wall voltage
Best Dewalt Stud Finder
DeWalt DW0150 Stud Finder
For those who love the iconic yellow and black DeWalt tools, the DeWalt DW0150 Stud Finder is a top choice. It accurately detects studs, has LED indicators to help locate the center, and continuously auto-calibrates for wall density. There are two models available: the 3/4″ detector (DW0100) and the 1 1/2″ detector (DW0150). For better detection depth, we recommend opting for the 1 1/2″ model for just a few dollars more.
Pros:
Detects metal and wood nails
Detects live alternating current
Simple one-click operation
Constant auto-calibration
Detects stud center
Cons:
Some users find the ergonomics less comfortable
Stud Finder Apps
Stud Finder by Tue Nguyen Minh
If you prefer to use your smartphone, there are stud finder apps available. One of the most reliable options is Stud Finder by Tue Nguyen Minh for iPhone. It uses the phone's electromagnetic field (EMF) sensor to detect sources. The interface is straightforward and easy to read.
For Android users, Stud Finder Scanner by Antilogics offers a similar function. However, please note that these apps may require some guesswork based on the location of the EMF sensor. It's recommended to mark the strongest signal multiple times from different directions for better accuracy.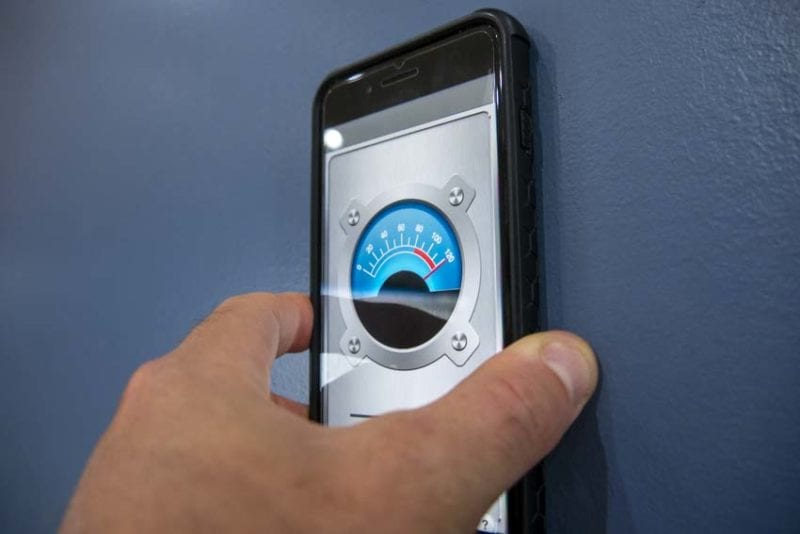 Pros:
Free
Signal strength meter for proximity measurement
Cons:
Uncertain accuracy
Requires marking from multiple directions for better results
Why Trust Our Recommendations?
At [Company Name], we take pride in providing trustworthy and reliable information. Our team of professionals has extensive experience in the construction and lawn care industries, testing and reviewing over 250 tools each year. We also consult with innovators in tool technology and design to gain a broader understanding of the products we recommend.
To ensure our recommendations are practical and reliable, we work with specialty contractors who review products for us on real job sites. Our goal is to provide you with accurate information and honest opinions on each product we review.
You can trust us to deliver sound recommendations based on our editorial, scientific, and real-world professional experience. We are dedicated to helping you make informed decisions when it comes to choosing the best stud finder for your needs.
So, whether you're a DIY enthusiast or a professional contractor, we've got you covered with the most comprehensive and trustworthy guide to finding the best stud finder in 2022. Happy stud hunting!
This article was originally published on [Website Name].