The top-rated shop vacuums come in a variety of sizes, power levels, and price ranges. You can find them at almost any hardware store that sells tools. Whether you need a larger capacity unit or a smaller portable model, there is a shop vacuum that will suit your needs. In this article, we will review the best shop vacuums for 2023, covering a range of categories to cater to different requirements and applications.
What is a Vacuum Cleaner?
Shop vacuums, also known as Shop Vacs, have become synonymous with wet and dry vacuums, just like how Kleenex is associated with tissues and Sawzall with reciprocating saws. While the Shop-Vac brand still exists, other brands have also gained popularity in this category. Shop vacuums typically have larger diameter hoses and are not usually HEPA certified, although some models may have this feature. They may also have smaller motors, resulting in less overall suction power. These are some of the main differences between shop vacuums and dust collectors.
Best Shop Vac Overall
Milwaukee Modular Wet/Dry Vacuum and Nozzle Accessories
The best shop vacuum overall is the Milwaukee Modular Wet/Dry Vacuum. What sets it apart is its ability to strike the perfect balance between various factors. Milwaukee has created a complete modular system that allows you to customize your vacuum according to your specific needs. You can choose between single battery, dual battery, or corded power options. Additionally, you can select from 6, 9, or 12-gallon capacity canisters. The vacuum also offers you a choice between standard filters, wet foam filters, or HEPA filters. Another notable feature is the AirTip line of trade-focused fittings that are cross-compatible with virtually any hose size.
Vacuum Price: $249.00 – $799.00
Air Tip Price: $17.99 – $119.00
The Best Cordless Vacuums
Greenworks 60V Pro Hybrid Wet and Dry Vacuum Cleaner
When it comes to cordless vacuums, one of the standout features is the hybrid battery/AC power option. The Greenworks 60V Pro Hybrid Wet and Dry Vacuum Cleaner is our top pick in this category. It offers excellent performance among battery-powered options, with 90 CFM and 36″ liters of suction power. The vacuum has a solid design and a generous 9-gallon capacity. What makes it unique is the ability to switch between battery power and AC power, offering you greater flexibility.
Price: $199.99 (battery and charger not included)
Best Small Shop Vacuums
Craftsman 5 Gallon Wet/Dry Shop Vacuum CMXEVCVVFB511
When it comes to small shop vacuums, defining what "small" means to you is key. For us, we consider tanks with a small footprint and a capacity of 5 gallons or less as small shop vacuums. This year, the Craftsman 5-gallon Wet-Dry Vacuum earns our recommendation in this category. It caught our attention with its impressive performance despite its compact size. With 5.5 peak horsepower, it offers a combination of 102 CFM and 84 inches of water lift. It is very similar to the Vacmaster Beast 5-gallon model, which you can find on Amazon if the Craftsman model is unavailable. Vacmaster is a reputable brand that we have used for years, so you can't go wrong with either option.
Price: $99.98
Best Heavy-Duty Workshop Vacuums
Vacmaster 8 Gallon Industrial Wet/Dry Vacuum Cleaner VK811PH
The Vacmaster 8 Gallon Industrial Wet/Dry Vacuum Cleaner VK811PH is our top pick for heavy-duty workshop shop vacuums. It stands out for several important reasons. It has the highest tested water lift in its price class at 106 inches and can still manage 125 CFM of suction power. Additionally, its 8-gallon capacity makes it a suitable choice for commercial applications. The vacuum features large rubber rear wheels for easy mobility over bumpy surfaces. It also offers a 10-foot hose, metal hardware, and excellent cord management. Moreover, it is HEPA-rated.
Price: $231.99
Best High-Capacity Shop Vacuums in the Construction Industry
Ridgid 16 Gallon NXT Wet & Dry Vacuum HD1800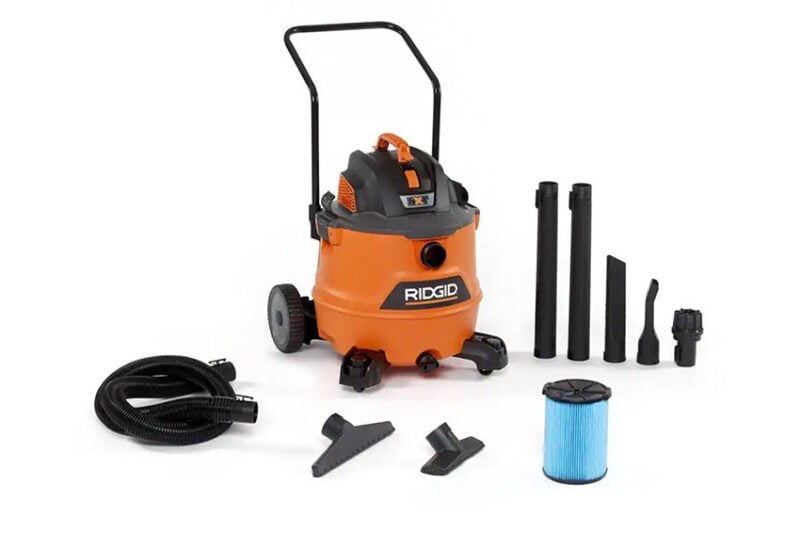 When it comes to high-capacity shop vacuums in the construction industry, the Ridgid 16 Gallon NXT Wet & Dry Vacuum HD1800 is our top choice. It has a powerful 6.5 peak horsepower motor that delivers 184 CFM of suction, making it the most powerful model in Ridgid's lineup. The 16-gallon tank offers ample capacity for debris collection, and the vacuum's trolley design ensures easy maneuverability around your workspace. The accessory set includes a nozzle to handle various cleaning tasks. This shop vacuum is perfect for handling dust and wood chips produced by band saws, table saws, planers, and other woodworking equipment.
Price: $179.00
The Best HEPA Vacuum Cleaners
Ridgid NXT Shop Vacuum with HEPA Conversion
While most HEPA vacuums fall into the dust collector category, there are some HEPA shop vacuums worth considering. Ridgid offers a range of 12-16 gallon wet/dry vacuums that can be converted to HEPA filtration by adding HEPA accessories. For under $60, you can enhance the filtration capabilities of your Ridgid vacuum and ensure finer particle collection. Home Depot offers kits that include the vacuum and HEPA accessories. This option allows you to have a high-quality HEPA vacuum without purchasing a separate dust collector.
Price: $64.97
The Best Portable Vacuums for Car Cleaning
Milwaukee M18 Fuel Pack 2.5 Gallon Wet/Dry Vacuum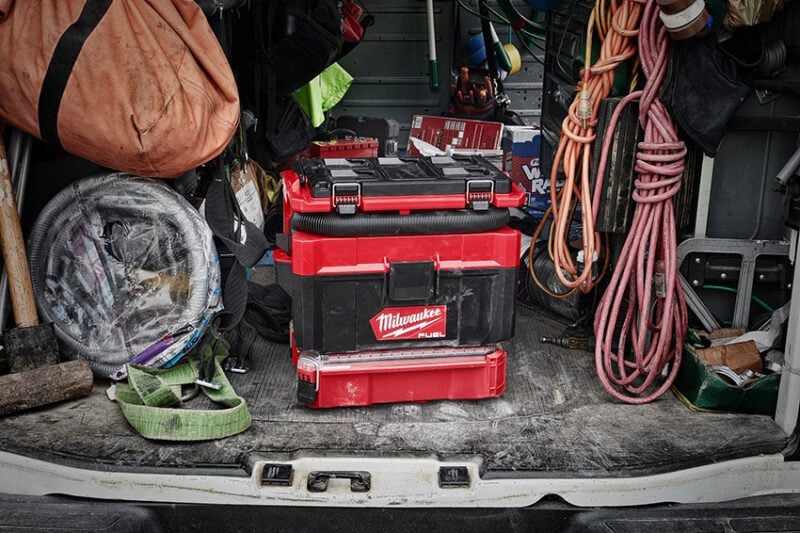 For portable car cleaning, nothing beats a small capacity cordless vacuum. The Milwaukee M18 Fuel Pack 2.5 Gallon Wet/Dry Vacuum is our top pick in this category. With its brushless motor, it provides 50 CFM and 47 inches of water lift. The vacuum has a 2.5-gallon capacity and is compatible with the Packout system for convenient storage and transportation of your detailing gear. It strikes a good balance between portability and performance, making it an ideal choice for car cleaning.
Price: $199.00 (bare tool)
Best Value Home Vacuum Cleaner
HART 9 Gallon Stainless Steel Wet/Dry Vacuum VOC812SW 3701
HART offers a range of vacuums, including wet/dry shop vacuums. The HART 9 Gallon Stainless Steel Wet/Dry Vacuum VOC812SW 3701 stands out as our top pick for the best value home vacuum cleaner. It features a 6.0 peak horsepower motor, providing 100 CFM and 89 inches of water lift for powerful performance. The stainless steel tank gives it a sleek look, and the cart-style base facilitates easy mobility. With its combination of performance and affordability, this vacuum is a great option for home use.
Price: $74.00
The Best Wall-Mounted Woodworking Vacuums
Rikon 60-101 Wall Mount 1 HP Dust Collector
For those looking for a true wall-mounted shop vacuum, the Rikon 60-101 Wall Mount 1 HP Dust Collector is our top recommendation. This shop vacuum is designed for connecting woodworking equipment to a vacuum system. It features all-metal construction and a 10-inch impeller that produces 800 CFM of suction using 4-inch ductwork. With 5″ tubing, you can achieve up to 1100 CFM for single tool use. The Rikon 60-101 is capable of collecting up to 99% of dust as small as 1 micron, making it an excellent choice for woodworking applications.
Price: $749.99
Best Shop Vac Recommendations from Trusted Brands
Here are some additional shop vac recommendations from brands we trust:
Best DeWalt Shop Vacuum: 9 Gallon Wet/Dry Vacuum DXV09P
DeWalt offers a variety of wet/dry vacuum options, and our top pick is the 9 Gallon Wet/Dry Vacuum DXV09P. With 5 peak horsepower, 90 CFM, and 70 inches of water lift, it strikes a great balance between capacity, performance, and price. For those seeking enhanced durability, this model is a worthwhile upgrade from lower-priced alternatives.
Price: $144.99
Best Flex Shop Vacuum: 1.6 Gallon Cordless Wet/Dry Vacuum FX5221-Z
Flextronics currently offers one vacuum cleaner in their 24V system: the 1.6 Gallon Cordless Wet/Dry Vacuum FX5221-Z. Despite its compact size, it delivers surprisingly strong performance with 41 CFM and 42 inch liters of water lift. It offers two operating modes for higher performance or longer run times and features a convenient button to activate reverse flow for easy cleaning of the HEPA filter.
Price: $119.00
Best Hilti Shop Vacuum: High Suction 17 Gallon Wet/Dry Construction Vacuum VC 300-17 X
Hilti may not be the first brand that comes to mind when thinking about shop vacuums, but their vacuums are excellent. Our top pick is the Hilti VC 300-17 X, which uses two turbines to produce an astounding 300 CFM. Designed to help contractors maintain Schedule 1 compliance, it can hold up to 159 lbs of dust and features automatic filter cleaning. This vacuum is ideal for concrete contractors.
Price: $2039.00
Best Makita Shop Vacuum: Max 40V XGT 4 Gallon Wet/Dry Vacuum GCV03
Makita offers a range of vacuums, and our top pick is the Max 40V XGT 4 Gallon Wet/Dry Vacuum GCV03. With a brushless motor, it provides 148 CFM and 92 inches of water lift, making it a powerful cordless option. The vacuum features a 4-gallon tank on smooth-rolling casters and offers a power knob that allows you to prioritize runtime when dealing with lighter debris. An additional battery port provides extended runtime at any power level. If you don't need a wet vacuum, consider the GCV04, which offers the same performance and is HEPA certified.
Price: $705.99 bare (kit with two 4.0Ah batteries and dual-port fast charger available for $1129.99)
Best Ryobi Shop Vacuum: 40V Cordless 10 Gallon Wet/Dry Vacuum RY40WD01
Ryobi has expanded its vacuum lineup, making it challenging to select the best model. However, our top choice is the 40V Cordless 10 Gallon Shop Vacuum RY40WD01. Its cordless power supply delivers 80 CFM and 50 inches of water lift. With a 6.0Ah battery, you can achieve up to an hour of runtime. This vacuum is a strong contender in the cordless category, offering excellent overall performance. However, it does not offer an AC power option.
Price: $199.00 bare tool
Best Shop-Vac Brand Shop Vac: 12 Gallon 6.0 HP Stainless Steel Wet and Dry Vacuum 5761311
It would be remiss not to include the brand that popularized shop vacuums in our list. Shop-Vac offers a range of sizes and power levels, and our favorite model from their lineup is the 12 Gallon 6.0 HP Stainless Steel Wet and Dry Vacuum 5761311. This vacuum features a 6.0 peak horsepower motor that provides 100 CFM and 66 inches of water lift. Its sleek design, combined with its performance, makes it an excellent choice for cleaning your shop, car, garage, and other areas in your home.
Price: $119.00
Why Buy a Wet and Dry Vacuum Cleaner?
Wet and dry vacuums, also known as shop vacuums, are versatile cleaning tools that can handle both wet and dry messes. They are commonly used in homes, cars, and job sites due to their ability to tackle various cleaning tasks. While they may not be as powerful or refined as portable jobsite dust extractors, they offer a more affordable option, with prices starting at under $50. Unless you specifically require the extra features offered by dust extractors, wet and dry vacuums are the way to go.
Disagree with Our Selection?
We understand that personal preference plays a significant role in choosing the best shop vacuum for your needs. We welcome your feedback and would love to hear about your top picks and the reasons behind your choices. Feel free to leave a comment below or reach out to us on Facebook, Instagram, and Twitter!
Best Shop Vac Buying Guide – What We Look For
When purchasing a shop vacuum, there are several factors to consider. Here are the key considerations we take into account:
Wired or Wireless?
While our favorite shop vacs still come with a cord, many manufacturers now offer smaller, more portable cordless options. Some cordless vacuums even provide higher CFM and water lift capabilities, making them ideal for job sites where access to power outlets may be limited. Deciding between a shop vac and a dust collector depends on your specific needs. Shop vacuums are excellent for picking up materials like wood chips and debris, thanks to their wider nozzles that are less prone to clogging. Dust collectors, on the other hand, focus on removing airborne particles such as concrete dust.
Airflow (CFM)
Airflow, measured in Cubic Feet Per Minute (CFM), represents the volume of air passing through the vacuum's nozzle within a specific time frame. A higher CFM indicates greater suction power and a higher airflow rate.
Water Lift (Suction Power)
Water lift, measured in inches, indicates a vacuum's ability to lift heavier objects. The higher the water lift, the stronger the suction power, enabling the vacuum to handle more substantial debris. When considering water lift, think about the type of materials you intend to collect. Wood chips require less water lift compared to shavings, nails, or screws.
Capacity
The capacity you require depends on your specific application. When comparing similar models, consider the amount of material a vacuum can collect and its efficiency in storing debris. It's important to note that the overall capacity of a shop vacuum is determined by the size of the canister, with the filter taking up some space. The drying capacity is smaller, while the wet capacity is intentionally limited to prevent water from being sucked into the motor. Premium models often include a float valve that shuts off the motor when the water level becomes too high.
Portability
Even larger shop vacuums need to be transported from the workshop or tool shed to the job site. Look for vacuums with wheels, ergonomic handles, and other features that enhance mobility and transportability.
Accessory Storage
Efficient accessory storage can be a challenge for some wet and dry vacuums. Despite manufacturers' efforts, hoses and nozzles may still become tangled or misplaced. However, some models offer better accessory storage solutions, ensuring that floor tools, brushes, and extension nozzles are always within reach.
Cord Management
Power cord management can make a significant difference in how easy it is to plug in and pack up your shop vacuum. Look for models that offer effective cord wrap features.
Price and Value
Setting a budget is often the first step in selecting a shop vacuum. Consider the price in relation to the tool's performance, features, warranty, included accessories, and other factors that are important to you.
At Pro Tool Reviews, we take pride in providing trustworthy and well-informed recommendations. Our experienced reviewers have firsthand experience with the tools and products we review. We work closely with industry professionals and consult with tool innovators to gain a comprehensive understanding of how these products perform in real-world applications. Our recommendations are based on extensive testing and evaluation, ensuring that you receive reliable information that you can trust.
We review over 250 products each year and collaborate with over two dozen specialty contractors across the US who provide us with valuable insights and feedback. Our goal is to equip you with sound recommendations and honest opinions based on editorial, scientific, and professional experiences.
So there you have it, our comprehensive guide to the best shop vacuums for 2023. We hope this information helps you make an informed decision when selecting the shop vacuum that best fits your needs. Happy cleaning!