When Masterforce Tools switched to a 20V Max cordless power supply, we saw a dramatic improvement in performance and design. Now, the best MasterForce cordless tools are getting even more performance from Boost Technology.
Masterforce cordless tools have always been a great value choice for those who like to shop at Menards. Two generations ago, we had no problem recommending them to DIYers.
However, the move to the 20V max and 20V Boost product lines makes a lot of sense. The level of performance is definitely on par with what a professional needs to get the job done. Of course, there are some high-end brands that push the envelope even further, but these tools can deliver big bang for the buck for value-conscious professionals.
Masterforce also offers a 3-year warranty on its cordless tools. Since Masterforce is Menards' own brand, all warranties are processed over the counter – right in the store. You can trade in your broken tool for the same tool as long as you have the receipt and it's under warranty. We understand that if the exact tool is not available, it can usually be swapped out for a reasonable equivalent. We think that really brings additional value and credibility to the brand.
Masterforce Boost is a combination of advanced batteries and electronics in MasterForce cordless brushless tools that detect when you have a Boost pack installed. It works independently on both ends, but works together to a greater extent.
For example, the advanced design of Boost batteries inherently has better power transfer than standard battery packs, so your MasterForce 20V max tools will gain a boost in performance.
Likewise, the Masterforce Boost cordless tool boosts itself – even with standard batteries up to 20V.
But when you combine the two (Boost Tool and Boost Battery), you get even higher levels of performance!
Masterforce Boost 20V Cordless and Impact Drills
Upgrading the most popular Masterforce cordless tools, the 20V drill/driver and hammer drill is a no-brainer alternative to other cordless tools. This 2-speed drill now has a top end of 2,000 RPM and a low torque of 800 in-lbs. That's up from the 1,850 RPM and 700 in-lbs of torque we've seen in previous brushless models, and competes much better with higher-end brands.
Chuck: 1/2 in.
Motor: Boost 20V brushless
No-load speed: 0 –550/0 – 2,000 RPM
Maximum Torque: 800 in-lbs
Strike rate (impact drill only): 0 – 8,800/0 – 32,000 BPM
Weight: 3.5 lbs (drill), 3.6 lbs (hammer drill)
Price: $139.99 (drill), $149.99 (hammer), includes 2.5Ah Boost battery and charger
Masterforce Boost 20V Cordless Impact Driver
Masterforce's original change to brushless impact drivers was a nice improvement, but the latest model, which includes the Boost upgrade, is even better. This model jumps 300 in-lbs to reach 2000 in-lbs of torque and boosts its speed by another 300 RPM to reach a top speed of 3100 RPM.
However, a few things remain the same. You still have 3 electronic speeds to choose from, with an optional auto-stop mode. The LED halo we fell in love with is still part of the design. While it's still bulky compared to high-end brands, the level of performance can keep up with some of the top brands.
Driver: 1/4" hex
Motor: Boost 20V brushless
Maximum speed: 3100 RPM
Impact rate: 3500 IPM
Maximum Torque: 2000 in-lbs
Net Weight: 2.8 lbs
Price: $99.99 bare metal, $149 with 2.5Ah Boost battery and charger
Masterforce Boost 20V Cordless Oscillating Multi-Tool
Masterforce currently only has one cordless oscillating multitool available, but considering it's part of the Boost line, there shouldn't be too many complaints. While its 3.6º swing angle and 18,000 OPM rate let you cut and sand quickly, it's the vibration control that really impresses.
MasterForce's RVS (Vibration Reduction System) is about 75% lower than its competitors. According to MasterForce, that's enough to make it the best of its kind. The magic is in a separate system. The head is mounted on a shock-absorbing, flexible connector that absorbs a lot of vibration before it reaches the handle.
Accessory interface: Universal, with magnetic suction (tool-free)
Motor: Boost 20V brushless
No-load speed: 11,000 – 18,000 OPM
Swing angle: 3.6º (1.8º left and right)
Weight: 2.3 lbs
Price: $109.99 bare, $149.00 kit with 2.5Ah battery and charger
Masterforce Boost 20V Cordless Circular Saw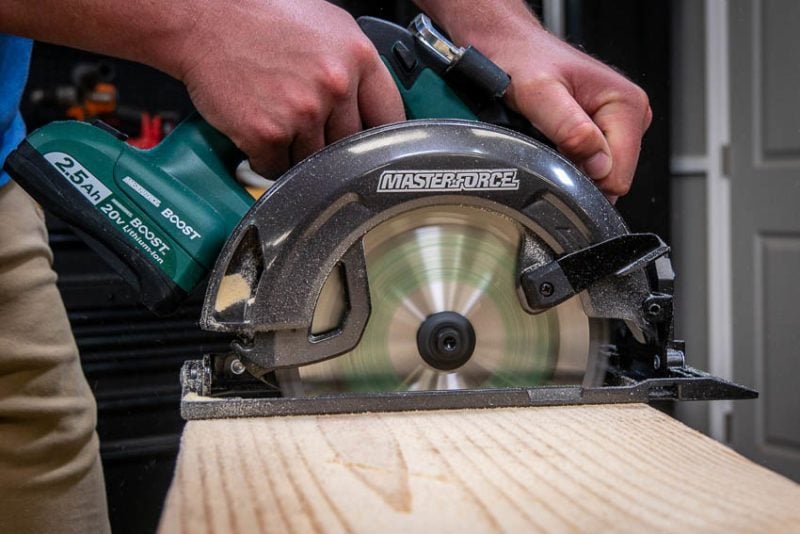 The Masterforce has stuck with the same rugged design as its previous 7 1/4" brushless circular saw. It still uses solid metal for the blade guard, blade cover, and boot, giving it the same durable feel as the premium models we've used. Electric brakes also remain.
While the top speed is still the same 4800 RPM, we noticed we were able to push the saw harder on tough cuts without bogging it down. Considering there's no price increase for the extra power, we'll take it.
Motor: Boost 20V brushless
Blade Diameter: 7 1/4 inches
Blade direction: right
No-load speed: 4800 RPM
Bevel Capacity: 56º
Maximum depth at 90º: 2 7/16 inches
Maximum depth at 45º: 1 13/16 inches
Price: $149.00 bare metal, no kit options
Masterforce Boost 20V Cordless Angle Grinder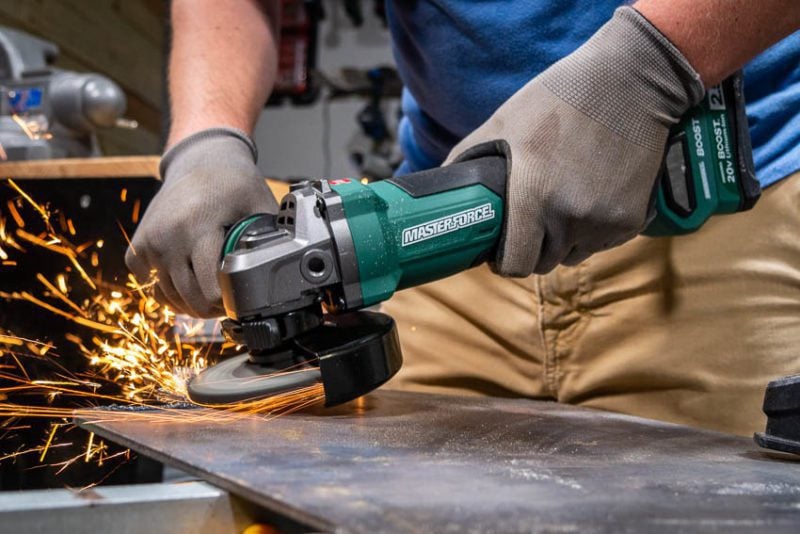 Masterforce gave their first brushless angle grinder a Boost upgrade and incorporated it into a well-rounded design. Its variable speed dial gives you a working range of 3500 – 9000 RPM, and a brushless motor takes care of the adjustments to keep those RPMs where you want them as you cut, grind and polish.
We really like that the side handles have 3 positions, putting you in the middle, which is great when you're making vertical cuts. The handle is also shock-absorbing. Best of all, you get anti-kickback protection that stops the wheels super-quickly when the electronics detect wheel binding.
Motor: Boost 20V brushless
Wheel Size: 4 1/2 or 5 inches
No-load speed: 3500 – 9000 RPM
Bare Weight: 3.3 lbs
Includes guards: 4 1/2 and 5 inches
Price: $129.00 bare metal, no kit options
Masterforce Boost 20V Compact Reciprocating Saw
Masterforce challenges cutting performance leaders with its Boost 20V compact reciprocating saw. Designed with one hand, it combines a 1-inch stroke length with a 3100 SPM stroke rate to cut more aggressively than other models in its class. We still like it mostly for PVC and thin metal cutting, but it does better in wood than most one-handed models.
Motor: Boost 20V brushless
Stroke Length: 1 inch
Stroke frequency: 3100 SPM
Shoes: Spin
Weight: 3.9 lbs
Price: $109.99
Masterforce Boost 20V Cordless Reciprocating Saw
Masterforce's Boost Reciprocating Saw rivals other professional-grade models with 3100 SPM and a 1 1/8-inch stroke rate. As odd as it may seem, not every full-size cordless reciprocating saw can take advantage of the selectable orbital action to cut wood faster. But MasterForce has it, and you get it for less than a lot of models that don't.
If you remember the original brushless models, they were all the same specs and general design. The difference with the Boost upgrade is that the motor has more power. When you're cutting tougher materials, you'll notice it bogs down some saws.
Motor: Boost 20V brushless
Stroke frequency: 3100 SPM
Stroke Length: 1 1/8 inches
Weight: 5.9 lbs
Price: $129.00 bare metal, no kit options
Masterforce 20V Cordless 1/2" Brushless Impact Wrench
There are several impact wrenches to choose from in the Masterforce line, we recommend the 1/2" model. For starters, it has a brushless motor. It is also the most powerful in the series. With speeds up to 2200 RPM and 500 foot-pounds of torque, it's an excellent mid-torque model for your automotive and heavy-duty fastening needs.
Drive: 1/2 in2
Motor: 20V brushless
No-load speed: 0 – 2200 RPM
Impact rate: 3000 IPM
Maximum Torque: 500 ft-lbs
Weight: 7.7 lbs
Price: $239.99 with 4.0Ah battery and charger
Masterforce 20V Cordless Hybrid Construction Site Fan
Keep yourself cool with Masterforce's 2-Speed 11-Inch Hybrid Fan! You can use a Masterforce 20V battery (Boost or FlexPower) or plug it in with an extension cord for unlimited runtime. Either way, you get up to 850 CFM of airflow.
There are also some cool features on the frame. We really like the clipper hangers. Wide enough to fit 2x materials, you can move them to different parts of the frame. Combined with 360° fan rotation, you get air where you need it most. You can also hang it on a screw or place it on the ground if you want, and the tension knob will keep the fan from spinning out of position every time someone bumps into it.
Maximum Airflow: 850 CFM
Estimated runtime: 18 hours on low with FlexPower 7.5Ah battery
Speed: 2
Head rotation: 360°
Masterforce 20V Batteries and Accessories
2.5Ah boost battery
2.0Ah battery
4.0Ah battery
150 Watt Inverter
USB power adapter
Get more out of your Masterforce battery with these cordless products
While we think the MasterForce Boost and Brushless Cord are the best Masterforce cordless tools you can get, there are others available. Check out this list to pick some products to complete your toolset without jumping to another battery system.
3/8" Right Angle Drill
band saw
5 inch random orbital sander
puzzle
4 Gallon Shop Vacuum
pump
bluetooth radio
Floodlights and Work Lights
heated vest
Masterforce Lawn Care Tools
Even if you've got your to-do list under control, the lawn still needs mowing. If you're ready to switch to batteries and stop lugging around extension cords, the Masterforce has you covered too.
12" String Trimmer
22" Hedge Trimmer
400 CFM blower
400 PSI Pressure Washer
save more
While we've listed regular prices for the best Masterforce cordless tool selection, the reality is you'll likely pay less. Menards has an ongoing sale on these tools, and you can also take advantage of frequent mail-in discounts.