As the mowing season quickly approaches, it's time to explore the best electric lawn mowers of 2023. Whether you have a large lawn, a small lawn, or something in between, our experts have weighed in on the top battery-powered lawn mower models for you to consider. We have plenty of great options to choose from this year!
Commercial Pick: Milwaukee M18 Fuel 21-Inch Self-Propelled Lawn Mower
With a remarkable 10 foot-pounds of torque (more powerful than a 200cc gas engine!), the Milwaukee M18 Fuel Self-Propelled Lawn Mower is the most powerful battery-operated walk-behind mower we've tested. Powered by a pair of 12.0Ah batteries, it can run for up to an hour in light conditions. We were able to run it for over 40 minutes while tackling 4-6 inches of growth. Though there may be some thumb fatigue associated with actuating the thumbstick, we found it easy to adjust our grip to alleviate this issue.
This mower is built to handle professional use while offering the convenience of single-point height adjustment and vertical storage. While there are larger options available, such as Greenworks' 82V 30-inch model, the Milwaukee M18 Fuel comes at a more budget-friendly price point.
Price: $1099.00 with two 12.0Ah batteries and a dual-port fast charger
Residential Pick: EGO 56V Select Cut XP Self-Propelled Lawn Mower with Speed IQ
The EGO Select Cut XP Self-Propelled Lawn Mower has become an instant favorite thanks to its stacked blade system and solid performance. EGO has further improved this model by introducing Speed IQ, a drive system that automatically adjusts to your walking speed. Unlike other systems that rely on springs and sensors in the handle arms, EGO's sensor is skillfully tuned to ensure optimal performance. Though it may seem magical, it's actually just exceptional engineering at work.
Price: $599.00 bare mower, $999.00 with 12.0Ah battery and turbo charger
Best Self-Propelled Electric Battery-Powered Lawn Mowers
If you're on the lookout for self-propelled models, our top recommendations from Milwaukee and EGO also come out on top in this category. Here are two excellent options for you to consider:
Commercial Pick: Greenworks Commercial 30-Inch Self-Propelled Lawn Mower
At Equipment Expo 2022, we got a hands-on look at the Greenworks Commercial 30-inch lawn mower. This commercial model is the first of its kind in the 30-inch class and has impressed professionals who were initially skeptical about battery-powered mowers. With two side-by-side blades and brushless technology, it achieves a tip speed of 16,000 fpm, resulting in a clean cut and efficient bagging/mulching. It even surpasses the power of a 200cc gas engine.
Price: $1999.00 bare mower, $2999.00 with three 8.0Ah batteries and a dual-port charger
Residential Featured: Ryobi 40V HP Brushless Transverse AWD Self-Propelled Lawn Mower
Ryobi has made significant improvements with the 40V HP Brushless Transverse AWD Self-Propelled Lawn Mower, surpassing the performance of previous generations. It boasts a stacked blade design similar to EGO's Select Cut XP, delivering excellent power and cut quality. One standout feature of this mower is its side discharge, which distributes clippings more effectively than other battery-powered mowers we've tested.
Price: $849.00 with two 6.0Ah batteries and a fast charger
Toro 60V Stripe Dual Blade Self-Propelled Lawn Mower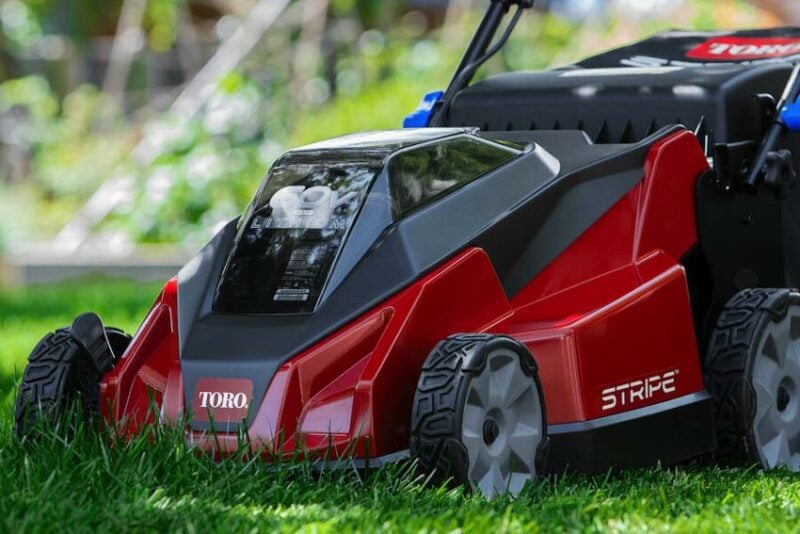 Toro has introduced an impressive battery-powered lawn mower for 2023. Powered by its 60V battery platform, this model features cross-cut blades like EGO's Select Cut and Ryobi's stacked twin-blade system. What sets the Toro apart is its built-in striping feature, providing a professional finish to your lawn.
Price: $629.00 bare mower, $729.00 with 7.5Ah battery and charger
The Best Electric Ride-On Lawn Mower
Commercial Pick: Greenworks Commercial OptimusZ Zero-Turn Lawn Mower
Greenworks has released its second generation of battery-powered riding lawn mowers, transitioning from the LithiumZ mowers to the OptimusZ range. These mowers offer multiple ride-on and stand-on zero-turn options, providing professionals with the runtime they need for a full day of mowing. Greenworks even offers a trailer to cater to 100% battery-powered crews. They are also developing an autonomous version of the OptimusZ, which we saw as a working prototype at Equip Expo.
Price: $22,999.00 – $26,999.00
Residential Featured
If you're in the market for a battery-operated riding lawn mower for residential use, there are several great options available. Here are two models that stand out:
EGO E-Steer Home Zero Turn Lawn Mower
The EGO E-Steer Zero Turn Lawn Mower features a zero turning radius but uses a steering wheel instead of lap bars for making turns. This is a significant improvement for those who have been hesitant to switch to zero-turn models due to the traditional lap-rod steering system. Additionally, EGO has moved the control panel to the center of the wheel, providing easy access to battery status and quick adjustments.
Price: $5999.00 with four 12.0Ah batteries and a car charger (launch scheduled for May 2023)
Ryobi 80V iDrive Zero Turn Lawn Mower
Ryobi offers an alternative control system with its 80V iDrive Zero Turn Lawn Mower. The iDrive system is controlled using a joystick, providing a unique and enjoyable mowing experience. This model comes in three deck sizes: 30, 42, and 54 inches. It primarily runs on an 80V suitcase-style battery but can also be supplemented with a 40V battery for extended run time. Performance levels are comparable to a 42 HP gas engine.
Price: $5999.00 – $7999.00 Ready to Mow
The Best Cordless Walk-Behind Lawn Mowers
EGO Select Cut Walk-Behind Lawn Mower
EGO's Select Cut mower is the first to introduce a stacked dual-blade system to a battery-operated mower. By cutting higher first and then lower, you can achieve a cleaner finish and finer clippings. This mower incorporates excellent performance and convenient design features into an easy-to-use push mower that doesn't sacrifice quality.
Price: $379.00 bare mower, $649.00 kit with 7.5Ah battery and fast charger
The Best Cordless Lawn Mowers for Small Lawns
Skil PWRCore 20 18″ Lawn Mower
For small lawns, the Skil PWRCore 20 18-Inch Lawn Mower is an excellent choice. This mower offers the benefits of a brushless motor and folds away for convenient vertical storage. The 20V battery is compatible with Skil's full line of PWRCore 20 lawn and power tools, making this a versatile and cost-effective option.
Price: $299.00 with two 4.0Ah batteries and a dual-port charger
The Best Electric Lawn Mowers for Large Lawns
Ryobi 80V 30″ Self-Propelled Lawn Mower
The Ryobi 80V 30-inch Self-Propelled Lawn Mower is a standout choice for large lawns. This model features a brushless motor and two sets of stacked twin blades, resulting in excellent performance and a large cutting width. With its powerful performance and extended runtime, this mower is up to the task of tackling larger lawns.
Price: $1,999.00
Best Budget Cordless Lawn Mower
Skil PWRCore 40 20″ Self-Propelled Lawn Mower
If you're on a budget, the Skil PWRCore 40 20-Inch Self-Propelled Lawn Mower offers great value. This brushless mower delivers excellent performance and cut quality compared to other mowers in its price range. With its self-propelled feature and compatibility with Skil's PWRCore 40 Series, this mower provides an affordable option for those looking to switch to battery power.
Price: $399.00 with 5.0Ah battery and charger
More Options from Brands We Trust
Best ECHO Electric Battery-Powered Lawn Mower
ECHO is phasing out its line of 58V batteries and introducing a new line of 56V eForce tools, including the self-propelled DLM-2100SP lawn mower. This solid design offers all the essentials at a reasonable price, though it may not match the power levels of top performers.
Price: $449.00 bare mower, $549.00 with 5.0Ah battery and charger
Best Greenworks Electric Battery-Powered Lawn Mowers
Greenworks offers a range of CrossoverZ battery-powered ride-on lawn mowers that run on the same 60V battery used by other lawn care equipment. These models make for an easy transition from gas mowers and provide options for zero-turn and lawn tractor designs.
Price: $4499.99 – $5499.99
Best HART Electric Battery-Powered Lawn Mowers
HART has enhanced its 40V brushless self-propelled lawn mowers, and the SuperCharge version stands out with its exceptional performance comparable to mid-range gas alternatives. The two active battery ports ensure ample run time, making this the most capable HART mower available.
Price: $598.00 with two 6.0Ah batteries and a fast charger
The Best Husqvarna Electric Battery-Operated Lawn Mowers
Husqvarna introduces the W520i, a 20-inch commercial-grade 3-in-1 lawn mower with an aluminum deck. This model is highly compatible with battery packs and offers a cutting range of up to 4.5 inches, making it perfect for taller grass species.
Price: $1299.99 bare mower
The Best Kobalt Electric Battery-Operated Lawn Mowers
Kobalt continues to produce top-quality electric lawn mowers, with the 80V line offering peak performance. The latest addition is a 21-inch rear-wheel drive system with an upgraded handle design for easy vertical storage. With its efficient battery usage and a tall 4 1/8″ top cut height, this mower is ideal for tall grass and neglected areas.
Price: $699.00 for 6.0Ah battery and charger, $749.00 for two 4.0Ah batteries and charger
The Best Makita Electric Battery-Powered Lawn Mowers
Makita takes on the challenge of extended run time with its ConnectX system. The 1200Wh power supply connects directly to the top of the mower, offering more than three times the capacity of most cordless mowers and up to three hours of continuous operation. This true 21-inch steel platform mower offers impressive power and performance.
Price: $949.00 bare mower, $1399.00 power supply
The Best STIHL Electric Battery-Powered Lawn Mowers
STIHL has upgraded its line of electric lawn mowers with several self-propelled models. The Stihl RMA 510 V, in particular, stands out with its 21-inch steel deck, sturdy construction, and a 3.9-inch top height of cut for taller grass species. However, battery drainage may be a concern with this model.
Price: $599.99 bare mower, $749.99 with AP 300 battery and charger
What We Looked for in the Best Electric Lawn Mower
When selecting the best electric lawn mower, we considered several key factors:
Power and Performance
We tested the cutting strength of each mower, starting with overgrown grass and then measuring how short it could cut standard height grass. Additionally, we evaluated the runtime of each mower, calculating the maximum area that could be mowed on a single charge.
Cutting Quality
We assessed the evenness of the cut, bagging efficiency, and mulching efficiency by examining protruding blades, clippings left behind, and the size and distribution of clippings.
Build Quality
We considered the materials used and the overall construction of each mower, ensuring durability and protection for electrical components and batteries.
Maneuverability on Hills, Slopes, and Uneven Terrain
We tested how well each mower maintained wheel traction on various terrains, including uphills, downhills, sideways slopes, and bumps.
Features
We looked for standout features such as brushless motors, different drive types, deck sizes, height adjustment options, handle positions, discharge options, and battery interfaces.
Value
We assessed the value of each mower, considering both performance and price to determine whether it offered the best bang for the buck.
Why Buy an Electric Lawn Mower?
There are several compelling reasons to switch to an electric lawn mower. Firstly, electric mowers produce zero emissions and require less maintenance compared to gas mowers. They are also quieter, allowing for more flexibility in mowing times. Electric mowers are easier to use, as they don't require cranking or throttle adjustment. Simply insert the batteries and start mowing!
At Pro Tool Reviews, we only recommend products we have actually tested and used. Our team of expert reviewers has been providing objective reviews and industry news coverage for over a decade. We consult with innovators, work with specialty contractors, and undertake thorough testing to ensure our recommendations are trustworthy and reliable.