We've used hundreds of the best drill bits to see which ones perform well on wood, steel, aluminum, and other materials. First, there are tons of drill options on the market – picking from these options can be difficult. We've broken down our selection by application, covering everything from material to user type.
So whether you're into woodworking, DIY projects, plumbing, electrical, or something else, we've got you covered. Our team of professionals has extensive experience using these drills in almost all types of setups.
best wood drill bits
Milwaukee Shockwave Titanium Drill Bits
The Milwaukee Shockwave Titanium Drill is our pick for the best wood drill. The 1/4" hex shaft makes them suitable for drills and impact drivers. Milwaukee uses what they call Red Helix variable width flutes to evacuate chips better than standard designs. They also feature a 135° tip that helps Cut in faster and with less bit travel on metal.
Also the best titanium drill bits
Now, just because we use these exclusively for our wood drill picks doesn't mean they can't drill through metal. Titanium coatings are great for thinner steels and non-hardened metals. They also have excellent chip evacuation and don't heat up as quickly as other drills we've used.
These bits are available in sets of 14 for $29.97, and several others in sets of up to 29 for $84.97.
Also consider:
DeWalt 21-Pack Titanium PP Drill Bit Set (DW1361)
Makita Impact Gold 14-Piece Titanium Drill Set (B-65399)
We really like the Pilot Point tips on the DeWalt titanium bits. They drill fast – mostly because they dissipate heat so well. You also get nice, burr-free holes. You really can't go wrong with thin/soft metals, wood, and plastics.
Get the 21-pack for $34.99
The Makita Impact Gold Titanium Bit Set looks too good to be true. This 14-piece set has every key size you could ever need, from 1/16" to 1/2". Performance and durability put them at the top of our list.
Get it for just $19.32.
The best drill for the money
Ryobi Black Oxide Drill Bits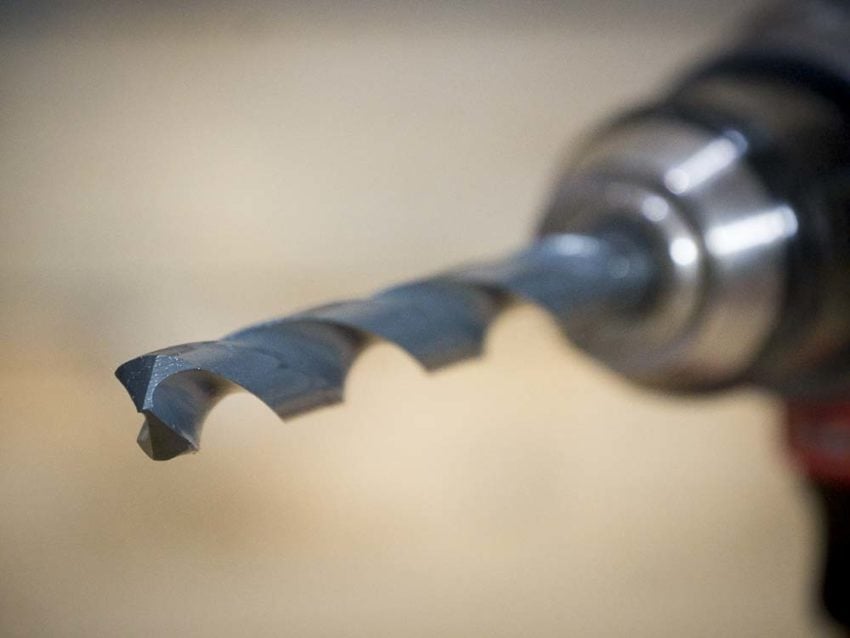 Whether you're in a pinch or just need a replacement set, Ryobi's black oxide drill bits come in a set of 21 covering 1/16" to 1/2" for less than $15. Their 135° tip helps reduce walk at the start of the hole. If you stay away from thick metal, these are the best drills for the money. You can get better bits, but we love professionals and DIYers on a budget.
Get these for $10.97
Also consider:
DeWalt 20-Piece Black Oxide Drill Bit Set (DW1177)
Bosch 60-Piece Black Oxide Index Bit Set (BL0060)
For a basic drill set, you can get some nice features in DeWalt's DW1177 kit. 135° bifurcated point tips prevent walking when drilling. The coating doesn't do much to reduce heat or friction, but it does keep the bit from rusting easily. Finally, DeWalt put 3 flat points on the shank for better locking into the drill chuck.
You can find these online for just $22.99
We also wanted to include the excellent Bosch 60-piece Black Oxide Index Bit Set. This kit is ideal for wire gauges from #1 to #60 and all sizes in between. It also comes with a convenient metal index case.
Get the Bosch Black Oxide Drill Bits for $19.99
Milwaukee Red Helix Cobalt Bits
The best metal bits, especially carbon steel bits, are from Milwaukee because their cobalt bits are really good. Just like their titanium bits, they have the Red Helix variable flute design. They also have a 135° QuadEdge Tip which helps it drill faster than other cobalt bits we tested and still keep walking to a minimum.
Milwaukee updated the bits with Enhanced Tapered Web. This new core design strengthens it with better flute durability.
However, they don't have a 1/4" hex, so you wouldn't use them in an impact driver. Their main purpose in life is to drill in thicker, harder metal.
If you want to drill holes in hardened steel, you might want to check out the Drill America D/A29J-CO-PC 29-Pack Cobalt Set.
Also the best cobalt drill bit (for the money)
When the tips on these bits get dull, consider sharpening them because the cobalt runs through the steel. Avoid using them when you don't need them to prolong their life. When you're looking for the best cobalt drill bits for your money, the 15-piece set is a compelling option.
You can find a 15-piece set for $34.97 or a 29-piece set for $149.99.
Also consider:
DeWalt 29-Piece Industrial Cobalt Pilot Point Bit Set (DWA1269)
We love the build quality of the DeWalt 29-Piece Cobalt Pilot Point Bit Set. It has a tapered core that gradually increases the stiffness of the drill as it approaches the base. If you plan to cut stainless steel, give these bits a try – they won't let you down and cut really clean holes.
The kit sells for approximately $109.99.
Best Masonry Drill Bits and Concrete Drill Bits (Non-SDS)
Bosch Daredevil Multipurpose Drill
The SDS-Plus and SDS-Max hammers are ideal for drilling in concrete and masonry. However, a hammer drill is adequate for drilling smaller diameter holes. When you start looking for the best concrete drill bits and the best masonry drill bits, the need to handle multiple materials comes up. For this, our professionals always turn to Bosch Daredevil multipurpose drills.
Like the SDS-plus and SDS-max drills, they use tungsten carbide cutting tips. The carbide tip on the Daredevil Multi-Purpose Drill is tough enough to cut through almost any material. We use these tools when drilling combinations of wood, metal, tile, composites and of course concrete. We also often put them in an impact driver for quick passes through various materials.
On average, these bits run much faster than black oxide, titanium, or even cobalt bits. The cost may make you only buy the specific size you need – and that makes sense. However, the 5-piece set covers the most common sizes you're likely to need without turning to a rotary hammer.
Get a set of 5 for just $22.99.
Best Drills for Bricks and Cinder Blocks (Only)
DeWalt Impact Masonry Bit Set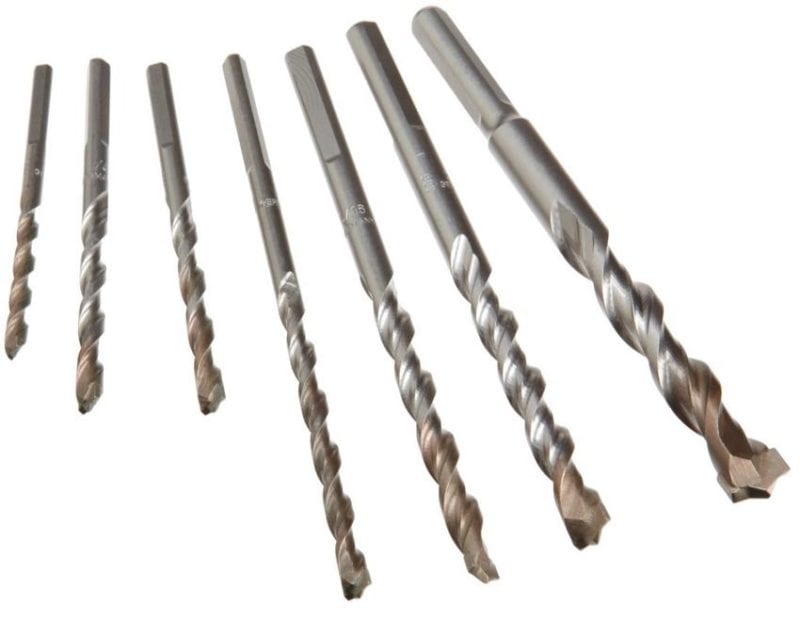 Having a dedicated set of drill bits makes a lot of sense when you know you need to drill into brick and cinderblock individually. In this case, we think the DeWalt brand is one of the best brick drills around. For the most part, we think they're just worth the money. You can pay more – and possibly get longer life, but if you factor the accessories into the job bill – these will get the job done.
The DeWalt 7-Piece Percussion Masonry Drill Set gives you some key advantages when used with a cordless impact drill. This set includes one 3/16" x 3 drill bit, one 1/4" x 4 drill bit, and five 6" drill bits ranging from 1/2" to two 1/4" drill bits. From Tapcons to anchors, these bits fill a much-needed void.
Get the 7-pack for $18.99.
Best Tile and Glass Drill Bits
Bosch 8-Piece Glass and Tile Drill Set with Housing (GT3000)
Getting through tile and glass without shattering the workpiece takes a special touch. In our opinion, the best tile drills (and the best glass drills) are found in the Bosch 8-Piece Glass and Tile Drill Set.
These drills use wedge-shaped high-quality carbide tips with reinforced tips. It holds the tip firmly in place when you start making holes. It also reduces stress on the material and prevents cracking. Diamond ground cutting edges provide excellent durability.
Bosch uses tri-flat shanks on 5/16" and larger bits. This prevents them from slipping in the drilled hole. This kit includes 8 bits from 1/8" to 3/4".
Get the 8-pack for $27.97.
best shovel
Bosch Daredevil Spade Bits
In a recent head-to-head match, the second-generation Irwin Speedbor drill beat the Bosch Daredevil spade drill in speed. So why aren't they at the top of our list? simple. We love the self-contained nature of these Daredevil Spade Bits. They drill more smoothly and require less effort.
The threaded tip and wave design give the Bosch Daredevil an edge over most of the competition. It cuts more smoothly and leaves a relatively clean hole than other spade bits. The icing on the cake is that it has a 1/4" hex shank so it will fit your impact driver.
Bosch also makes these bits up to 1-1/2 inches. They are available in stubby, standard and extended lengths for a more in-depth study of the material.
You can get a set of 6 for just $11.99 (naked), $15.99 (bagged), or $25.99 for a set of 13.
Also consider:
Irwin Speedbor Second Generation Spade Bits
As we mentioned above, if speed is your number one priority, consider the second generation Irwin Speedbor Spade Bits. They beat the Bosch Daredevil when we tested them with 2x material 1" bits and 3-3/4" layered OSB.
Get the 13-piece Pro kit for just $46.99.
best auger bits
Bosch Daredevil High Speed Auger Bits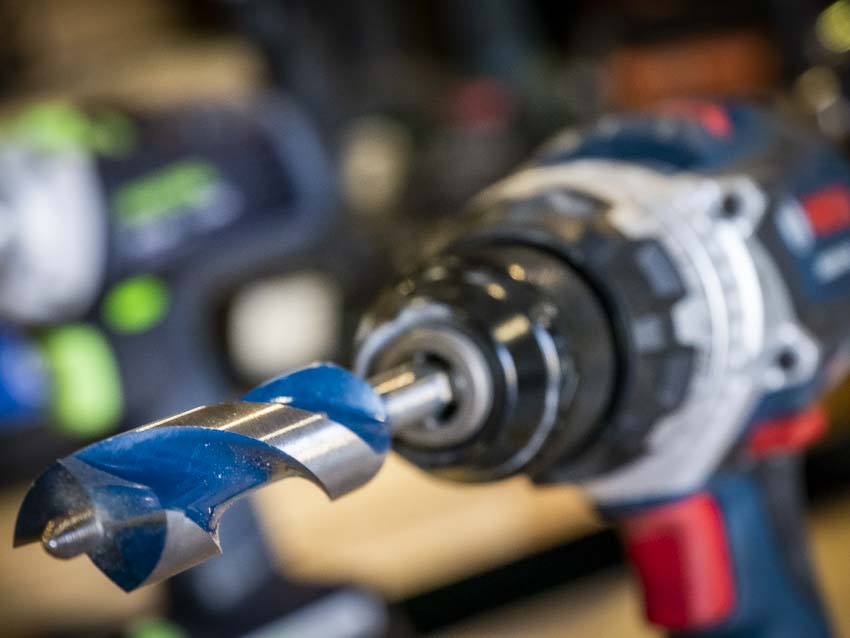 When the best drill for the job is an auger, we look to Bosch and its Daredevil range. Among the benefits of standard auger drills, you'll find that Bosch has paid special attention to improving performance with cordless drills. The head keeps you at high speed so you drill faster, and the tip helps improve your run time and durability.
Price is definitely the name of the game here, and most pros will only go for the size they need. Bosch has a 3-pack that includes 5/8″, 3/4″, and 1″ bits for $39.99.
Best stride
Irwin Unibit Cobalt Step Bits
When drilling thin metal is on the menu, our team uses Irwin Unibit Cobalt step drill bits. The cobalt blend makes the bits last longer – which is important considering that these bits are difficult to sharpen.
The Speedpoint tip starts drilling quickly and helps reduce drill offset. This may seem like a small thing at first glance, but Irwin laser etched the measurements inside the flute so they won't wear out over time.
Get the 3-pack for $73.11
Also consider:
diablo step
Milwaukee Shockwave Step Bit Set
The Diablo's step drill bit starts with a 132º tip, which in our tests prevented walking and drilled very fast. Covering 1/2″ to 1-3/8″, individual bits retail for $24.99 to $64.99.
Buy individual bits from $24.99 to $110
Milwaukee's goals also include no-travel starts and fast drilling with their Shockwave step drill bits. A step up from black oxide, they use a titanium coating and have a hex shank in case you use an impact driver. Depending on the kit, they range in price from $89 to around $170. Each kit includes the most common sizes you may need on the job.
Purchase kits start at $89.
What are the best drill bits made of?
black oxide (coating)
Black oxide is a coating on steel drill bits that increases corrosion resistance and reduces friction between the drill bit and the workpiece. It's a good general purpose design that works with wood, softer metals, plastics, and composites without breaking the bank. The downside is that they won't stay as sharp as some other twist bit options, and you'll lose the edge as the coating wears away from the cutting edge.
When the bits get dull, you throw them away. Also, don't expect to cut metal other than mild steel less than 1/8 inch thick.
Titanium (coated)
Titanium Nitride is a coating that can replace black oxide, it has the same corrosion and friction resistance. Additional benefits come from increasing surface hardness and creating a thermal barrier that reduces heat buildup. This type of drill will last longer than black oxide.
Titanium bits tend to drill faster than black oxide and the chips move through the flutes better. One of the downsides is that titanium nitride is just a coating and as the coating wears away from the cutting edge you lose the edge. Another is that you need to pay more for it.
Titanium is a good choice for drilling in metal and wood. You'll want to look elsewhere for concrete/masonry, you're better off using cheap black oxide bits for plastic and composites.
Cobalt (steel mixture)
Cobalt bits are made from an alloy with a cobalt content of 5% – 8%. Because cobalt is part of the steel mix, its benefits run through the entire bit rather than wearing away like a coating. This characteristic also makes them excellent candidates for hone-in rather than replacement. With a much higher price than black oxide and titanium, you'll want to save money by sharpening your knives.
Cobalt bits can drill through almost anything, but most pros reserve them for metal drilling due to cost. That's a good move – you don't want the bit you have that can drill through cast iron to become dull in everyday tasks, and cheap bits will do just fine.
Match drill to hole size
Twist Drill
Twist drills are best for drilling in a variety of materials when the target hole is 1/2 inch or smaller. As you move beyond 1/2 inch of hole diameter, you move away from traditional twist drills to a few different options.
shovel position
The most cost-effective one is the spade bit. Spade bits, sometimes called paddle bits because of their shape, throw chips out as they cut rather than sending them up through flutes. It makes for a cooler slow-motion video, but usually leaves a bigger mess behind. Unlike standard twist drills, spade bits are really only good for making holes in wood.
Auger bit
Auger bits are very similar to spade bits, but are better suited for deeper holes that require a lot of chip removal at the entry point. The full groove design makes this possible. You usually need a stronger bit when using these bits. This becomes very noticeable when drilling deep holes or holes over 3/4 inch in diameter.
Auger bits have a threaded tip that pulls the bit forward as it spins through the wood. Its sturdy full-slot design also makes drilling holes nice and straight easy.
step position
Moving away from wood and back to metal, you'll find that step bits (also known as unibits) are needed. These are some of the best bits for making holes in thin metal like sheet metal or breaker boxes. Step drills start with a short pilot and then go through a series of gradually increasing widths as you move from one step to the next.
They're great for going beyond your standard auger bit size and eliminating the need to drill holes 1-1/4" or larger. They also have a flat flute with a slight taper at each step. This enables you to drill holes in sheet metal and other thin metals that might deform when cut at an angle. In addition to making new holes, they are also good at expanding existing holes.
The downside is that you are limited to about 1/8" of your thickest material. These drills also cost more than other drills you may own. Prices are often over $50 for some sizes. Remember that each step drill you buy covers multiple hole sizes.
Best drill, but… what?
We know we don't cover all categories of holemaking accessories, such as hole saws, nor driver bits. While we've chosen to draw the line, keep your eyes peeled for more buying guides covering these accessories!
Disagree with our selection?
It doesn't matter! We know that personal preference comes first in determining the best drill, and every Pro is different. Do Pro Tool Nation a favor and tell us what your top picks are and why you like them. Feel free to drop it in the comments below or on Facebook, Instagram and Twitter!
Ever looked at a "review" site, but you can't tell if they actually tested the tools, or if they were just "recommending" Amazon bestsellers? That's not us. We won't recommend anything unless we've actually used it ourselves, and we don't really care who the major retailers are. It's all about providing you with sound recommendations and our honest opinions on each product.
We've been in business since 2008, covering tools, writing reviews and industry news coverage for the construction, automotive and lawn care industries. Our professional reviewers work in the industry and have the skills and experience to see if a tool will perform well in the field.
Every year, we introduce and review more than 250 individual products. Our teams will use hundreds of other tools at media events and trade shows throughout the year.
We consult with innovators in tool technology and design to gain a broader understanding of where and how these products work.
We work with more than two dozen specialty contractors across the U.S. who review products for us on real job sites and consult with us on testing methods, categories, and weightings.
This year we're giving readers over 500 completely free new pieces of content, including objective reviews of tools and products.
The end result is information you can trust because we collectively draw on editorial, scientific, and real-world professional experience every time we pick up and test a tool.