Anyone who knows little about tools has heard of Dremel (actually a division of Robert Bosch Tool Corporation). They manufacture a variety of polishing and cutting tools based on rotary designs. When Fein's proprietary patent for oscillating tools expired around 2008, other manufacturers like Dremel jumped into the oscillating multi-tool game with the Multi-Max line. In fact, Dremel first introduced their 6300 oscillating tools. Now, the brand has three different products, including two wired models and one wireless model.
Dremel MM20V Cordless Oscillating Multitool
Dremel isn't as well known for its cordless tools as other brands. However, they do offer solid value when it comes to oscillating multi-tools. We got our hands on the Dremel cordless oscillating multitool to see how it compares to corded models like the MM45 and MM50.
The Dremel Cordless Multi-Max has a beautiful over-molded barrel handle. It has a consistent width to give you a secure and comfortable grip. Works well when operated with one or two hands.
The cordless Dremel Multi-Max doesn't have any dust collection capabilities. We found this to not be a huge problem with this tool. Just bring one of your favorite shop vacuums. Overall, this tool feels very solid. It should work well on the job site for undercuts and the like. $149 gets you a kit that includes the accessories, a charger, and a 20V battery.
The Best Dremel Multi-Max for DIY or Home Improvement
Dremel MM35 Oscillating Multitool
If you don't want to mess with batteries and need the extended runtime that corded tools provide, the Dremel MM35 will do the job. The 3.5-amp Dremel MM35 provides a moderately powerful tool for anyone from the DIY enthusiast to the home improver. Use it to undercut doorways, remove grout, or tackle small sanding tasks.
The affordable Dremel MM35 can help you cut, sand, scrape—even remove rust. Dremel also sells the MM35-01 kit, which includes a pad with 9 sanding pads, a jigsaw blade, and a wood blade. All of this is packed in a soft carrying case.
As you'd expect from a more refined tool, the Dremel gives you a way to change accessories without tools. You also have the option to use the variable speed dial to adjust the speed. Speeds vary between 10,000 and 21,000 oscillations per minute. The tool seems to be great for cutting all kinds of wood and metal, even PVC pipe and drywall. You can't go wrong with this kit for around $99.
Best Dremel Multi-Max for Professionals
Dremel MM50 Oscillating Multitool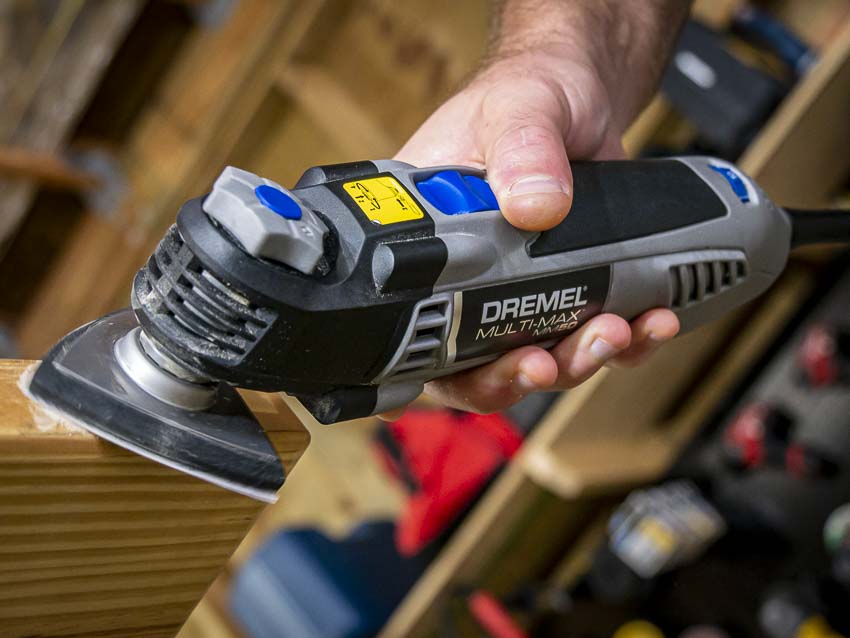 The Multi-Max line of oscillating multitools ends with the Dremel Multi-Max MM50. The Dremel didn't just increase the motor power to 5.0 amps, it added some key features as well. Each one makes life easier for the professional user or serious DIYer looking for a reliable multi-tool.
The Dremel Multi-Max MM50 uses a variable speed dial and power switch instead of a trigger system to control speed. It has 10 settings to cover its no-load speed of 10,000–21,000 OPM.
We really like the design – the top dial works well with or without gloves. Note that the American-made One-Fit Imperial Blades will not fit well. The clip is only a millimeter or two too small. Even if the hole pattern fits, it won't fully engage the blade. We had no issues with the Dremel MM45 and its horizontal action clamp system.
At $139, the Dremel Multi-Max MM50 is well below the price of most professional-grade multitools. That makes it a very attractive value in our book, after double the performance we saw during testing.
Dremel labels their accessory attachment system "Quick Fit". It's actually pretty cleverly designed, and it executes well. With the exception of the hook and loop pads, each fitting is slotted and has 9 holes for insertion into the 12 raised pins on the Quick Fit System. Since each attachment is slotted, this means the attachment can be changed without completely removing the clamp screw and blade washer. With many other oscillating tools on the market (the new Fein MultiMaster 250Q is an exception), the central clamping screw and blade washer must be completely removed to replace the blade. As a result, Dremel offers one of the fastest accessory changes on the market.
In actual use, we discovered a very important caveat: the oscillating tool…well, oscillates. This means that if you accidentally tighten the clamping screw all the way down, you can quickly find it will back out on its own and the tool will loosen the blade. Trust us, we speak from experience and managed to capture it in a series of photos we took before we even realized what was happening:
Using a Dremel Multi-Max tool with a sanding pad
Hook and loop pads are great for quick sanding, but dedicated tracks give better results. The sandpaper fits just right around the edges of the pad and will drift over time as you apply pressure. These pads may wear prematurely because the sanded area does not extend beyond the boundaries of the pad itself. If you plan to use the Dremel Multi-Max as a precision sander, buy an extra hook and loop pad just in case.
test and use
We typically test sanding with a piece of extra hard pressure-treated wood and a 60-grit pad. While not your typical sanding surface, it allows tools like the Dremel Multi-Max to put in a tough workout in a short amount of time. We focused on the control and how it feels when you move it. We follow specific patterns to see if we can precisely control the tool on the work material. As we followed up with smaller and smaller grit, we saw how quickly the tool smoothed the surface.
Next, we tested with a 3/4" flush-cut wood blade and inserted the Dremel Multi-Max into a piece of pressure-treated wood. We see if the blade can be easily inserted into the wood using a medium speed to get the blade properly positioned. Next, we increased the oscillating speed to maximum to test our fastest cutting times. Finally, our process checks the blade swing angle and of course how the tool vibrates during use.
A custom test bench allowed us to sand, cut trim nails, remove grout, cut drywall, and practice additional undercuts. The advantage of this setup is that it allows us to do some timed tests and get a feel for the tools in a couple of real scenarios.
Oscillating motion of the multi-tool
Some of our readers didn't know exactly what the wiggle motion was, so we decided to illustrate it with a photo of the tool in motion using our D-SLR camera. The first picture shows the 60 grit sandpaper at rest and the second picture shows the tool open. If you notice the pattern, you'll quickly see that the tool rotates about the center of the pad (the centerline of the accessory holder) plus or minus 1.5 degrees, making a full 3 degree arc. There is no up and down motion, so the tool performs a lot of smooth, fast cutting and sanding with minimal vibration
final thoughts
The Dremel Multi-Max Oscillating Multi-Tool offers an irreplaceable solution when tiling or attempting smaller sanding tasks. While smaller, less powerful tools like the MM35 are good enough for most finishing jobs. Larger motors, like the one in the Dremel M50, cut wood better with flush blades.
We love how all Dremel Multi-Max tools use a tool-less blade change system. This allows you to replace most fittings without completely removing the clamp screws and washers. Multi-Max kits usually come with basic accessories. However, even without that, we love third-party solutions like the Imperial blade or the Milwaukee oscillating multi-tool blade (Milwaukee now has Imperial blades).
With prices starting at under $100, the Dremel Multi-Max will get your money's worth no matter what your needs may be. We recommend these tools to anyone, from the DIY novice to the professional who needs an occasional undercut tool for tile installation or renovation work.