After extensive testing, our team has handpicked the top cordless reciprocating saw models from renowned manufacturers. These saws stand out from the competition due to their advanced features and impressive performance. In this article, we'll explore what makes these saws exceptional and why they deserve your attention.
Cordless Reciprocating Saws: Unleashing Power and Performance
These cordless reciprocating saws offer cutting-edge technology and power that rival their corded counterparts. Some models are equipped with higher voltages, such as 36V or 60V (up to 54V), while others utilize advanced battery technology to deliver increased power within the 18V/20V max system. Regardless of their implementation, these saws promise superior performance, with cutting speeds that can even rival 15-amp corded reciprocating saws.
Embracing High-Value Brands
While we prioritize top-tier brands, we also recognize the value provided by other manufacturers. Whether you're seeking a professional-grade or DIY-grade saw, we have you covered. Our selection covers a range of budgets and needs, ensuring that every model delivers on its promises.
Milwaukee M18 Fuels Super Sawzall: The Champion
Leading the pack is the Milwaukee M18 Fuels Super Sawzall, the undisputed king of cordless reciprocating saws. With cutting speeds that leave its competitors in the dust, this saw combines exceptional performance with an impressive feature set. Milwaukee, the original inventor of the Sawzall, continues to dominate thanks to its rich heritage and cutting-edge cordless developments. However, it's worth noting that this model is on the heavier side and comes at a higher price point.
Price: $249 bare, $449 kit with 12.0Ah battery and charger
The Best Cordless Reciprocating Saws with Vibration Control
Metabo HPT presents their CR36DAQ4M MultiVolt Reciprocating Saw, offering a distinct advantage in vibration control for a more comfortable demolition experience. While it may not match the cutting speed of the Milwaukee M18 Fuel Super Sawzall, this model is 1.5 pounds lighter and boasts a solid feature set. Its scientific design ensures low vibration and excellent ergonomics, making it the ideal choice for those prioritizing comfort.
Price: $209
Best Cordless Reciprocating Saw Value
Flex introduces a remarkable 24V cordless reciprocating saw kit designed to replace your 12 or 13 amp corded model. With a 1 1/4 inch stroke length and 3000 strokes per minute, this saw excels in wood cutting, aided by its orbital action feature. While it may lack some convenience features found in higher-end models, its unbeatable price of $249 for the kit, including a 5.0Ah battery and fast charger, makes it an attractive choice for budget-conscious buyers.
Price: $249 kit with 5.0Ah battery and charger
Best Prosumer Cordless Reciprocating Saws
Nestled between professional and DIY tools, prosumer-grade tools offer a great balance. The Ryobi One+ HP Brushless Reciprocating Saw is our top pick in this category, catering to serious DIYers and budget-conscious professionals. Part of Ryobi's high-performance cordless line, this saw boasts an impressive 3200 SPM and a 1 1/4-inch stroke length. With a price point that's hard to beat, this model offers exceptional value.
Price: $99 bare, $159 with 4.0Ah high-performance battery and charger
Best Budget Cordless Reciprocating Saw
If you're on a tight budget, consider the Skil PWRCore 20 Compact Reciprocating Saw. Compact and lightweight, this saw delivers sufficient power with a 1-inch stroke length and a top speed of 3000 SPM. While it may cut a bit slower than pricier models, it still gets the job done. The best part? It's incredibly affordable, priced at just $89.99 for the kit, including a 2.0Ah battery and charger.
Price: $89.99 with 2.0Ah battery and charger
The Best Reciprocating Saw Blades
To maximize performance, we recommend using Lenox carbide pointed reciprocating saw blades. These blades excel in longevity and cutting even the hardest materials, such as medium to thick metals and wood demolition. Lenox offers various blade options, including the Lenox Lazer CT blade for medium to thick metals and the Lenox Demolition CT blade for wood demolition, including nails and screws.
More Professional Cordless Reciprocating Saw Recommendations
If you're interested in exploring more professional cordless reciprocating saw options, we've got you covered.
The Best Bosch Cordless Reciprocating Saw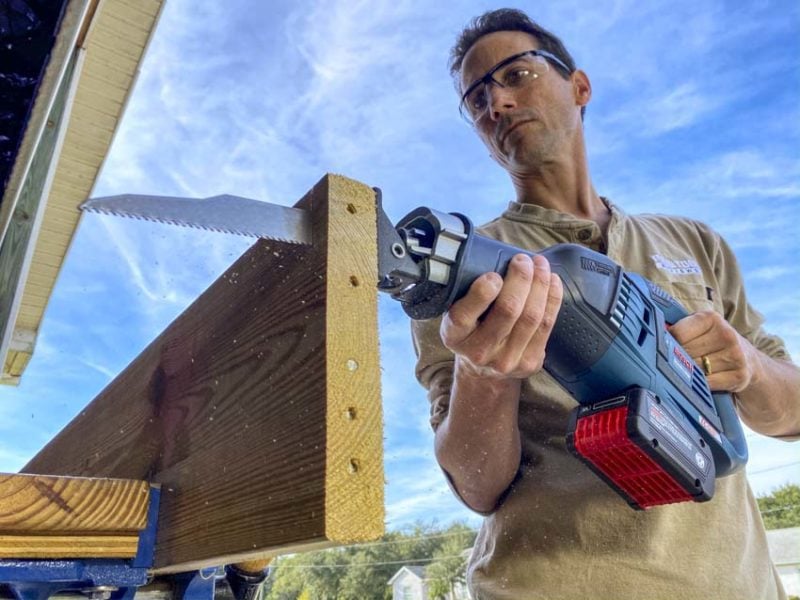 For those using the Bosch 18V platform, we highly recommend the GSA18V-125 reciprocating saw. Paired with a Core 18V battery, this saw offers a 1 1/4″ stroke length and a cutting speed that surpasses its 2500 SPM rating. With increased power and speed, alongside reduced vibration, this saw proves to be an invaluable tool.
Price: $279 bare, $399 kit with 6.3Ah Core18V battery and charger
Best DeWalt Cordless Reciprocating Saws
In our opinion, the DeWalt DCS386 FlexVolt Advantage Reciprocating Saw outshines its second-generation FlexVolt counterpart. While it may not match the same power level, this model offers versatility and convenience. It can be powered by any DeWalt 20V Max battery, allowing for weight savings. When more power is required, the FlexVolt battery can be utilized for a 50% power boost, transforming the tool's capabilities.
Price: $249
Best Kobalt Cordless Reciprocating Saws
Kobalt's XTR line presents an excellent range of high-value tools, including their reciprocating saw. The Kobalt XTR Reciprocating Saw offers a tip speed of 3100 SPM and a 1 1/4-inch stroke length. It combines higher performance with notable features such as an anti-vibration system and selectable orbital action, setting it apart from previous brushless models in its class.
Price: $149
The Best Makita Cordless Reciprocating Saw
Makita's 40V max XGT Reciprocating Saw, the GRJ01, stands as a testament to the brand's commitment to excellence. With two speed settings and a 1 1/4-inch stroke length, this saw excels in quick and efficient material removal. Weighing less than 10 lbs, this model is lighter than its 18V X2 counterpart, making it a popular choice among professionals.
Price: $239 bare, $389 kit with 4.0Ah battery and fast charger
Best Ridgid Cordless Reciprocating Saws
Ridgid has transitioned to lighter brushless tools that deliver exceptional value for your money. The R8647 reciprocating saw is lighter and more compact than its Octane predecessor. With a speed of 3200 SPM and a 1 1/4-inch stroke length, this saw is ideal for a variety of applications. Ridgid offers different package options at varying prices, allowing you to find the best fit for your needs.
Price: $159 bare, $199 kit with 4.0Ah max output battery and charger, $219 with two 4.0Ah max output batteries and charger
More Prosumer Cordless Reciprocating Saw Recommendations
If you're searching for prosumer cordless reciprocating saws, we have additional recommendations for you to consider.
Best Craftsman Cordless Reciprocating Saw
Craftsman's CMCS350B Brushless Reciprocating Saw reigns supreme as the top cordless option from the brand. Equipped with a brushless motor for enhanced performance and runtime, this saw offers a 1 1/8-inch stroke length and a top speed of 3200 SPM. Despite its power, this model remains lightweight and compact, making it a versatile choice for a range of applications.
Price: $119
Best Skils Cordless Reciprocating Saw
Skil's PWRCore 20 Series presents two outstanding cordless reciprocating saws, with the brushless RS5884-1A leading the charge in terms of performance. Boasting a 1 1/8-inch stroke length and a top speed of 3000 SPM, this saw combines power with optional orbital action for enhanced wood-cutting capabilities. With a kit price of $149, including a 4.0Ah battery and PWRJump charger, it offers excellent bang for your buck.
Price: $149 kit with 4.0Ah battery and PWRJump charger
More Budget Cordless Reciprocating Saw Recommendations
If you're searching for budget-friendly options, here are some additional cordless reciprocating saws to consider.
Best Hartt Cordless Reciprocating Saws
Hart offers a range of DIY tools, and their 20V Brushless Reciprocating Saw stands out as a valuable addition to your arsenal. With a 1 1/4-inch stroke length and 3,200 strokes per minute, this saw delivers impressive power at an affordable price. While the saw is sold as a bare tool, Hart combo kits are available, allowing you to upgrade from a brushed model to a brushless reciprocating saw.
Price: $128
Best Cordless Reciprocating Saw Buying Guide: What We Looked For
When selecting the best cordless reciprocating saws, we considered several crucial factors.
Performance
Performance is always our top priority. We rigorously tested these saws, assessing their ability to handle various materials and cutting tasks. We pushed them to their limits, ensuring that they deliver unmatched cutting speed and power.
Operation Orbital Action
Orbital action enhances the saw's cutting power by introducing an elliptical motion to the blade. This feature allows for faster wood cutting. While not a deal-breaker, models with orbital action offer greater versatility and efficiency.
Vibration Control
While speed is essential, so is vibration control. Reciprocating saws can produce significant vibrations, leading to fatigue. We value models equipped with advanced vibration control systems, minimizing user fatigue and improving overall comfort.
Feature Set
A great cordless reciprocating saw should incorporate convenient features. These may include brushless motors for improved performance and runtime, variable speed selection for precise control, smart controls for customization, and a host of other features like blade clamp release, blade eject, swivel shoe, adjustable shoe, rafter hook, and LED light. Each feature contributes to an enhanced user experience.
Size and Weight
Weight plays a crucial role in user fatigue. We considered both size and weight, recognizing that a compact saw may be more suitable for tight spaces. Some full-size saws managed to be lighter than their counterparts due to advanced vibration control systems and thoughtful design choices.
Value
Value goes beyond price tags for us. We analyze the complete package, including performance, features, warranty, and compatibility within a tool platform. By evaluating these aspects, we ensure that every saw offers exceptional value for its price.
Why Use a Cordless Reciprocating Saw?
Cordless reciprocating saws have evolved to match the performance of their corded counterparts, and they offer a high level of convenience. With no cords to hinder your movement, these saws are ideal for demolition work. While there is a price difference, cordless reciprocating saws offer remarkable cutting power and performance. Our recommendations are based on thorough testing and evaluation, guaranteeing that these saws will deliver exceptional results.
At Pro Tool Reviews, we pride ourselves on delivering objective evaluations and honest opinions. We don't simply recommend popular products; we thoroughly test them ourselves. Our professional reviewers possess industry expertise, ensuring that our assessments are rooted in real-world experiences. With our extensive knowledge and relationships with tool innovators, you can trust our insights.
Conclusion
Choosing the right cordless reciprocating saw is a significant decision. Our comprehensive review and buying guide provide an in-depth analysis of the best models available. By incorporating our expert recommendations, you can confidently select the perfect saw for your needs. Whether you're a professional contractor or a dedicated DIY enthusiast, these cordless reciprocating saws will exceed your expectations.