We've reviewed many work lights, headlamps, and flashlights over the years, and have had the privilege of witnessing game-changing improvements in all of these categories. Massive leaps in output are harder to achieve than slow, steady improvements, so you can imagine my disbelief when I saw the Acebeam X75 claiming 80,000 lumens in a high powered flashlight. We got a model to test.
output
Acebeam has several options in the X75 series, and their most powerful output is 80,000 lumens at 6500K color temperature. No, I didn't get the number of commas or zeros wrong, it did put out 80,000 lumens.
The light comes from 12 CREE LED chips, each contributing over 6500 lumens individually. The reflector directs the light over a wide beam angle of 90° with a central spot beam for a maximum range of 1150 meters.
Above: 2,000 lumens vs. 80,000 lumens. Note that the center of the beam points to the left of the tree.
There are other modes that can be used. Here's how they break down at the highest level:
Turbo: 80,000 lumens/1150m
Height: 23,000 lumens/622 meters
Mid-High: 11,000 lumens/415m
Low to Medium: 5,000 lumens/300m
Low: 2,000 lumens/207m
To switch modes, use the lower of the two buttons to turn on the light and hold it down until it cycles to the mode you want to use. The upper button enables turbo mode. Press and hold to use maximum output and release when done.
NOTE: We've put a full overview of the controls at the bottom of the review.
active cooling
Even for LEDs, the high output of this light generates a lot of heat, whereas the Acebeam uses a fan to actively air cool the light. Vents on the sides allow the fan to draw air through the base, blow it over the radiator, and push it out through the top vents.
There is a silicone sleeve around the collar around the light that changes color depending on the temperature. As long as it's below 131° F (55° C), it's dark gray, and once it's above that mark, it turns blue-gray. If you happen to see this change, lower the output or turn off the light completely to let it cool down. Remember, heat is a big battery killer.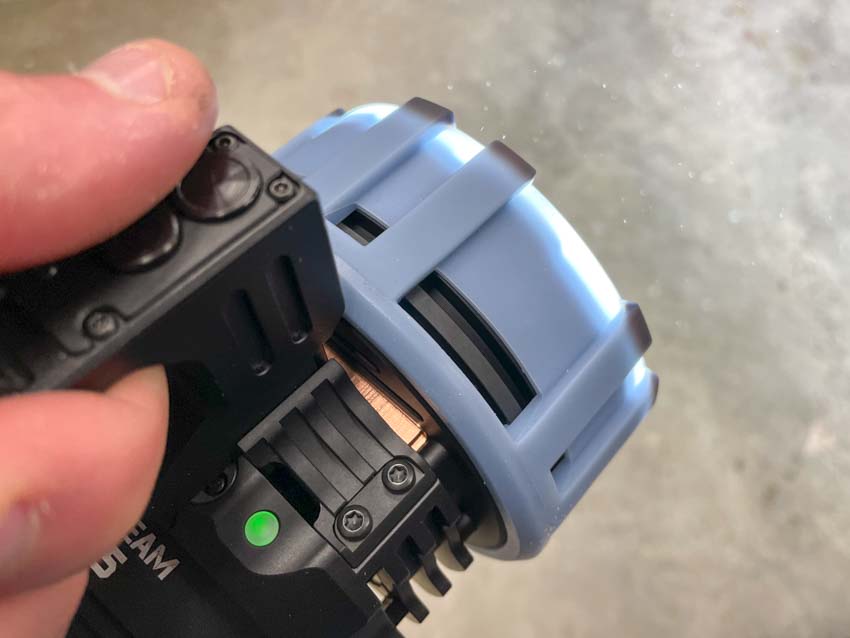 run
Speaking of run time, it's not long at maximum output, but the 4250mAh battery stretches that significantly depending on what output you use.
There are two main operating modes available: High Power and Eco. Eco doesn't reduce max output, but it reduces step-down lumens and reduces the amount of time you spend at higher outputs. The overall effect is longer runtimes when you use Eco mode. Here's how they compare:
ecological model
Lumens/Runtime
high power mode
Lumens/Runtime
turbine
80,000 -> 12,000 -> 900 lumens
30 seconds -> 42 minutes -> 8 minutes
80,000 -> 23,000 -> 900 lumens
30 seconds -> 20 minutes -> 8 minutes
High
23,000 -> 12,000 -> 900 lumens
3 minutes -> 40 minutes -> 8 minutes
23,000 -> 17,500 -> 900 lumens
7 minutes -> 25 minutes -> 8 minutes
upper middle
11,000 -> 900 lumens
1 hour 3 minutes -> 8 minutes
11,000 -> 900 lumens
1 hour 3 minutes -> 8 minutes
mid Lo
5,000 -> 900 lumens
2 hours 23 minutes -> 8 minutes
5,000 -> 900 lumens
2 hours 23 minutes -> 8 minutes
low
2,000 lumens/5 hours, 30 minutes
2,000 lumens/5 hours, 30 minutes
So why not just give a normal runtime estimate? This is the intelligent thermal management of the system. Take Turbo mode as an example. In high power mode, you can run at 80,000 lumens for short periods of time. As the temperature rises, the light gradually decreases to 23,000 lumens. That level also generates a lot of heat, so it drops down to 900 lumens again after 20 minutes or so.
Your actual results will vary with ambient temperature and humidity, so it's difficult to determine an accurate estimate with this light. However, these are tested against ANSI FL1 standards, not random tests.
Wind and no wind mode
The Acebeam has what they call a fan and no fan mode, that's just the name, which turns the fan on or off for cooling. By default, the fans are on. If you want to turn it off, press and hold the top button for 3 seconds. The LED indicator flashes red three times to let you know the mode has changed. Turn on the fan repeatedly and it will flash green three times.
Control overview
| | | |
| --- | --- | --- |
| Function | button | |
| turn on/off light | main (bottom) | click |
| change output | main (bottom) | Long press cycle output mode |
| turbo mode | main (bottom) | double click |
| strobe mode | main (bottom) | triple hit |
| ultra low mode | main (bottom) | triple tap then long press |
| Turn on/off the fan | auxiliary (top) | Press and hold for 3 seconds, the light turns off |
| instant turbo | auxiliary (top) | While the light is on, press and hold |
| Momentum/ecological shift | auxiliary (top) | 10 clicks to turn off lights |
Acebeam X75 80,000 Lumen Flashlight Design Explained
waterproof
Acebeam designed this light in such a way that it achieves an IP68 rating. That means it's waterproof for up to 30 minutes at depths of up to 2 meters. You don't have to remove the fan or add anything to it. Just make sure the charging cap is fully screwed on and you're good to go in the rain, snow or completely underwater.
TOLL
To charge the light, you need to remove the cover on the base. This exposes a USB-C port for charging. A full charge from a depleted battery pack takes 1 hour and 30 minutes using a standard 60-watt charger. If you want to upgrade to a 100-watt charger, it'll be ready to use in an hour.
Integrated mobile power
You can use the same charging port as an output to charge your device. Just keep in mind that using this will reduce your overall run time since you're using some power and the light isn't waterproof until you completely replace the cover.
Acebeam X75 80,000 Lumens Flashlight Price
As you can tell from the length of our review, this isn't just a high-powered flashlight with a power supply, and it's priced as we'd expect from such a sophisticated design. The light we tested costs $399.99. There are other configurations available for the X75 as well.
the bottom line
The Acebeam X75 is a much more complicated flashlight than I first realized, and it's well made. Although it can produce 80,000 lumens, I found that I mainly used it at lower output levels. However, I like having the high output option for non-lethal defense, signaling or simply communicating in Morse code…with the ISS.
Click here to see more Acebeam lighting solutions!
Specification
Model: Acebeam X75 XHP70.2
Power supply: integrated lithium-ion battery
Maximum output: 80,000 lumens
Maximum throw: 1150 meters
Color temperature: 6500K
Protection class: IP68